You have seen them on cute Victorian cottages, traditional colonial homes, and other types of buildings. A dormer is a structure that is built projecting out of the roof of a building. It will usually have wall space for windows and might have a different pitch from the main roof, and/or a roofline that is perpendicular to the main roof. They are eye-catching and can turn a drab building into something quite fabulous. Let us take you through all of the reasons that dormers are so great.
Gain Headspace
Areas without enough head space can feel a little crowded. Lofts in particular are prone to having low ceiling heights, which may only give you enough room to crouch in certain places. You can maximize the livable space available in the loft of your building by adding a dormer or two!
Including a dormer in your design provides extra vertical space, giving you room to stretch, or at the very least, room to stand in. Plus, they give your floor plan a more open and inviting feel.
Dormers can also give you a little extra area for storage: tall bookshelves and closets built into a dormer create storage space for clothing, linens, books and other knick-knacks.
Here is an example of a finished loft without a dormer, and one with a shed dormer. See for yourself how much more spacious it makes the space feel!
Bring in the Sunlight
Lofts usually have shorter walls, meaning the only available space for windows is in the gable end of the building. This usually results in limited natural light coming in. Having more lighting in your cabin is always a bonus, especially if you plan on using your loft as a sleeping area, lounge, or other living space. A dormer will provide places to install additional windows, brightening your loft. You'll appreciate the warmth and beauty of extra sunlight, and the added windows can even help you save money on electrical bills from lighting!
Add Some Pizazz
A standard, gabled-roof cabin provides a certain charm in its simplicity. But your cabin can get a double-take by adding one or more dormers. With this purpose in mind, the structural form of the dormer differs from the overall roofline, the architectural interest will catch most peoples' eyes. Depending on the dormer style you add, you can make your building look more traditional or modern too.
Types of Dormers
If you are building a Vermont Cabin we offer two dormer kit styles that work with the building kits when ordered and shipped at the same time.
Doghouse Dormer
Gable-Roof Style
One window can be installed in each dormer
People usually add two or three of these dormers on one or two sides of the cabin.
Shed Dormer
Shed-Roof Style
This wider dormer style can host several windows
Great for creating more usable space in a loft
Other Designs That Utilize Dormers
While we offer dormers as add-ons for the Vermont Cabin, we do have a couple designs that feature dormers as part of the overall design. The Smithaven is a micro cottage based off of our Hardware Shed. We lengthened the building and added a shed dormer on one of the bearing walls. Three barn sash windows, with a transom window above, adorn the heightened wall of the dormer. The result is an adorable tiny house with a lot of personality.
Our Dollhouse shed and Xylia cabin both have over-the-door dormers. The door dormers for both of these are visually appealing and functional. Both designs have steeper roof pitches resulting in shorter wall heights. Adding a dormer where the door goes makes it possible for a full-sized adult to walk through the door without bumping their head on the door frame.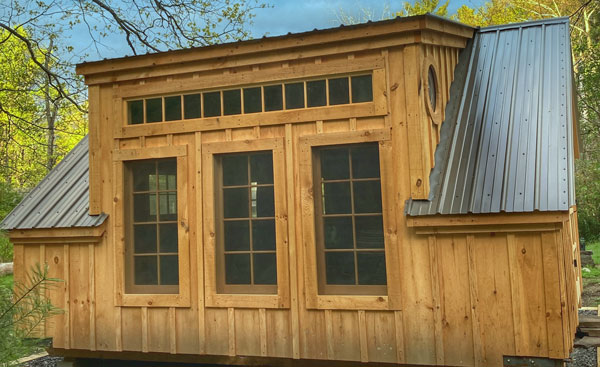 Conclusion
Those who want a building that includes design features that are functional and beautiful might want to pick out a design with a dormer. Additionally, dormers provide more useable space in a loft, where wall heights are usually on the short side. Last but not least, dormers provide a unique, simple style to your cottage. The many benefits of dormers are certainly worth considering when you are planning to build your own cabin, cottage, or tiny home.