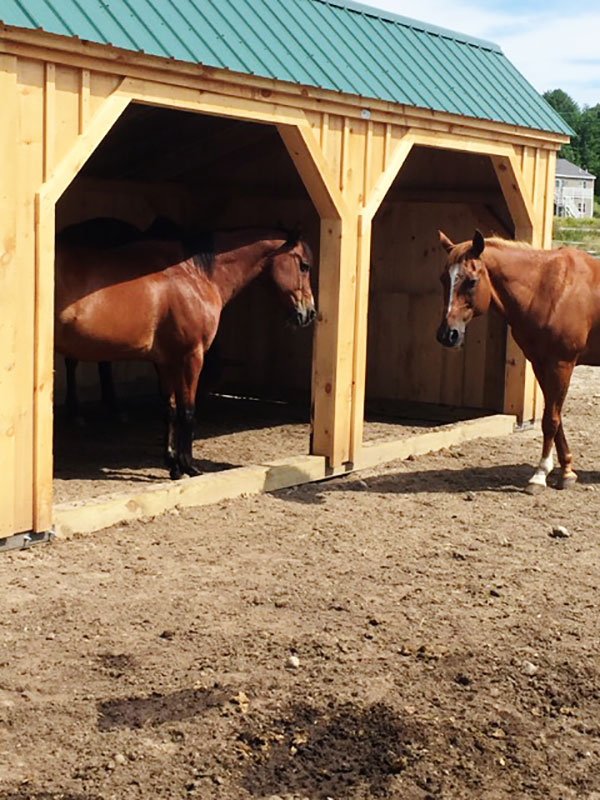 If you're a horse lover, you already know that horses are hardy animals that can tolerate a wide range of temperature conditions. So if you are a new horse owner, or planning to purchase some animals in the future, you might ask yourself "What kind of shelter do my horses need?". A barn is the first thing that comes to mind, and it should be a top priority to have a safe place to stable your animals. But there are other kinds of shelters you can purchase to supplement having a barn, or in some cases, use instead of a barn!
Building a new shelter for your horses on your property can be time-consuming. And of course, there will be some financial considerations as well. So then, why do horses need a Run-In Shelter? Do I REALLY need to put one on my property? In this blog, we'll explore the reasons to add a Run-In to your paddock, and guide you through the process of choosing and building a run-in for your horses.
---
Horses need a Run-In Shelter
There are many reasons to get a Run-In Shelter for your horses. While the most important ones concern the safety and wellbeing of your animal, there are plenty of other benefits too!
Comfort and Safety: Horses have been domesticated for thousands of years. Even though they prefer spending as much of their time outside as possible, they are still sensitive creatures that like to stay out of bad weather. In the wild, horses can find shelter from the wind, rain, sun, or snow by relaxing under trees or in valleys. But when bad weather hits, domestic horses living in pens have only the options that you give them. Putting your horses in a situation where they are unable to find any shelter from bad weather is unnatural, and will stress your animals. A simple, three sided shelter like a run-in is enough to give your horse a safe place to rest and relax. In milder climates, a run-in can even be your primary shelter for your animals.
Save time for yourself: If you already have a barn or stable, you might think a shelter is redundant; if the weather gets too bad, you can just take your horse inside the barn, right? However, this means you will have to be vigilant of the weather, and of your horse's behavior to look for signs of discomfort. You can't monitor your horse all the time while it is out in the pasture. A Run-In will save you the time and headache of having to run your horse to the stable every time the weather turns bad. Additionally, a run-in requires much less cleaning than a barn, because liquid wastes will simply soak into the soil and don't need to be scrubbed and disinfected.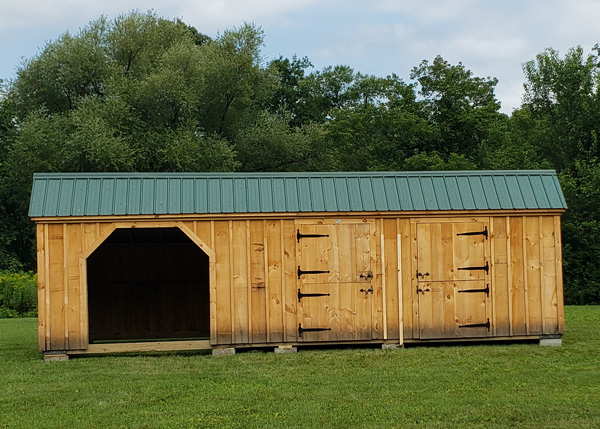 Storage in the Pasture: When you have a run-in out in the pasture, you can use it to stash some of your frequently used items. For example, you can install some hooks to hang up leads, halters and other tack. Placing your animal's food and water troughs underneath the run-in is also a nice idea, as it will keep them less exposed to the elements—nobody likes soggy hay! You can even purchase a combination shed and run-in that will give you a dry storage space and an accessible shelter!
Beautify your horse: Staying in tip-top condition is important, especially if you have a show horse. Animals that are constantly exposed to harsh sun, rain, and snow can have damaged manes and coats. A blanket for your horse can offer some protection, but won't necessarily cover everything. Giving your horse a run-in for shelter can be a huge asset in keeping your animal healthy, relaxed, and beautiful!
---
Where to put a Run-In on your property
Before you build, first you need to decide where to put your run-in. You'll need to consider convenience and accessibility, the landscape, and providing an optimal amount of comfort. To choose the coziest spot for your horses, both sunlight and prevailing winds.
If you live in the northern hemisphere, a north-facing shed will likely give you the most protection from the sun. A quick online search can help you figure out what the prevailing winds are in your area. It's a good idea to position the back of your shelter against the wind.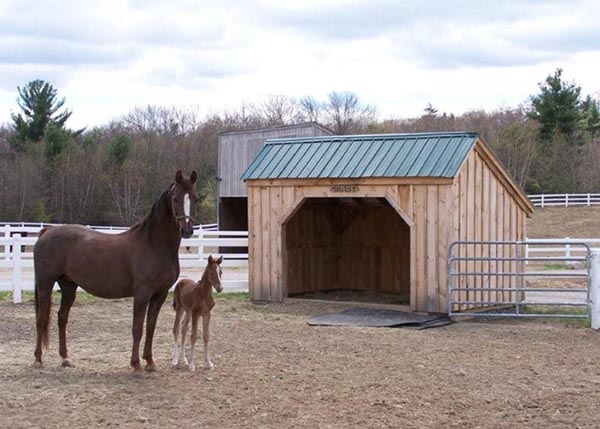 Accessibility and convenience are also important factors to consider. Ideally, you should place your run-in somewhere it will be easy to drive up to. This will make it easy not only to deliver your building materials to the site, but it will make sure that farriers or vets can get close to your paddock and run-in if needed. If adding electricity and running water to your run-in is something you are considering, you might want to consult some tradesmen about where on your property would be a good location.
Landscape will also be something to consider. It isn't ideal to place your run-in at a low point on your property, especially places that become muddy when it rains. High points are better for ensuring good drainage in stormy weather, but can also be a bit more exposed to the elements, especially wind. Over all, the process of picking the perfect spot for your run-in will be a balancing act, and you'll really need to consider what is a priority based on your particular location. For example, if you live in the southwest, offering shade might be more important that offering wind protection. Temperate and rainy places should always try to build on high ground. Don't let analysis paralysis halt the process: at the end of the day, you know your property best, and will pick a great location!
---
How to pick a run-in shelter for your horses
The next step is to pick the run-in of your choice. Because this is a building for your animals, functionality should take priority over aesthetic. Therefore size and materials are going to be your primary concerns, and should be where you choose to invest. The size of your shed will be determined by the size of your herd. Horses need a run-in with at least 100 sqft of space, meaning that for a single animal, choose a 10×10 or 8×14 run-in. Additionally, opt for a deeper building than a long and skinny one, as depth will offer greater protection from bad weather: a minimum depth of 8 feet is needed.
To ensure the longevity of your run-in, choose one that is constructed from sturdy materials. Horses are big, strong animals that can put a lot of wear on buildings. Make sure that the underlying structure of the building your purchase is sturdy: opt for building posts at least 4 inches by 4 inches thick. We recommend using wood siding for your run-in: wood doesn't rust, has greater insulation properties than metal, is more eco-friendly, and is safe for your horses. One downside to wood is that it can be damaged by horseplay. Therefore, opt to have a kickplate installed on the interior of the building.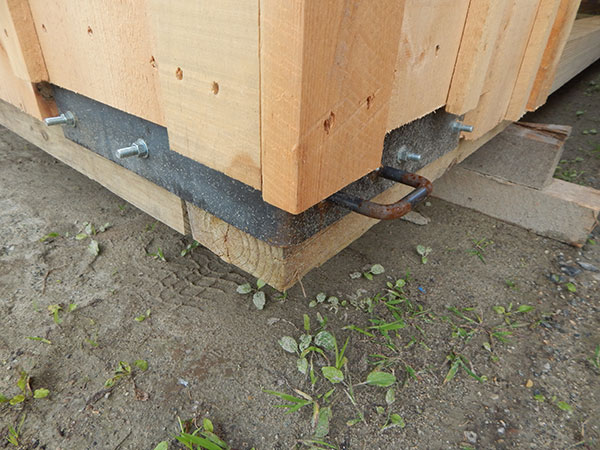 If you plan to move your building at all in order to rotate pastures, make sure your building will tolerate being moved. Look for a structure with good reinforcement, a sturdy base, and features that will help maintain the structural integrity of the building when you move it, such as a corner bracket. Again, the quality of your materials matter if you want a shelter than can stand up to your animals and the elements, so invest most of your budget into a high-quality building.
Last of all, you can consider the aesthetics of your building. We recommend choosing a siding that will be relatively easy to replace if it accidentally gets damaged. The color of your roof of your run-in can give your building a lot of character. Match it to the other buildings on your property, or make it stand out with a brighter shade like red or blue.
---
What kind of foundation does a run-in need?
Once you've picked the run-in you want to purchase, you can start the highly important process of preparing the foundation of your run-in. Make sure the area of ground you choose is level. As for the foundation, a gravel foundation is best. It is inexpensive, easy to install, and allows for good water drainage to keep the interior of the shelter dry. In fact, gravel foundations are an excellent option for many kinds of outbuildings such as barns, sheds, and firewood storage.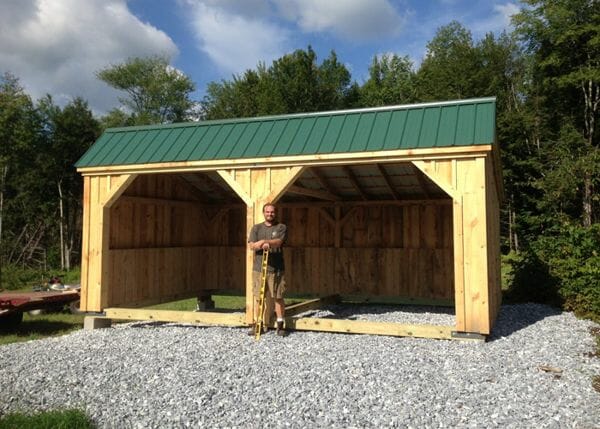 The gravel foundation should extend at least a foot out from your building on all sides. 6 to 8 inches deep of compacted gravel is ideal for supporting the weight of your building. Horses need a run-in with an appropriate foundation, so make sure that you choose gravel that will be safe for your horses. Particles that are too small can get lodged in your animal's hoof, and particles that are too large can be uncomfortable for them. Gravel with a maximum size of ½ inch is good size to ensure structural stability and comfort for your horses. If you are planning on having electricity and running water, make sure you are considering these factors as you plan out how to build your foundation.
It's better for your horses to have the run-in at ground level, rather than on a slightly elevated gravel pad with a retaining wall: it simply makes it easier for them to enter and exit. The basic process of installing a gravel pad foundation is to mark out the area where you intend to build your run-in, and then dig as deep as you want your foundation (again, 6-8 inches is recommended). Check to make sure the area you have dug out is properly level all the way around. Then add about 4 inches of gravel into the bed, and then compact it down with a vibrating gravel compactor. Add more gravel until the process is finished, and your foundation is level with the ground. Now you're ready to build your run-in!
---
Finishing touches for your run-in
The process of building your run-in will depend on the building that you buy. Building one from scratch may seem daunting, but because run-ins are simple structures, they're easier to construct than you might think. Purchasing a pre-cut kit can help you save money compared to sourcing all the materials yourself, and a kit will come with instructions that will make the building process a lot smoother. Run-Ins can also be purchased fully assembled, which takes even less work on your part. Just prepare the site, buy the shed, and schedule delivery. And of course, you can always hire contractors to help you build your run-in.
To make your run-in ready for your horses, be sure to put down some comfortable bedding for them. For a run-in shed, straw bedding is best. This is because it isn't particularly absorbent. Moisture will run through the straw and into the gravel, keeping the shed relatively dry. Although run-in sheds are lower maintenance than a barn, you will still have to muck them out relatively often. Additionally, if you plan to rotate your horse pastures, you might need to move your run-in. This means you'll have to go through the steps of preparing a new gravel foundation before you move it.
---
Final thoughts on preparing to build a run-in for your horses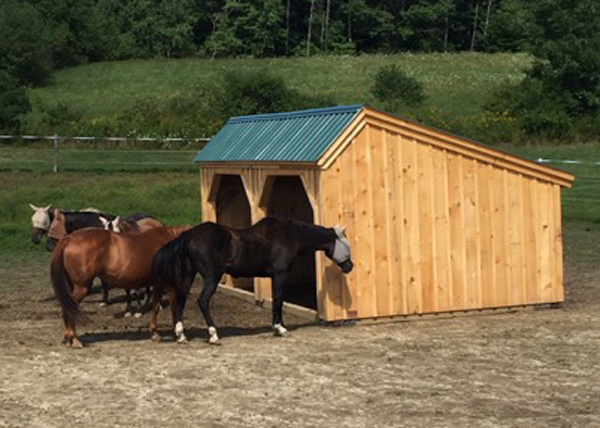 We hope we've been able to persuade you why horses need a run-in shelter. Your animals should always have a safe and dry place to shelter themselves in inclement weather. And having a cozy space will reduce stress for both you, and your beloved animals! Run-ins don't need to be as elaborate as a barn, and they can have as many amenities as you choose. What's important is that they are large enough for your herd, provide adequate shelter, and are sturdy enough to withstand your local climate, and your animals.
At Jamaica Cottage Shop, we offer two styles of run-in: the Run-In Standard and the Run-In Basic. They have slightly different features, and one might be preferable for you based on how you intend to use your building. In brief, the Run-In Standard has some add-ons that make it sturdier, and easier to move from pasture to pasture. You can learn more about the differences between the Run-In Standard and the Run-In Basic in this blog post.
There are so many reasons to add a run-in to your paddock! It gives your horses the best of comfort and freedom, and they're relatively inexpensive and easy to construct when compared to a barn. Whether you build from scratch or choose to purchase a kit, your animals will love the end result.