Everyone loves sticky, sweet maple syrup on their pancakes and mixed with ice cream. Others pour syrup in coffee as a sugar substitute. Production of this saccharine condiment takes place in most of New England, the Midwest, and Canada. If maple trees grow in your area, you can make maple syrup. While you may be able to DIY a small batch in your kitchen, you will also want a sap house if you plan on making batches to sell. Our post and beam Sugar Shacks make excellent space for small-time hobbyists or larger operations alike.
Many people might think that they can just use any old shed for boiling sap. This misconception usually gets corrected after the first boil, but can be avoided in the first place. Heavy equipment for boiling means that the floor system needs to hold enough weight. Moisture needs to escape buildings filled with steam and smoke.
Here we walk you through four Sugar Shack building essentials and components that you will want to consider before construction.
1. Floor or No Floor?
We can cut to the chase here and say we don't recommend getting a floor system if you are boiling sap. First, your evaporator is going to be very heavy. You will probably want to store some firewood inside for convenience, which also strains the floor system. And there will probably be some spillage. Nothing is worse than sticky wood floors! Instead, order the building with a treated sill plate, and your foundation will be the flooring. Many people settle for a gravel pad, a simple and affordable choice that works great. Concrete slabs will be stronger and easier to keep clean.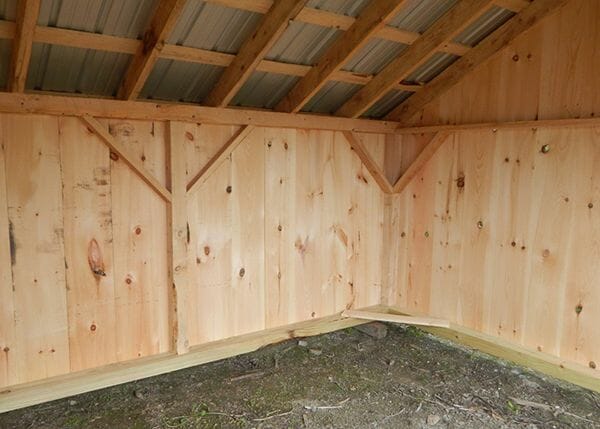 When you order a Sugar Shack from us, the default option will be a treated sill plate. If you insist on having a floor system, we suggest upgrading the floor weight rating when you order. You may also want to install some kind of flame-retardant surface decking under and surrounding your evaporator too.
2. Vital Ventilation for your Sugar Shack
Boiling sap produces a LOT of steam, and this isn't just regular steam. Sap condensation is tacky and can coat the walls and ceiling of your building. Add in the abundance of moisture build-up and you have created the perfect environment for rot. We have three components that combat these issues in your Sugar Shack:
The cupola that comes with one of our Sugar Shacks is designed to integrate into the roof. We frame out a 4-foot-by-8-foot rough opening. Installing the cupola on the roof it creates a second structure that houses the steam. Vents, installed on the two long sides open and close using a rope system.
Our Sugar Shack design comes pre-framed for the integrated venting cupola. They come with aluminum flashing to direct water away from the rough opening. Our other sheds will not have the rough opening for the cupola pre-cut or outlined in our plans. Be sure to work with a contractor, in the first place, if you want to make this type of change to a building that is not one of our Sugar Shacks.
Wood Louvered Vents come with nearly all our post and beam Sugar Shacks, barns, and storage sheds. These small, square vents, built under the roof, and are installed on the back gable wall. They have hardware cloth, a mesh material, that keeps most insects out.
Barn Sash Windows are offered hinged, which provides airflow when your Sugar Shack gets extra steamy and hot. Therefore, syrup producers will be grateful for them when they need a breath of fresh air.
3. A Grand Entrance, or Two
Obviously, a door is a prerequisite for any building. Here is why you need barn-style doors in a Sugar Shack. Large evaporators need enough width for accessibility inside the building. A set of pine, double doors will make wheeling in a cartful of sap buckets, and loads of firewood, quick and easy. Finally, being able to safely escape your building in an emergency is also a must. For this reason, adding a single door on the opposite side of the double doors is a smart move. If hinged doors aren't your style, consider sliding barn doors instead.
4. Flashy Flashing
Sap boiling evaporators are basically oversized, wood-burning stoves. They have pipes that exit the building, usually through the roof. Cutting a hole in the roof for a chimney will expose the interior to the elements. We can install woodstove flashing or a wall thimble in any of our fully assembled sugar shacks. We also sell them separately to ship with pre-cut kits too. Flashing sits on top of the roof and sheds water and snow away from the chimney. This prevents water from seeping into the building.
Conclusion
Set your Sugar Shack up to be safe and efficient. A proper foundation and ventilation system will help you maintain your building for a long life too. If you are looking for more tips, we found this handy list of other provisions that you will need to stock your Sugar Shack up with for a productive season.
We would love to see photos of you at work in your Sugar Shack. If you've got 'em send them to us via our photo-sharing form in your account dashboard.