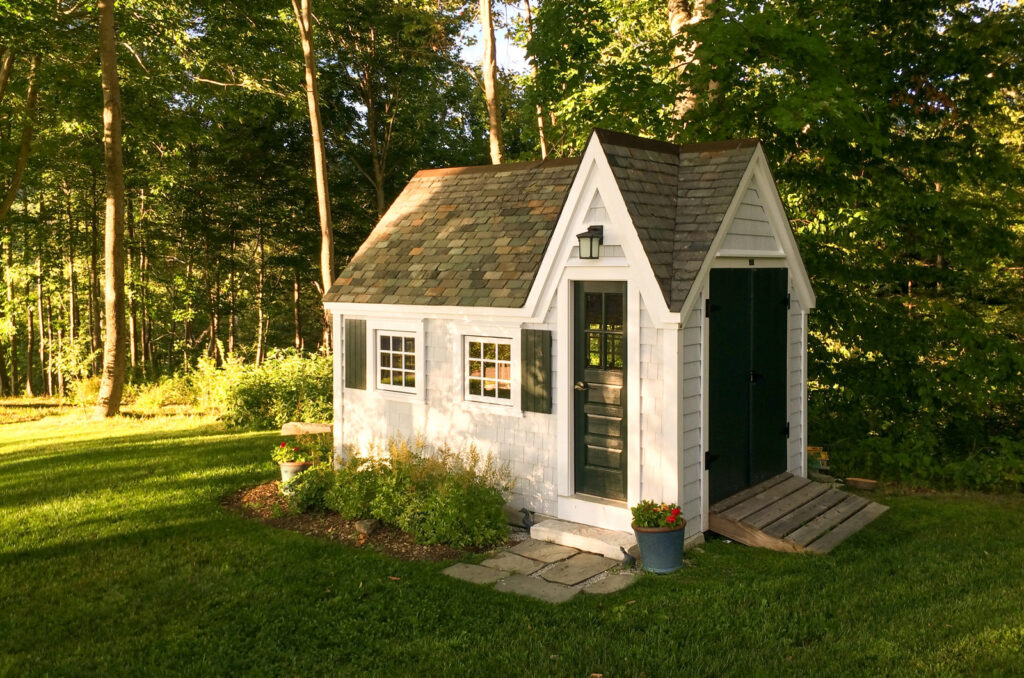 ---
Adding a playhouse to your yard may not be at the top of most people's list of home improvement projects. But if you have a young family or are planning on starting one soon, we highly recommend adding a playhouse to your property. You'll be surprised by the number of science-backed benefits a playhouse offers for your kids, and we're confident that by the end of this article you'll agree that buying a playhouse is a great idea.
---
Playhouses Improve Your Children's Health
Did you know that having a playhouse can reduce the likelihood of your child needing glasses? New research shows that direct, outdoor sunlight actually helps children's eyes develop properly, and that children who get 11 hours of outdoor sunlight a week have better outcomes for their eyesight. One great thing about playhouses is that they get your kids outdoors and exposed to the health benefits of natural light. If your kid uses their playhouse for 1.5-2 hours every day, it can go a long way in making sure their vision stays sharp.
Additionally, sun exposure during playtime will help your children produce Vitamin D. While supplements can be helpful if you have a deficiency, but most healthy and least expensive way to get enough Vitamin D is to just go outside! Vitamin D is shown to play an important role in healthy sleeping and waking cycles, as well as promotes good mood.
Playhouses are also great for promoting your children's physical development. We all know that keeping active is great for your health, and that sedentary lifestyles can lead to a number of illnesses. Playhouses promote being outside, and while out of the house, children will naturally engage in active play like running, jumping, and climbing. These activities are crucial for healthy development, so much so that every pediatrician will recommend your child gets some exercise every day, ideally at least an hour. Building a playhouse can facilitate time outdoors and will help keep your kids active.
---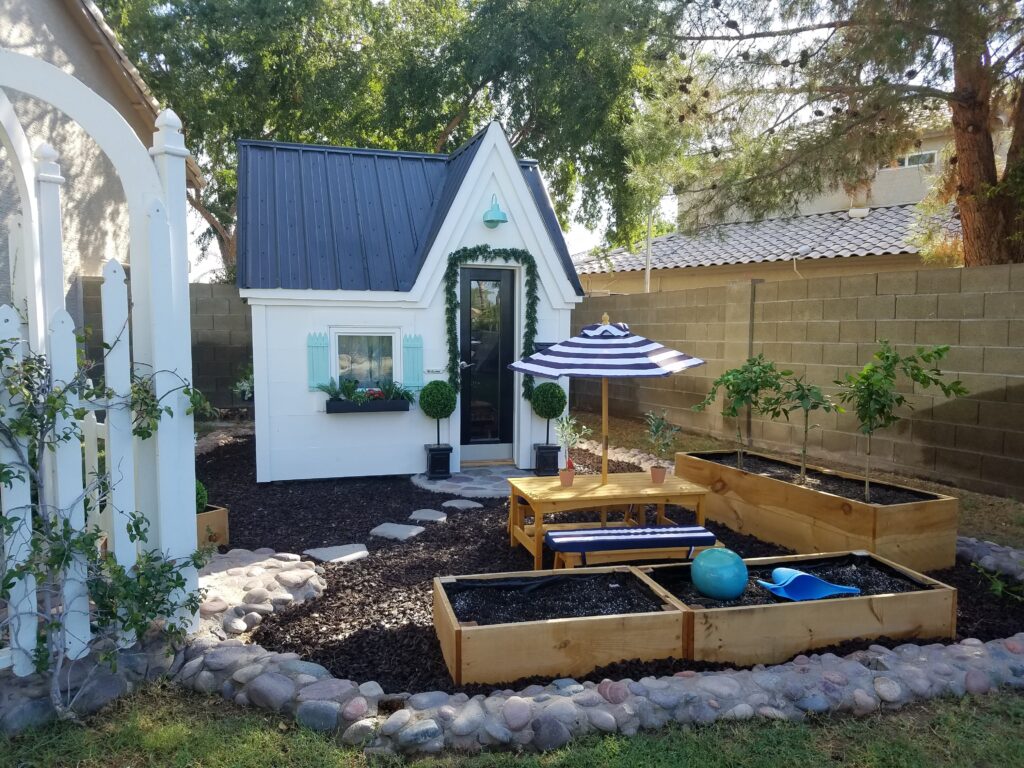 Playhouses Help Your Child's Behavior
Having a playhouse gets your kid outdoors, and being outdoors will improve their behavior when they are indoors. Researchers at the University of Illinois showed that after just 20 minutes of being active in nature, children were better able to focus their attention. You don't need to have a whole forest in your backyard for your child to be 'in nature' – plants, grass and dirt surrounding a playhouse will give your kid similar benefits.
Children have an abundance of energy, as any parent can tell you. When kids don't get enough exercise and time outdoors, they will often find ways to be mischievous that can be exhausting for parents to deal with while they're trying to get other things done. A playhouse will give your kids a reason to get outdoors and blow off some of that steam. When they come back inside, they'll be much more relaxed and easygoing.
---
Playhouses Improve Children's Cognitive Development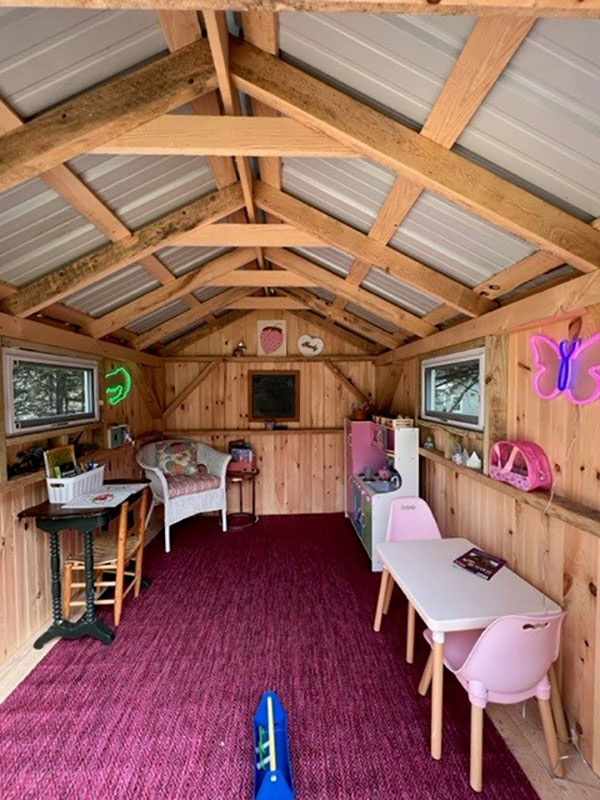 A playhouse is the perfect place for children to let their imaginations soar. And all that daydreaming and playing pretend is actually really healthy for their brains. In fact, playing pretend gets children to focus on the mental states of others, which helps develop something called "theory of mind". Theory of mind is what allows us to consider how other people think, feel, and behave, and is a critical skill for learning empathy and making friends. While it is especially good to play pretend with friends or siblings, kids can develop theory of mind while playing solo when they imagine what it is like to be someone else.
Imaginative play also helps children with their executive functioning. When kids play, they often come up with plans that they need to act out. This helps children exercise their procedural thinking skills, and gets them using their memory. Developing strong executive functioning skills is crucial to good academic performance in school, and being successful in the workforce. Strong executive functioning also helps children develop confidence and independence. By building a playhouse, especially one that has opportunities for open-ended play, you will get your children's brains engaged in ways that promote healthy brains in the long term!
---
Playhouses Can Help with Social Skills
Children need opportunities to relate to each other and build memories. Giving children a space of their own, like a playhouse, will give siblings and friends a chance to bond with one another. A playhouse will keep kids away from the television, and get them to spend time face to face, where they'll have to cooperate, talk, listen, and resolve conflicts with one another. Peer-to-peer playtime also teaches important communication skills that you just can't achieve through watching television or playing video games.
---
Playhouses Make Kids Happy
Now that we've gone through all the science-backed reasons for why having a playhouse is a great idea for your children, we've got one last one. Playhouses are just fun! Joy and laughter are enough reasons on their own to consider adding a playhouse to your yard. Most people can think back fondly on the sanctuaries of their childhoods, and the fun times they had there. By giving kids a safe space of their own to play in, you're giving them the chance to experience the magic of being a kid!
---
Ideas for building a playhouse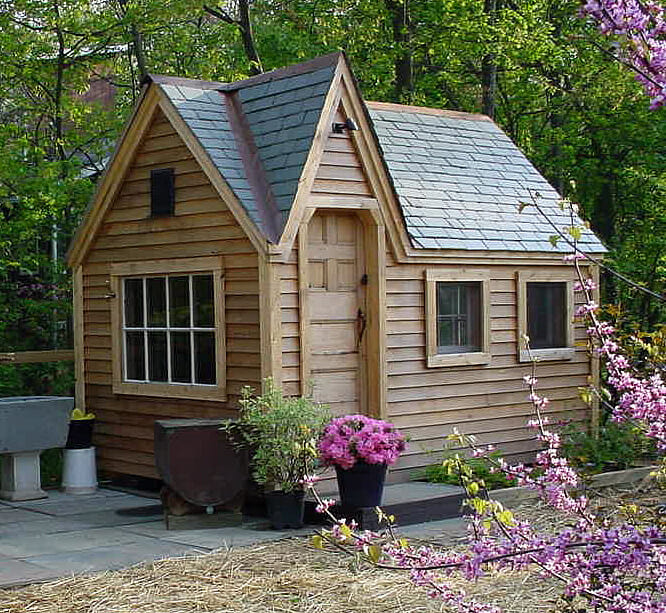 A playhouse can be a simple as a basic shed, or as ornate as our Dollhouse cottage, which we recommend most to people looking for playhouses. When choosing a playhouse, think about the long-term plan for the building. Would you prefer to remove it once your children have outgrown using it, or do you want to install a building that can serve a new purpose later on? You can turn an old playhouse into a storage shed. As your child grows into a teen, they might be interested in converting their playhouse into a backyard hangout, a study, or a reading room. An old playhouse can even become a she-shed or a workshop, if it's the right size.
You can make the most of your investment in a playhouse by choosing a durable building of a good size, constructed from non-toxic natural materials. Plastic playhouses are flimsy, and ones with metal frames can be dangerous. A wooden playhouse is sturdy, safe, and highly customizable. Plus, wood is a renewable resource, so you can feel good about your investment. A well-built, high quality playhouse or cottage can last for many years. This means that when your children come home from college to visit, they can look back on their beloved playhouse and recall the joy and imagination of their childhoods.
When choosing a playhouse, we recommend buildings that children can use in an open-ended way. If you purchase a playhouse that looks like something in particular, like a castle or a space ship, kids won't imagine as many different scenarios when they use it. Plus, an open-ended playhouse will encourage kids of all genders to use and enjoy it, which is especially important when friends come over.
Over all, the best playhouse for your kids is one that they will love to use, so consider their personalities and preferences when choosing a building. Filling a playhouse with toys, tables for activities, and comfortable pillows and rugs is a great idea. If you live in a climate with harsh winters or summers, you might want to opt for an insulated playhouse.
If you have any questions about how to install a playhouse on your property, our team can help! Give us a call or send us an email, and we can talk you through the first steps of preparing to add a playhouse to your property.