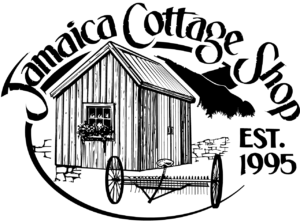 Product Warranty Information
Jamaica Cottage Shop, Inc. protects clients by guaranteeing all products with a no hassle 2-year warranty plan. Our organization attempts to abide by the highest ethical standards, we work diligently to provide a high quality product that will stand up to the rigors of everyday use. All Jamaica Cottage Shop, Inc. structures are covered for a period of two years for defects in materials and workmanship. We will repair or replace any defects at our discretion. Our manufacturing and shipping process is closely scrutinized, however, should you have any concerns whatsoever, our toll free line offers prompt and courteous assistance.
For returns:
Upon delivery, a quick inspection should be conducted and the freight bill signed to show you received the correct number of packages. You do not have to accept any delivery of damaged merchandise and may refuse the shipment. Contact JCS within 7 days of receipt of a damaged garbage bin kit. For the pre-cut shed kits, inventory should be taken and JCS contacted within 10 days to report any damaged or missing pieces. We will replace any broken or damaged parts right away. After 10 days, JCS will reserve the right to determine the course of action on a case-by-case basis.
This warranty does not cover the cost of labor for replacement of any defective part. Jamaica Cottage Shop will repair or replace the defective item free of charge within the stated warranty period, provided that the defective part is returned for inspection. The part will be sent out pending our production and shipping schedules. The consumer will be responsible for the cost of shipping the defective part back to us and Jamaica Cottage Shop will be responsible for the cost of shipping the replaced part back to the consumer.
Trial Kit Disclosure: Trial kits still have a fair potential to contain inconsistencies and discrepancies that will need troubleshooting by the client on-site, including on-site cutting and adjustments.  Please work closely with our tech support to continue to move forward in the best way possible to complete the project.  While JCS will work closely to help complete the project via Tech Support calls and emails, the Company is under no obligation to pay for any additional or unexpected labor involved.
Hardware / Accessories Orders: 14 DAY RETURNS if item is returned in the same condition that it was shipped from the warehouse.  A 25% restock fee may apply.
Last updated August 20th 2009
*Important – Termite prone areas mid Atlantic and southern states Hemlock and pine will not stand up to termites.
A termite shield made from non-corrosive metal such as aluminum should be in place to deter termite damage. Cedar and pressure treated lumber is encouraged in these termite prone areas.
JCS is a BBB Accredited Business