We get it. When buying a post and beam building project, there can be a lot of up-front costs. This investment is going to improve your life, but you need to figure out how to pay for it. We have solutions that can get you on the path of building today. 
Jamaica Cottage Shop, Inc. happily accepts multiple forms of payment. We understand that sometimes it is easier to spread out a big purchase over a few financial channels, so we try to make buying your new cottage a little easier by giving you many options.
Credit Card: We accept Master Card, American Express, Discover Card and Visa. We can accept credit card payment online, over the phone, or in-person.
Bank: We can also accept cash, Personal Check, ACH transfers, Wire transfers.
Digital: Payments can be made by Paypal.
Financing: We offer in-house financing solutions and easy financing with some of our preferred partners.
Our pricing is likely to change at the end of each sale. If you want to lock in a sale price, we can do that with a
Good Faith Deposit
.
This small, non-refundable fee extends the current sale price for one extra week past the expiration date.
Contact us about the Good Faith Deposit
Pay for half of your project now, with the rest due on delivery for locals (or before delivery for freight orders).
This is a great option for those who want to finance a portion of their project or want to make two large payments.
Contact us about putting 50% down
Jamaica Cottage Shop, Inc. has teamed up with these four financing partners to help our customers finance their sheds, cottages, cabins, barns, garages or workshops. These financing options can help avoid any budgeting roadblocks you may experience.
For help deciding which financing partner might work best for your project contact our sales team. 
Discover what our financial partners can offer you!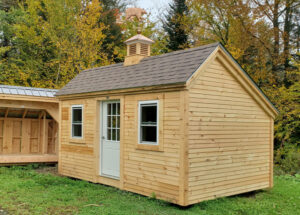 Financing Tip — Prioritize your budget
Knowing your spending plan is half the battle. There are many creative ways you can achieve your dream without going deep into debt. Scale back your project and build in smaller chunks so you can save and pay as you go.
If you are building your permanent tiny home you can start with a three-season kit, and get the rest of your insulation, interior sheathing, and insulated windows and doors locally. Thrifty folks who love scanning building reuse stores, and barn sales for deals can potentially save on siding, windows, and doors. With a frame-only kit the tricky part of the build is pre-cut and will cost you a lot less up front.