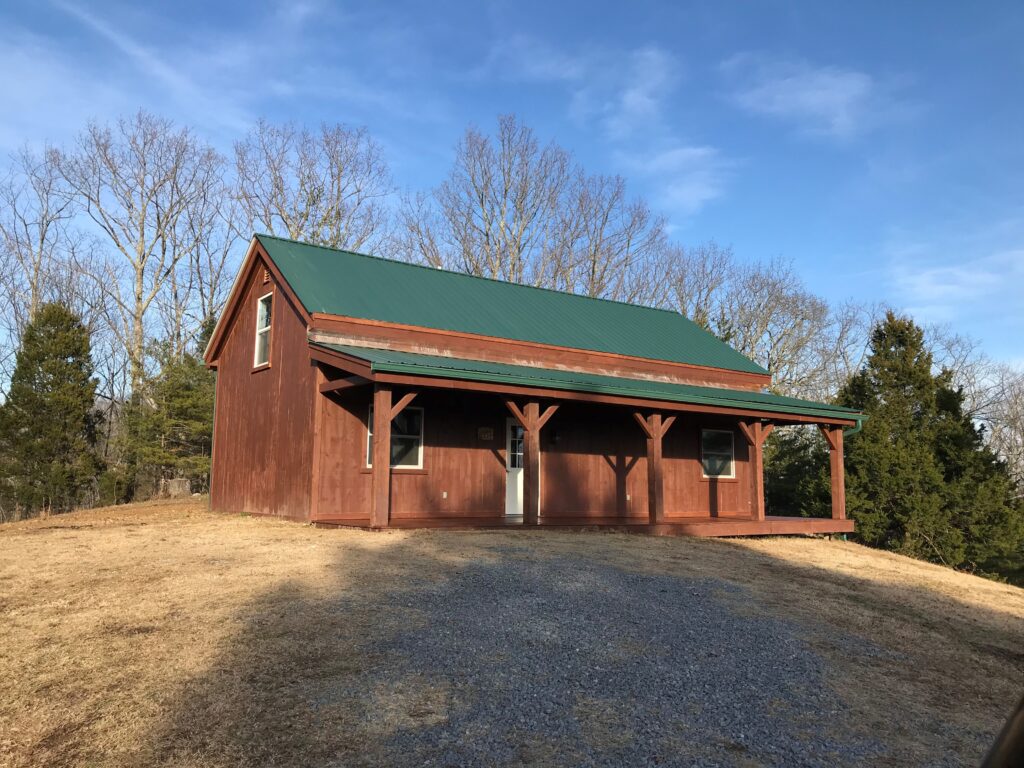 Introduction
For almost three decades, Jamaica Cottage Shop has been the leader in Post and Beam building kits. New Englanders and beyond have enjoyed the convenience of Pre-Cut lumber paired with detailed instructions, along with a dedicated team in our office to support you throughout the construction process. The Vermont Cabin, available only in a Pre-Cut Kit, is a classic and popular model amongst our followers. The customers I come across throughout my workday are always asking about the Cabin model in our display yard. The frame of this building is carefully crafted with Mortise and Tenon style hemlock. This is certainly a design that demands your attention. When finished, the exposed Post and Beam framing evokes a certain air of strength and style. Get the inside scoop on planning your Vermont Cabin build, complete with a Checklist to help you find the right contractor.
The Importance of a Solid Plan
Accurately planning the assembly of a structure this large is essential to having a resilient outcome that will last for generations. The set of plans you receive with your kit will include many helpful tools for constructing your Vermont Cabin, including detailed instructions, a full cut list to help you complete an inventory when your kit arrives, materials list, and traceable rafter patterns. Our building plans make the process clear-cut and easy.
A solid plan is essential to avoiding issues down the road. Consider things like budget, land, zoning & permits, lead times, foundation options that will best suit your needs, reputable builders, and necessary equipment rental, in advance.
For instance, you will want to think about the quality and consistency of the ground on your property. Poor or uneven soil conditions sometimes require a site analysis and site preparation to make your building foundation level.
While planning the build of your Vermont Cabin, you will also need to consider your needs and preferences.
How large is your family? This will determine what size cabin you will require, how many partitions you will want to add to your Floorplan (extra materials are available when ordering our Pre-Cut Kits), and if you will require an Enclosed Mortise & Tenon Annex Kit for extra space.
Will you be using the loft as a second floor? If so, you will want to think about adding a Doghouse or Shed Dormer to your Cabin package to accommodate for headspace. You can also choose a 2/3 Loft or Full Loft. For convenience, we offer a stair system as opposed to a ladder to access your upstairs living space.
Window and door placement? Because our designs are Post and Beam, windows and doors are easy to move around if there isn't a post or a beam in the way. In addition to changing their placement, windows and doors may also be omitted from your order completely so you can source them yourself and customize your Cabin further with sliding doors or colorful insulated windows.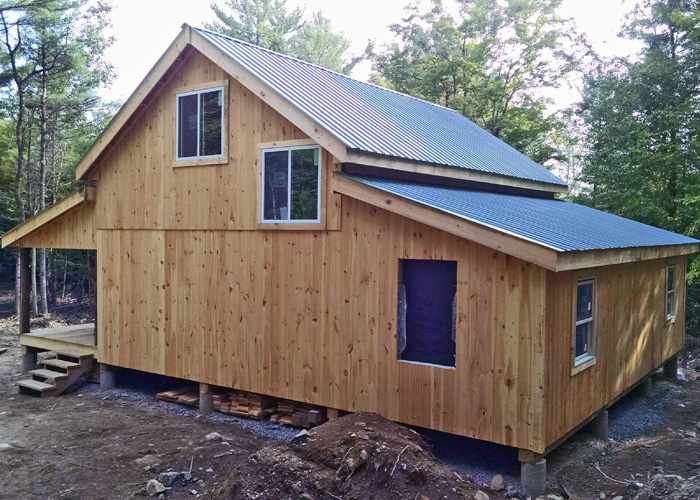 Understanding Mortise and Tenon Construction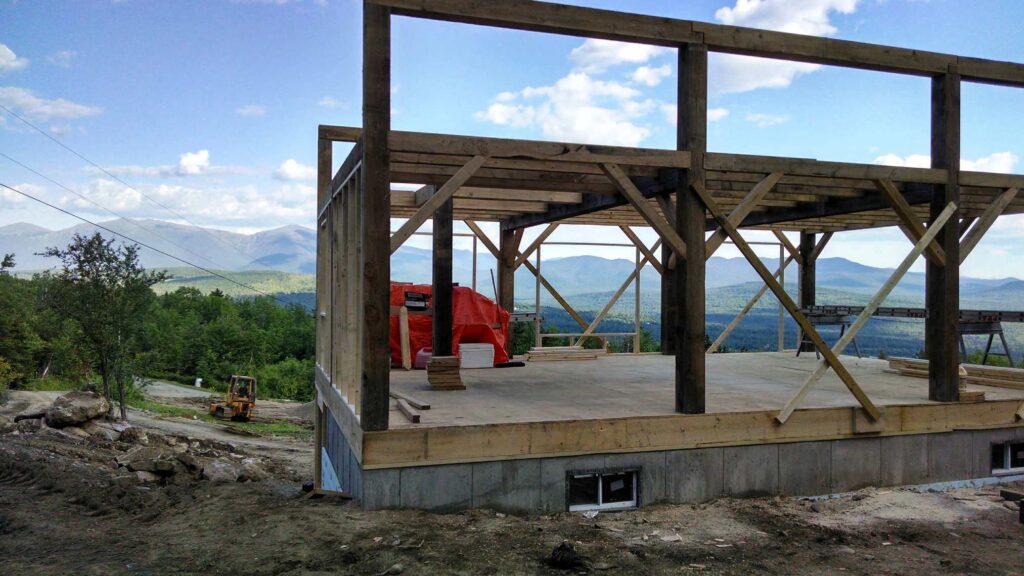 Mortise and Tenon is a traditional construction technique originating over 7,000 years ago. In our Vermont cabin, we use hefty 8'x8' beams for our framing. The mortise is a rectangular or square hole cut into one of the pieces of wood (in this case, the 8'x8′ beams). It is typically cut with a chisel or specialized cutting tools. The mortise is positioned on the end or edge of the beam. The tenon is the matching tongue that extends from the end of the other piece of wood, which is designed to fit snugly into the mortise. The tenon is normally a rectangular or square shape, carefully shaped to fit the mortise precisely. To join the two pieces together, the tenon is inserted into the mortise, creating a tight fit. The joint is held together through friction and the interlocking of the two parts. Sometimes, wooden pegs or wedges are used to further secure the joint.
This tried-and-true construction method creates not only an aesthetically pleasing home but also a sturdy and safe structure to protect your family from the elements, no matter how harsh the climate. You even have the option to upgrade your rafters and framing to 12" on center for an increased snow load capacity. You can rest assured your Vermont Cabin will outlast your lifetime. The classic Timber Frame assembly method makes for ease when choosing window and door placement, as well as efficiency when constructing your future home. Some other notable conveniences to this building approach are the sustainability that comes with using less hardware and allowing for movement and settling of the natural wood material used.
Step-by-Step Guide: From Dream to Reality
Finding a Builder
Building a structure as large and beefy as the Vermont Cabin does require some level of carpentry skill and basic knowledge of Mortise & Tenon construction methods. You can start with our Recommended Assemblers list if you're local to our factory. You may also go on the BBB website and search for credited builders in your area. We always suggest calling contractors ahead of time to factor the cost of this essential step into your budget.
An uncommon, but possible scenario, is hiring an inexperienced builder by mistake. Although our kits come with detailed plans, you still want to make sure to consult with a contractor that is experienced in building large structures with Mortise & Tenon joinery. Alternatively, you can study carpentry skills via workshops or online resources.
We have saved you some trouble and created a checklist you can use when looking for a company to construct your dream cabin:
Investigate local builders
Get recommendations from friends & family
Research experience level
Check insurance and licenses
Ask for references
If possible, visit past projects your potential builder has completed
Get multiple quotes to compare and make sure you're getting a fair price
Assess compatibility and if the contractor understands your vision
Have a solid contract laid out that both parties agree upon
Always trust your instincts!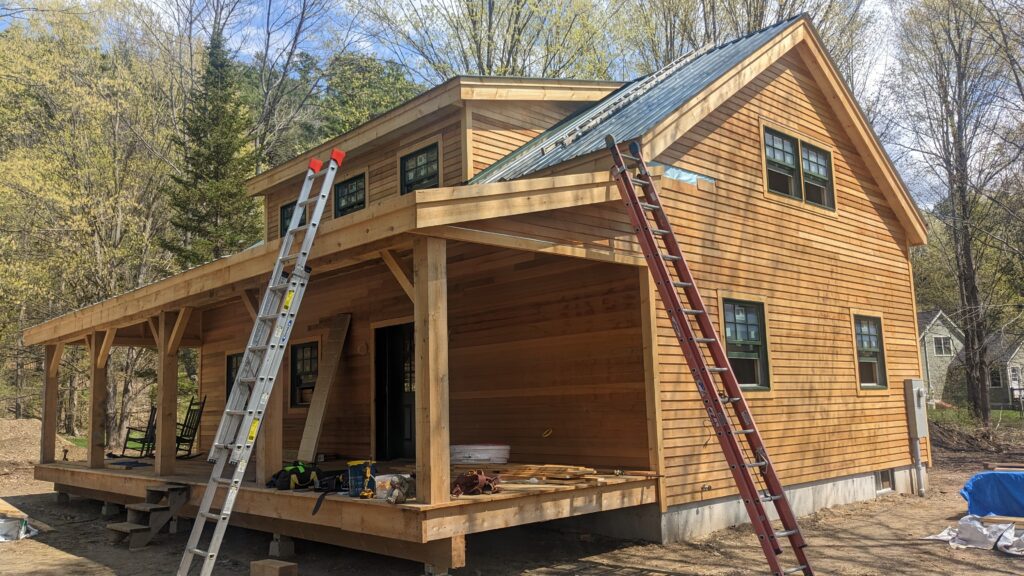 Renting the Correct Equipment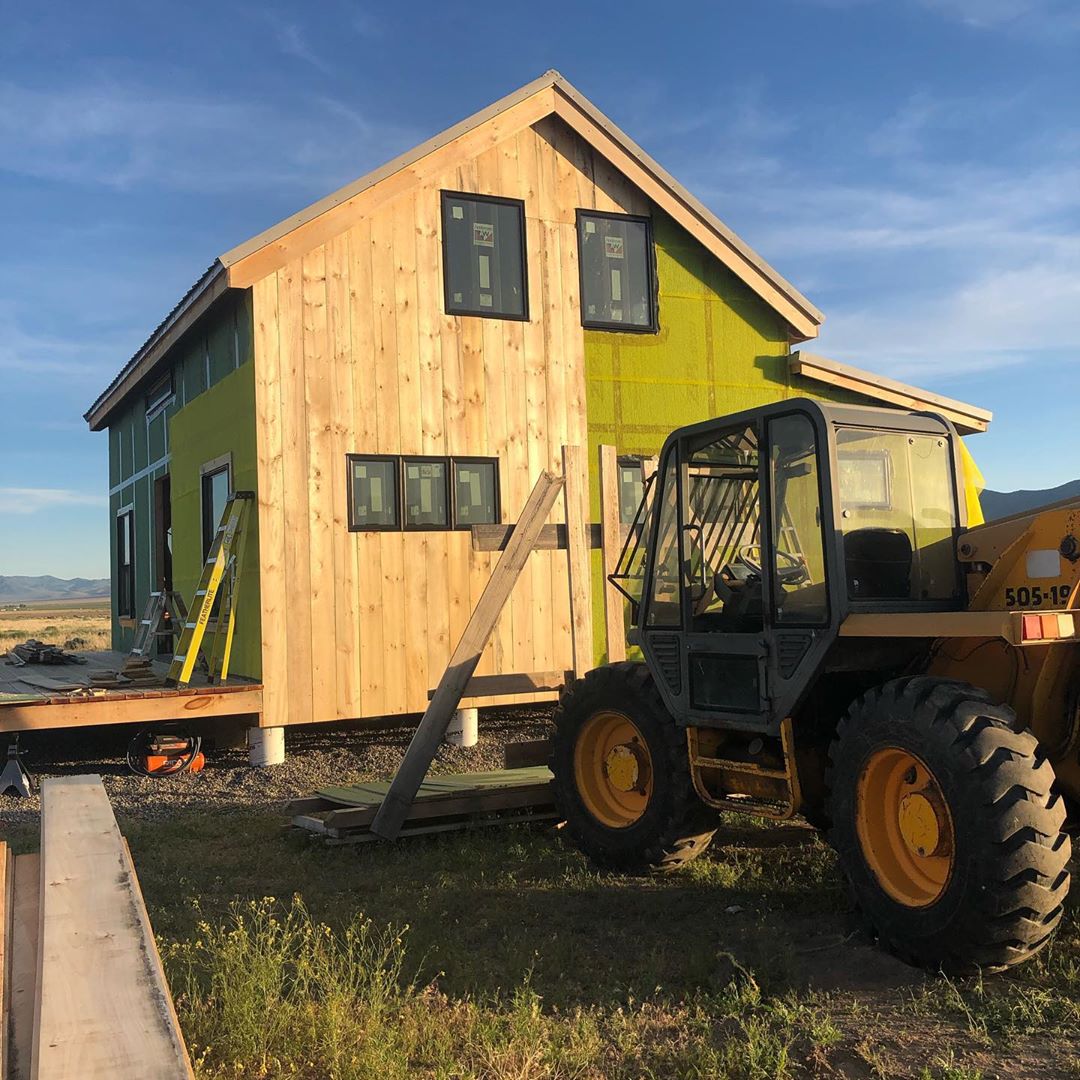 Offloading
The right tools are a huge piece of the Cabin puzzle. If you are located within 300 miles of our factory location in Southern Vermont, we will offload your kit for you. If you are receiving a freight delivery, you will either need to: find a business with equipment that can offload 5,000 lbs. or rent a forklift that can accommodate this weight rating.
Construction
For most of our kits, basic tools are sufficient. The Vermont Cabin is a somewhat different beast. To construct the frame of your building, the beefy 8'x8' beams will require a crane. We recommend you work with a contractor to construct this main component of your structure. Other than this crucial component, if you have basic carpentry skills, you can build the rest with your friends or family.
Selecting the Perfect Foundation
The Vermont Cabin is truly a versatile building that has different options for foundations. The most common foundation system I have seen for this model is a cement slab. For this reason, the Vermont Cabin comes standard without a floor system. If you do require a floor system, say for a basement or crawlspace, you have the option to add that to your order. If you are looking at other options like piers, be sure to speak with your Designer about ordering extra 8'x8' lumber with your kit.
Location and terrain are huge factors when considering foundation options. Piers are a great choice, and sometimes necessary, when you are working with land that isn't level. Piers also provide great ventilation for your building, providing longevity for your Cabin. Helical piles are another great option and are basically large screws planted into the ground that are good when working with unstable soil. In colder climates, you may want to consider concrete footings, placed below the frost line, to account for movement during freezing and thawing.
Aftercare and Maintenance
After your Cabin is constructed to your specifications, you will want to protect your investment with proper aftercare practices. We use all-natural lumber for all our buildings. The siding will gray over time as it is exposed to the elements. To prevent this from happening as quickly, we recommend linseed oil or Cabot brand Australian oil. If you choose to paint, you may select any brand you prefer. We do suggest applying one to two coats of primer prior to painting your Cabin. Our painted roofing is 29 g Galvanized metal and lasts for up to 30 years.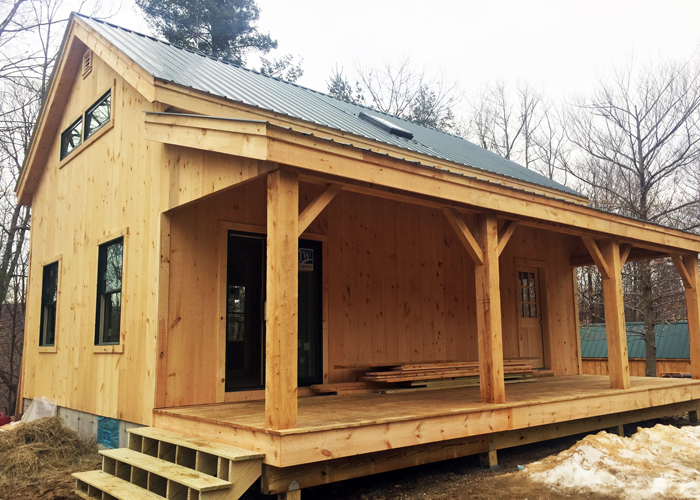 Conclusion
The Vermont Cabin is our most popular design for many reasons. The beefy Mortise & Tenon construction technique creates a timeless and sturdy structure with New England charm. With exposed Post and Beam framing, the Vermont Cabin radiates strength and style, making it a standout among our offerings at Jamaica Cottage Shop.
When starting on the journey to build your Vermont Cabin, careful planning is vital. A solid plan, including considerations such as budget, land, zoning & permits, foundation options, and reputable builders, ensures a resilient outcome that will endure for generations to come. Taking the time to assess your needs and preferences, including the size of your family, desired floorplan layout, and window and door placement, allows you to customize the cabin to suit your lifestyle.
In conclusion, building your Vermont Cabin is a journey filled with careful planning, appreciation for traditional craftsmanship, and the joy of creating a space that embodies both strength and style. We take pride in offering exceptional Pre-Cut Kits made from sustainable materials and supporting our customers throughout the construction process. Whether you are looking for a home for your family or an off-grid hideout, the Vermont Cabin is the perfect embodiment of old-world character, giving you a place to create memories with friends and loved ones.
Take a tour of the Vermont Cabin on our YouTube channel or at our display yard in Southern Vermont!