When buying any kind of post and beam building it is very important to understand how to prepare for and get building permits. The last thing you want to have happen is to buy a prefab shed, or cottage kit only to find out you won't be able to install it due to your local zoning laws. Ignoring your local laws can come back to bite you later on. This is why it is strongly recommended that you understand what is required to obtain a permit before buying a post and beam building.
Why You Shouldn't Ignore the Permitting Process
It might be tempting to skip over obtaining a permit for your shed or cottage. We do not recommend doing this, so here are some of the benefits of getting a permit. When you go through the process of obtaining a permit with your local town office, you may learn important information about your property. Finding out about setbacks, environmental factors, and local rules should be at the forefront before you start building. Knowing this information will help protect your new building, your land, and the existing buildings on your property. Making sure you follow the local rules will keep your neighbors happy, too.
Skipping the permit process can create hardships after your building is erected. No one likes to pay fines, so why tempt fate? Worse, you could be required to tear your unpermitted building down or make hefty repairs to make sure the building meets the local building guidelines. Save yourself the trouble in the beginning and take care of this step before you take delivery of your order. Better yet, get your permit before you order to avoid cancellation fees and disappointment.
First Things First
The first step in figuring out how to prepare for a permit is to call your local town clerk. If you don't know their number do an internet search for your town or city office to get their number. You might even find any necessary documents and forms on your town's website. If you live in a small town, they can probably forward the permit application to you directly. In larger municipalities, the town clerk might need to direct you to the town building inspector or zoning department. If you are lucky, you might find out that a permit is not needed. Some counties are lax on building codes or allow for small, portable sheds to be built permit-free.
What are the Requirements?
Mainly, when a new building is constructed on a property, you will need to know about setbacks and size limits. A setback is the minimum distance away from your property line that you are allowed to build. You might be limited to the footprint size or overall height of the building as well.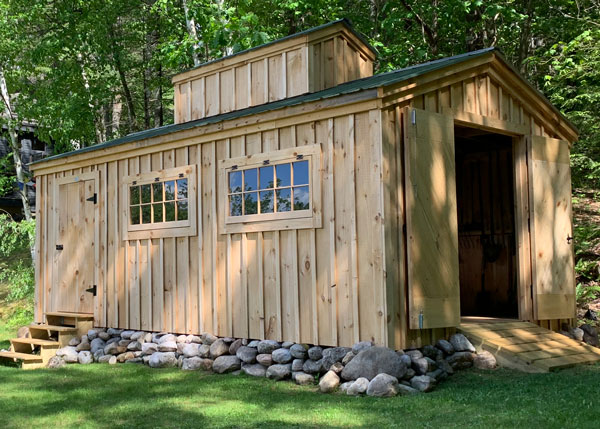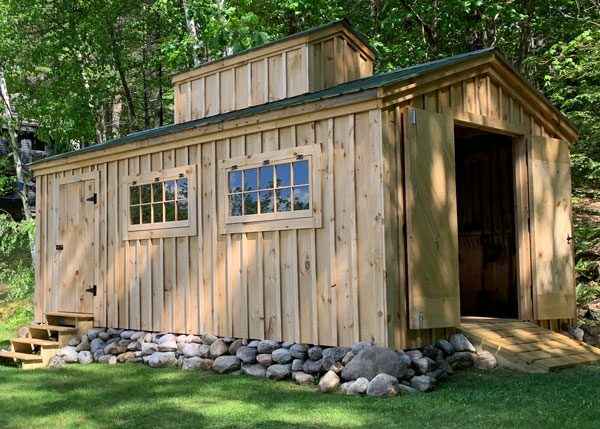 Environmental factors are also very important to understand. Do you live in an area that is prone to flooding, hurricanes, tornadoes, heavy snowfall, or earthquakes? You might need to obtain engineered stamped plans to ensure your building meets the local code. You might also be required to install particular foundation types that will work with the environment. Even if you don't live in an area that is prone to any environmental factors your town might still require engineered stamped plans or have a stringent permitting process. It is best not to make assumptions.
If you reside in a historic zone or HOA you might need to pay close attention to design, materials used in construction, and size to match up with the local aesthetic.
Get Your Ducks in a Row
Before you order make sure you fill out your paperwork. Obtain engineered stamped plans if they are required. Many of our customers will purchase our step-by-step plans first to see if those will be sufficient. They can help plan out your foundation, plus we credit the price you bought the plans for when you move forward with a pre-cut kit purchase.
If engineered stamped plans are required, a couple options are available. You might want to work with a local architect. They can use our step-by-step building plans as a reference to draft up the elevations and work out any calculations. If modifications must be made to meet the codes, you will know in advance. You can then work with your contractor to order extra materials (if needed). They should also know how to make any other modifications.
We also work with an engineering company that drafts engineered stamped plans for nearly any zip code in the United States. These plans can be ordered online as an add-on when you are shopping for your project. Or contact our sales team for a quote if you want to start that process before you buy your building project.
You Have Your Permit, Now What?
Once you have the permit in your hand you can start with the fun stuff! Getting your site prepared means you are one step closer to getting your amazing post and beam building. Plus, you will be able to begin envisioning your cabin, cottage, or shed in its new home.
Start shopping for your building. Are you getting a kit or prefab structure? What kind of roofing, siding, windows, and doors are you going to choose? Do you want to get some other goodies like flower boxes or wooden furnishings? How are you going to decorate the interior? What about landscaping?
All the while, keep close communication with your contractor. They should be most helpful during the building process. Interpreting engineered plans or zoning laws is not everyone's forte, so working with professionals can be very enlightening.
Did You Hit a Bump in the Road?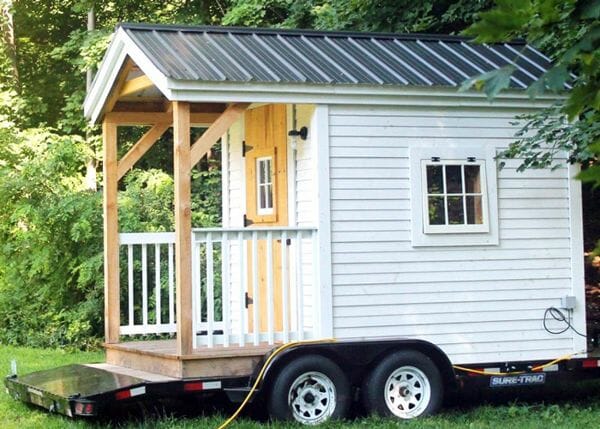 If your building project was not approved, have no fear. You might need to reimagine your project. Usually, some small tweaks will turn it around. You might need to reinforce the frame, add more rafters, or pick a different foundation option. In some cases, choosing a design that is a few sizes smaller, or installing the building on wheels will eliminate the need for a permit altogether.
If you are finding the process is taking longer than anticipated, but don't want to miss a big sale, communicate with our sales team. We will do our best to work with you. For questions and concerns contact our sales staff by calling 866-297-3760 or contact us via this form.
Conclusion
Permitting might not be the most glamourous step. It is, in most cases, necessary. The benefits outweigh the costs when you consider fines or potential repairs. Opting for engineered plans will ensure your building will stand up to your region's environmental rigors. All in all, your permit is meant to protect your investment. A long-standing building and harmony in the neighborhood are both priceless.
Remember that it is your responsibility to obtain a permit for your building. We tried to cover as much ground as possible but realize that laws are constantly changing. They differ from state to state and county to county. If you know of other factors not mentioned here, please share with us!