If you have looked at any of our sheds and cottages and tiny houses, or flipped through a set of our DIY building plans, you would have seen that we use post and beam framing techniques in our builds. Why? It's because it is an age-old carpentry technique that has stood the test of time.
Visit Stonehenge to see an example of an ancient structure built with stone posts and beams. Another classic example comes from the Amish, who are famous for raising timber frame barns. With the increasing demand for rustic-style homes, you can now find post and beam framing making a big comeback. Create an interesting interior with an exposed timber frame inside. The posts, beams and angle braces tie into both modern and antique interior decorating. Plus, did we mention how sturdy this framing style is? In our humble opinion, it's the best!
Anatomy of a Post and Beam Building
Our designs start with conventional building techniques. A floor system contains skids and joists, or a treated sill plate. Rafters, a ridge pole, and collar ties frame the roof. Posts and beams tie into the wall framing.
Posts are the vertical pieces of lumber that support the horizontal beams.
Angle braces provide additional support from the posts to the beams.
Horizontal nailers installed several feet from the floor, and between posts, set up an extra point for fastening siding.
We utilize a few different techniques for building our post and beam structures, depending on the design. So, here we'll talk about a few of those.
Half-Lap Joints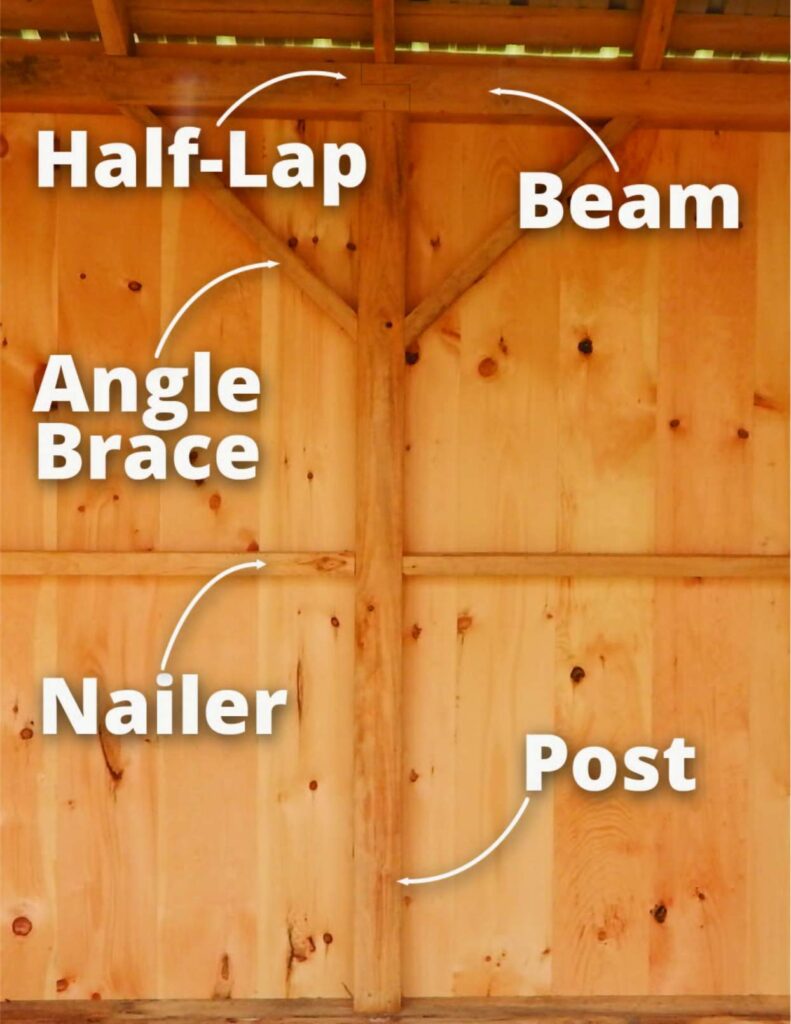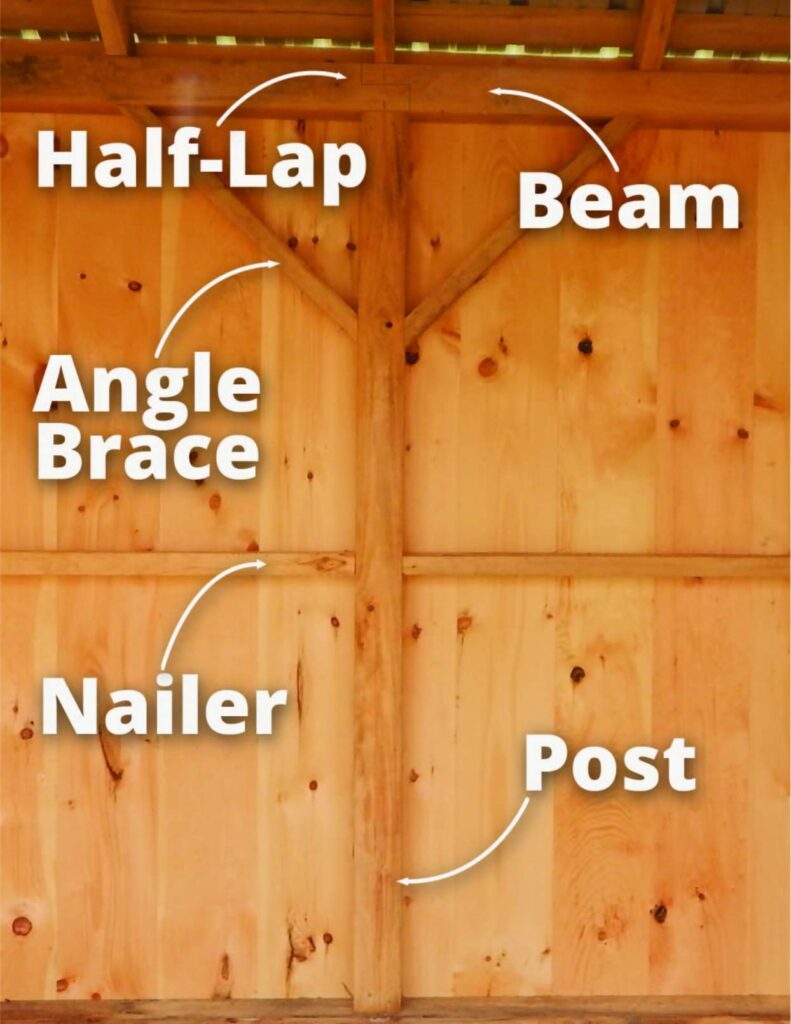 Our storage sheds, mid-sized garages, and small cottages are the simplest of our designs. We build the posts, beams and angle braces with true-dimensional, 4×4 rough sawn hemlock lumber. We cut the ends of the beams in a way that allows two boards to lap over each other. Then the boards are nailed to the posts, along with the angle braces. The half-lap joint sits right on top of the post, for the strongest point of contact. A 4×4 piece of lumber weighs much less than our stockier boards, so one or two strong people can lift these pieces without machinery.
Box Beams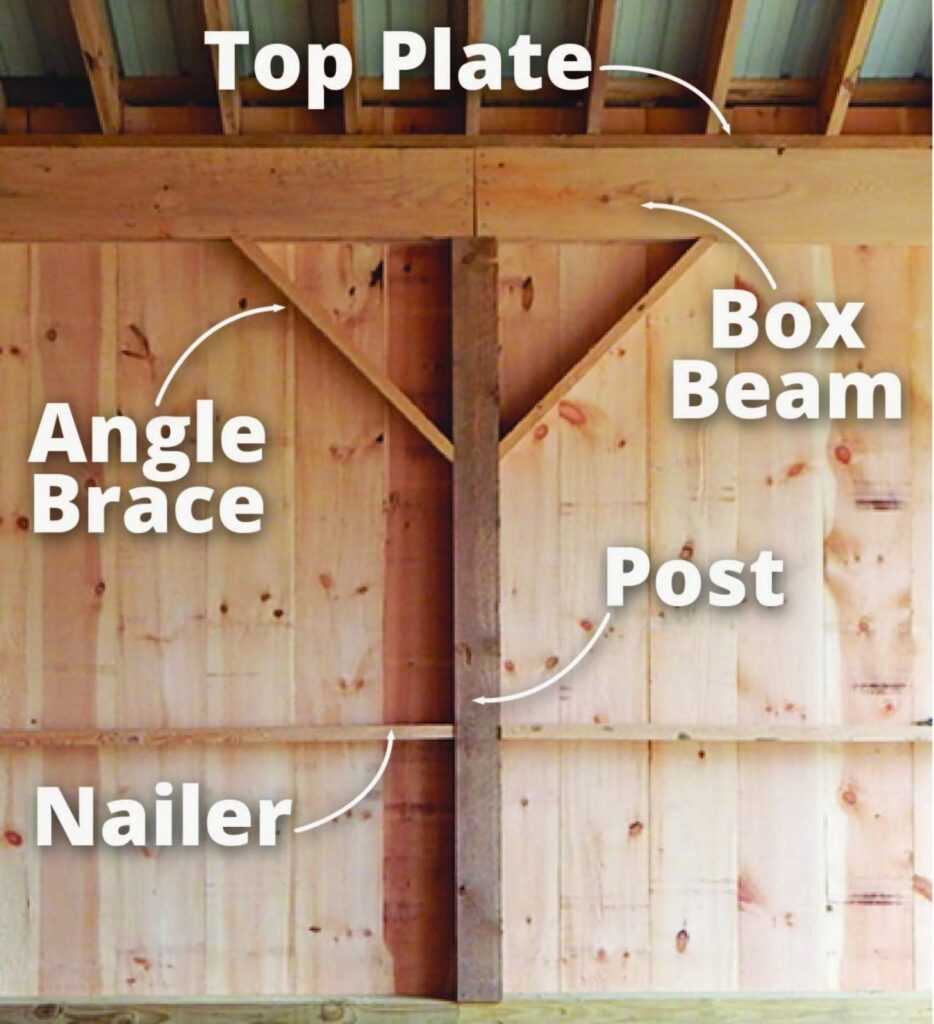 This type of beam is installed on our Simple Garages. Because we build those garages with 6×6 hemlock posts, we need a thicker beam to hold up the massive roof. With a box beam post and beam structure, the post will have a 2-inch by 12-inch tenon notched out at the top. We sandwich this tenon between two 2×12 hemlock boards to create the beam. Next, the two box beams and tenons are secured together with a 2×6 top plate. The result is a box beam that is 6×14 inches in dimension. There is no denying that this hefty beam is fantastic.
Mortise & Tenon aka Timber Frame
We designed our timber frames so that they are built with true-dimensional 8×8 hemlock lumber. We offer three buildings that utilize this framing technique. These buildings include the Vermont Cabin, Two Bay Garage, and 20×30 and 20×40 Sugar Shacks. Also, we sell Porch, overhang, or enclosure kit add-ons.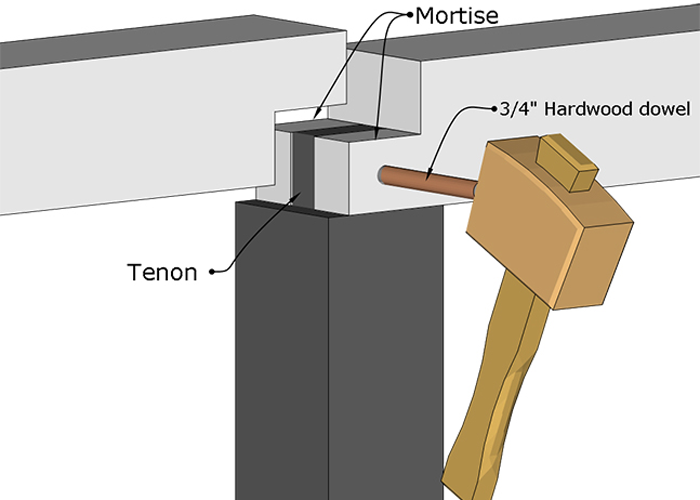 With these frames, the posts and angle braces have tenons. To create a tenon, we notch a protrusion out of the lumber. This locks together with a mortise. Mortises are notched-out holes that fit over the tenons. You will find mortises in the posts where the loft floor beams and angle braces connect to them. Wall beams also have mortises. They make contact with the posts, along with the floor joists. We utilize half laps in the beams, and like our smaller frames, these joints sit on top of the post. Finally, we secure everything together with ¾" wooden timber pegs.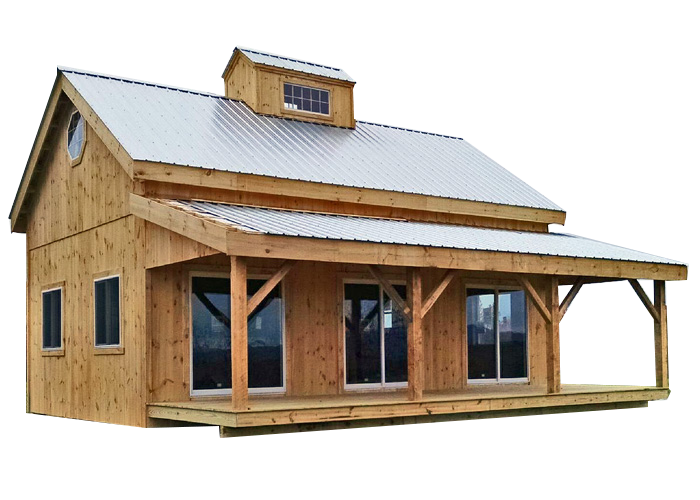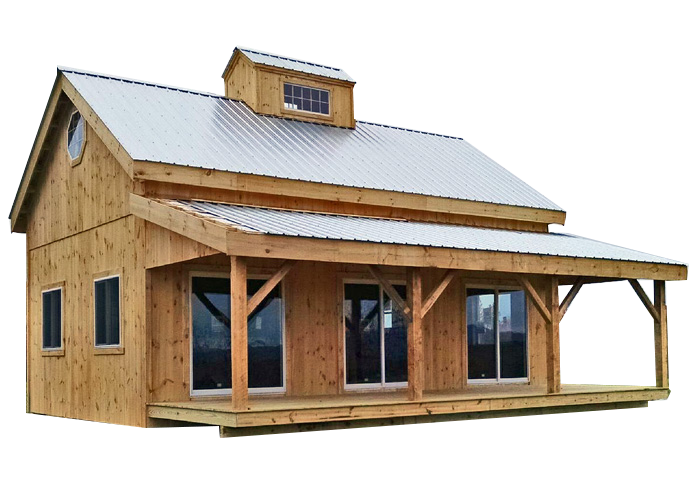 Conclusion
Many shed and cottage companies use panelized or stick-built techniques. In many cases, these styles can be just fine. But there is a reason you don't hear about historic buildings discovered that use these building styles—they just don't stand the test of time! If you are looking for a robust cabin, post and beam is the way to go. Setting up a house frame where the lumber interlocks together, with the siding added after, ensures a durable structure.
Looking for something roomier than what we offer? Visit our parent company, WHS Homes brands, Timber Peg and American Post & Beam for more post and beam construction styles.