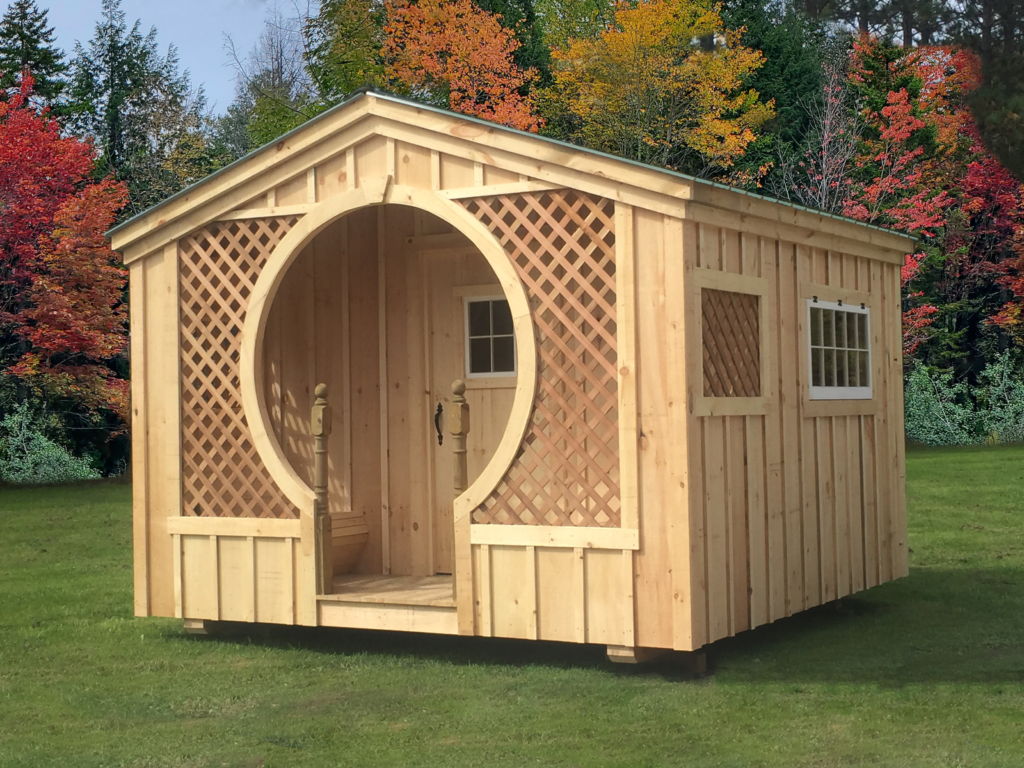 INTRODUCTION TO COTTAGECORE
Cottagecore, a lifestyle movement that emerged in the late 2010s and gained widespread popularity on platforms like Tumblr, celebrates the charm of rural living, with a particular focus on the enchanting allure of cottages and nature. This trend extends beyond aesthetics, emphasizing sustainable practices (like homesteading), promoting slow-food principles, and encouraging off-grid living. By fostering a longing for a wholesome, eco-conscious way of life, Cottagecore continues to enchant and inspire individuals seeking a simpler and more connected existence.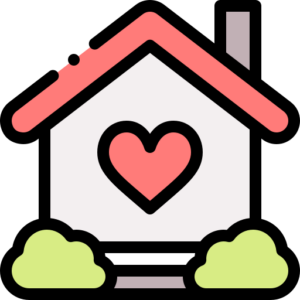 UNDERSTANDING COTTAGECORE BUILDINGS

Cottagecore buildings lie at the center of this whimsical lifestyle, capturing the charm of country living. Think cozy cottages, adorable cabins, and classic farmhouses. With their natural materials and rustic designs, they create a welcoming vibe, celebrating the love for nature and craftsmanship that Cottagecore embraces. Many of our cottage and cabin designs fit this aesthetic, complete with rough sawn lumber and exposed Post and Beam. Check out our Smithaven design, pictured left, converted into a rustic treehouse.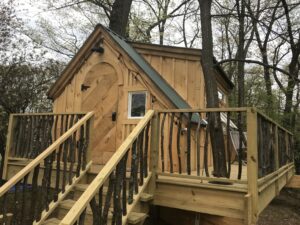 In the world of Cottagecore, buildings are the center of peace and creativity. They offer a cozy escape from the hectic modern world, allowing people to slow down and connect with the natural environment. It's not just about physical shelter; these spaces become a haven for one's soul, filled with vintage treasures, elegant French and Farmhouse style furniture, and beautiful rich prints on textiles and wallpaper (think Grandmacore).
Cottagecore buildings are all about being one with the Earth – a harmony of aesthetics and practicality. The architecture embraces large windows that invite sunlight and the outdoors, with open floorplans that make the most of enchanting views. Using eco-friendly materials, they become eco-warriors, supporting sustainable living and a genuine love for Mother Nature, which perfectly aligns with the Cottagecore values of caring for our planet.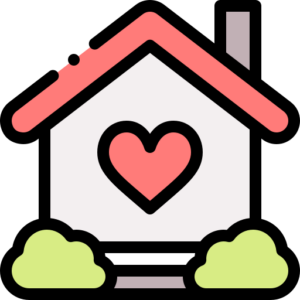 THE QUAINT SHED: A CANNED GOODS CELLAR
Having a quaint shed, like our Hardware Shed with a rounded door, as a place to preserve nature's abundance perfectly embodies the essence of sustainability, the center of a Cottagecore lifestyle. Inspired by rural traditions and slow-food principles, this shed becomes a special spot to reconnect with the art of canning and promote sustainability. Beyond its practical use, it becomes a symbol of tradition and waste reduction, representing the root values of Cottagecore.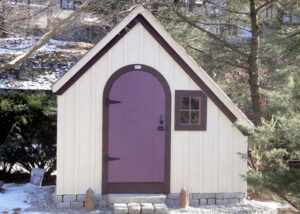 Creating your own canned goods cellar is a fun and rewarding DIY project. Start by finding the perfect shed that complements the natural surroundings and ensures good ventilation. Get creative with shelves or old wooden crates to store your canned goods securely. Gather various glass jars with tight lids for your homemade preserves – fill them up with your favorite jams, pickles, sauces, and dried herbs from the garden. Canning food in-season allows you to enjoy those delightful flavors year-round, reducing reliance on store-bought items and supporting local farmers. Remember to clean and sterilize the jars before use and add handwritten labels for that rustic touch. As you embrace sustainable practices and preserve food, you're not just creating delicious meals but also preserving a piece of history and contributing to an eco-friendly future – and that's what Cottagecore is all about.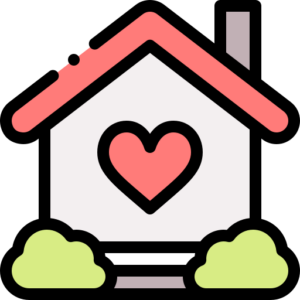 THE CHICKEN COOP: RETURNING TO YOUR ROOTS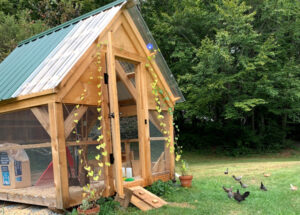 In the world of Cottagecore, the chicken coop is a symbol of returning to the roots of rural living. Encompassing the principles of self-sufficiency and a close connection to nature, raising backyard chickens has become a beloved aspect of this charming lifestyle. The joy of tending to your feathered friends and witnessing their playful personalities brings a deeper appreciation for sustainable, farm-to-table practices. In the spirit of Cottagecore's simplicity and mindful living, the chicken coop offers a slice of rural farming right in your backyard, allowing followers to cherish the tradition of keeping chickens while enjoying the rewards they bring
To create this roosting sanctuary, consider using reclaimed materials like rough sawn wood and vintage details to add a touch of whimsy appeal. Opt for a design that allows the chickens ample space to roam and scratch, keeping them happy and healthy. By raising hens in your backyard, you can indulge in the farm-to-table freshness they provide, savoring delicious eggs for your slow-food inspired meals. With a quaint Cottagecore chicken coop, you'll find joy in both the simpler times of the past and the sustainable practices that shape a more wholesome and connected present.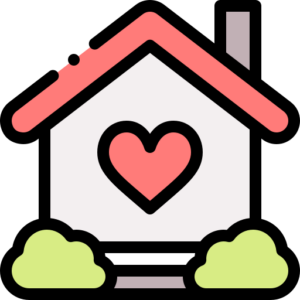 THE WRITER'S HAVEN: CULTIVATING CREATIVITY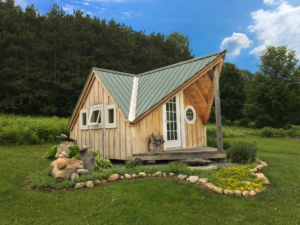 Imagine stepping into the enchanting Writer's Haven craft studio, a sanctuary dedicated to nurturing creativity and artistic pursuits. This charming space is designed for writers, artists, and dreamers alike, offering a haven where imaginations can run wild. With its whimsical aesthetics, the Writer's Haven inspires the imaginative spirit. This magical retreat becomes a doorway to endless adventures, where Cottagecore creativity blossoms.
At the heart of the Writer's Haven craft studio lies a deep connection with nature, expertly woven into the Post and Beam design. Large windows and clear poly roofing panels frame picturesque views of the surrounding landscape, inviting sunlight to bathe the space in inspiration. The built-in Daybed, adorned with rustic textiles and décor, evokes the timeless allure of Cottagecore aesthetics. Surrounded by the beauty of the natural world, writers and artists alike can't help but be inspired.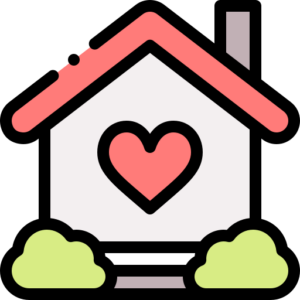 THE ULTIMATE COTTAGECORE DREAM: A LIVABLE COTTAGE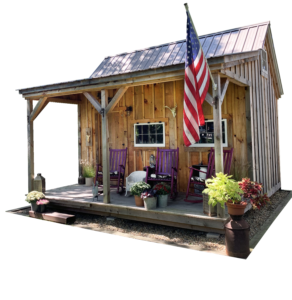 Step into the ultimate Cottagecore dream – a livable cottage that seamlessly blends the nostalgia of yesterday with the comfort of modern living. This hideaway becomes an embodiment of the Cottagecore aesthetic, where simplicity and coziness come to the forefront. As you enter, a rustic charm welcomes you. Yet, it doesn't compromise on today's comforts like a fully-equipped kitchen, luxurious bedding, and efficient heating, making it a livable sanctuary for those seeking a slower, more wholesome way of life. 
Designing a charming cottage home, like the Homesteader pictured, is an art that requires a delicate balance between vintage allure and contemporary functionality. The key is to incorporate timeless elements like exposed wooden beams, brick fireplaces, and antique furnishings, evoking a sense of romantic nostalgia. Soft, muted color palettes and floral accents enhance the cottage's ambiance. Embracing the Cottagecore vibe, the cottage home integrates sustainable and eco-friendly features, such as energy-efficient appliances and natural materials, harmonizing with nature's beauty. Consider adding a wildflower garden to your property to promote pollinators.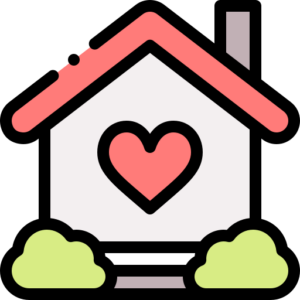 CONCLUSION
Cottagecore buildings embody a timeless appeal, evoking the charm of rural living that captivates our hearts. From quaint cottages to cozy cabins, these structures celebrate simplicity and self-sufficiency, reminding us of a slower, more wholesome way of life. By embracing the Cottagecore aesthetic, we can infuse our daily lives with the magic of nature. Tending to our own gardens and chicken coops, we cultivate a deeper connection with the land, supporting sustainable practices that harmonize with the environment. This whimsical lifestyle encourages us to savor the beauty of farm-to-table freshness, cherishing Mother Nature through canning and slow-food principles. By integrating these elements into our homes and hearts, we find solace and inspiration in the beauty of a life lived mindfully and in harmony with the world around us. Through Cottagecore, we celebrate not just a trend, but a deep philosophy of sustainability, slow-living, and a cherished connection with nature that enriches our lives and brings us closer to the essence of who we truly are.