Ensuring the protection and well-being of your cherished goats demands careful consideration when selecting a durable goat house. While goats are known for their hardiness and resilience, they still require adequate shelter to protect them from the elements. Giving your goats a comfortable house will promote their happiness and productivity for your homestead. Whether you are raising meat goats, dairy goats, or fiber goats, several crucial factors should guide your quest for the perfect shelter. Join us as we discuss what makes a great goat shed and offer some recommendations to help you pick the perfect goat barn for you.
How Many Goats?
The first step in picking a goat shed is deciding how many goats you want to keep. The size of your herd will help you determine how large a goat house you will need to build in order for your animals to coexist comfortably. As a general guideline, allocate between 16 and 25 square feet of shelter space per goat: We advise 20 sqft per animal.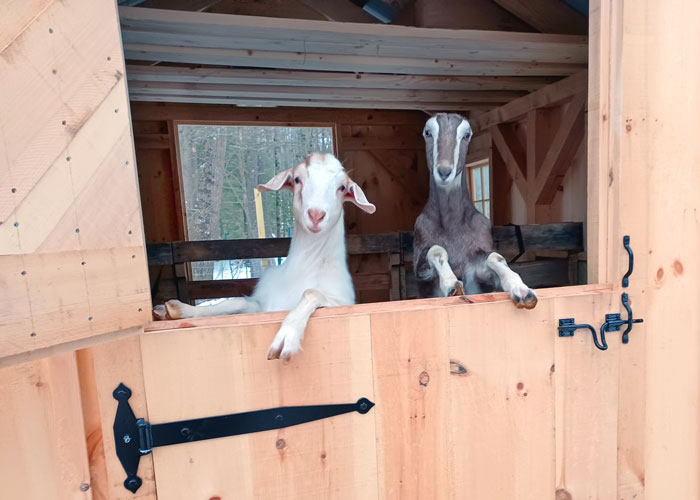 We highly recommend sizing up when you choose your goat shelter. Your animals will appreciate the extra room. Plus, sizing up gives you the flexibility to add more animals to your property in the future without having to build extra housing. For example, if you want to have a total of 5 goats, a 10×14 shelter will give you 120 square feet of space, which is enough for every goat to have more than enough room, and for you to potentially expand your flock by two more, if you choose to do so in the future!
Our Gable Shed is available in a diverse range of sizes, and is a favorite of our customers who are purchasing a goat barn. The smallest size in this model is 8×8, and is suitable for 3 goats, while the largest 14×30 Gable can accommodate up to 21 goats. That's a whole lot of hooves and horns! Configure the Gable Shed with dutch doors to give your animals fresh air on days when you want to keep them inside.
Elemental Protection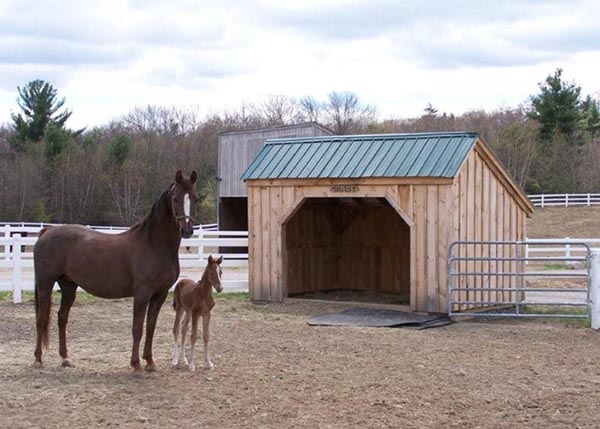 Your animals will appreciate a barn or shed that they can use as shelter from the wind and rain. Three-sided shelters are a great addition to your goat enclosure, and will quickly become your animals favorite place to relax. In most cases, it is best to orient an open shelter towards the south to make it more protective against inclement weather and cold temperatures. However, consider your local climate and weather: if storms typically come from the south where you live, choose another direction for your building.
Our Run-In Standard is the perfect example of a durable three-sided goat shelter. It comes with steel corner brackets and a pressure-treated sill plate, which make it durable enough to be moved, if necessary. Plus, the kick-plate will protect the building's siding from goat hooves. We also offer a Run-In Basic, which doesn't have quite as many features, but an economical choice for a goat shelter. You can read our blog to learn about the difference between the Standard and Basic Run-Ins.
Ensuring Dry Floors
Maintaining clean and dry floors within your goat house is of utmost importance for your animals health and comfort. Optimal choices for easy cleaning are either a concrete floor system or a crushed gravel foundation complemented by suitable bedding. Choose a location on your property that has adequate drainage: the higher the better. This will prevent your goat house from becoming damp during rainstorms.
When maintaining your goat barn, a concrete floor system can need pressure washing to clean, which is not ideal for people living off-grid. A compacted gravel system is usually more appealing to homesteaders, and typically cheaper to install as well. One goat house that works well on a compacted gravel foundation is our New Yorker shed. It comes in many sizes and can be purchased without a wooden flooring system. This makes for a clean, dry, and low-maintenance goat house.
Efficient Manure Management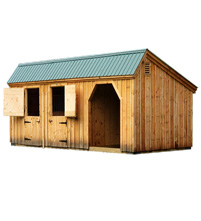 Excessive buildup of manure can expose your goats to parasites and diseases, thus demanding effective management practices. During the summer heat, it is advisable to introduce a livestock fan to your shelter to ensure proper ventilation. Our versatile Stall Barn model, available in various sizes, stands as an outstanding solution for efficient manure management. It comes with two stalls, which allows you to keep your goats in one while you clean the other.
The Stall Barn has no flooring system and sits directly on its foundation, which is ideal for allowing liquid waste to drain away naturally. This shelter's dutch doors are also very useful for ventilation. Plus, the 30 foot wide Stall Barn sizes come with an open compartment, giving your goats a run-in shelter they can access easily. We highly recommend this building if you want your goats to live in ultimate luxury.
Enhancing Quality of Life
Incorporating convenient features into your goat shelter can significantly improve both your own and your goats' daily lives. Consider the addition of bunks or shelves made from extra lumber, providing your tribe with comfortable sleeping surfaces or places to climb and play. Installing a feeding trough within your Goat House adds convenience during breakfast and dinner times. A feeding station can be modified with lumber to keep your goats from fighting over food. Goats eat a wide variety of foods, and you can supplement their diet with nutritious table scraps. This will help you reduce food waste, and give your goats some enrichment. Just make sure you research beforehand what goats can and can't eat.
Your goat's hay and grain will require storage. For a storage shed that can double as a three sided shelter, our Weekender Shed serves as an ideal choice. The storage side is the perfect place to put your goat feed, which is best stored in a Galvanized trash can to deter pests. Meanwhile, your goats will love to chill in the shelter provided by the open compartment.
Choosing a Durable Shelter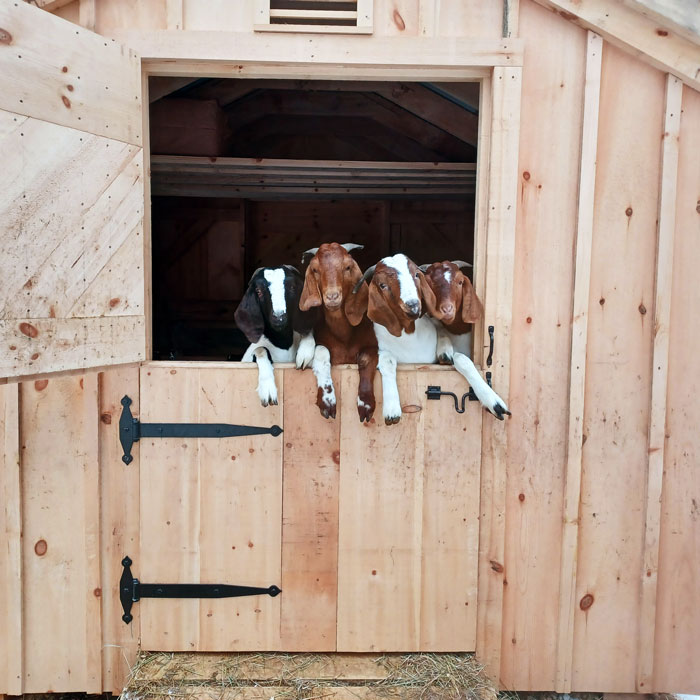 Part of what makes our goat sheds stand above the rest is their quality. Many prefabricated sheds are built with flimsy boards that won't stand the test of time. Goats are quite strong and active animals, so choosing a goat house that can stand up to their roughhousing is crucial. All our sheds and barns are built with at least 4×4 strong hemlock framing, and our larger barns have even beefier builds. From floor to ceiling, the goat sheds made by Jamaica Cottage Shop are the highest quality. Plus, we have convenient purchase options to suit your needs and budget. Our Pre-Cut Kits come ready to assemble on your property, and ship all across the continental USA. Fully Assembled buildings are also available to our customers within 300 miles of our factory in Vermont. Plus, you can choose, configure, and even purchase your shed entirely on our website: It's one of the easiest ways to buy a goat house online!
We hope our guide to choosing a goat shelter has helped you figure out what features are a priority for your herd. There's no one-size-fits-all option, so if you have any questions, we also have a dedicated customer care team that can help you choose an ideal goat house, or guide you through our customization process. Good luck, goat lovers!