In the realm of alternative housing options, prefab homes and fully assembled buildings stand out for their unique advantages and distinctive construction processes. While they may seem similar, there are key differences between prefab and fully assembled buildings that you will want to consider if you are choosing between the two. We're going to take a deep dive into the most noteworthy differences between these two options. We explore the intricacies of construction methods, the realm of customization possibilities, the logistics of transportation and installation, and the factors of time and cost to help you make an informed decision about the most suitable housing solution for your specific needs.
Construction and Size
Prefab Homes:
Prefabricated buildings are crafted off-site, typically in controlled factory settings. The components, including walls, floors, and roof panels, are constructed in modules or sections, which are then transported to the final site for assembly. Prefabricated buildings have fast on-site construction times compared to traditional building methods. Many kinds of buildings can be sold prefabricated, including garages, sheds, and houses. Materials used in prefab buildings are usually a mix of modern and traditional materials, with a preference for lightness and ease of transport. Because prefab buildings are modular, you can construct relatively larger buildings using this system.
Fully Assembled Homes and Buildings:
Fully Assembled buildings also are crafted off site but are not modular in nature. Instead, the entire structure is expertly put together, and transported to the final site as a whole unit. This means that there is virtually no construction time to consider. This significantly reduces the amount of work involved for the purchaser to get the building of their dreams. Fully assembled buildings can be made of all kinds of materials. We at Jamaica Cottage Shop choose to build with primarily traditional post and beam construction, using sturdy hemlock framing and natural wood siding. This will make for a heavier building than a prefab structure, but also a stronger one. Strength is often a priority for people living in climates with harsh weather, so this is an important factor to consider. When it comes to size, fully assembled buildings are limited by what can be transported over the road. This does make some constraints for length, width, and height. This means that fully assembled buildings are better options for things like tiny homes, garages, storage sheds, and small barns.
Transportation and Installation
Prefab Homes:
Once the modules of a prefab home are completed in the factory, they are carefully transported to the final site using specialized trucks. At the installation site, builders will complete the prefab assembly. Cranes or other heavy machinery are employed to precisely connect the modules, thereby completing the construction process. This transportation and installation phase necessitates meticulous planning, coordination, and expertise. If the company you are purchasing the prefab structure from does not have services to help you finish your build, you may need to rent equipment and hire a construction crew to finish your prefab building.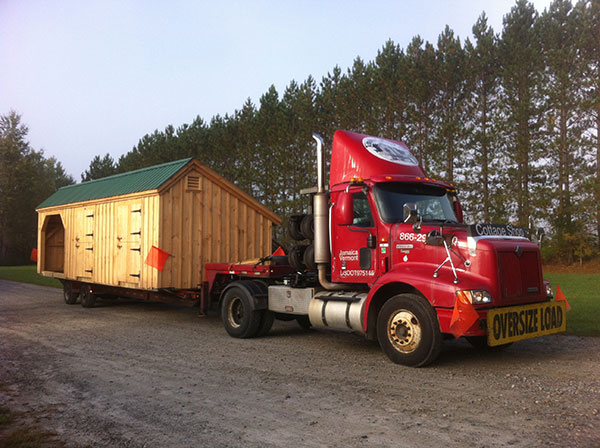 Fully Assembled Buildings:
Fully Assembled buildings require specialized trucks and equipment to transport the building and lift it into its final place. However, the complexities associated with on-site construction are entirely eliminated. These buildings are delivered directly to the customer's property as complete structures. The company handles the transportation and installation, providing a hassle-free solution that is ready for immediate use. At Jamaica Cottage Shop, our team of skilled delivery drivers arrive with all the equipment they need, including a Moffett forklift, to carefully place your building. This approach ensures a seamless experience for customers by minimizing the challenges typically encountered during on-site construction projects.
Customization
Prefab Homes:
The modular nature of prefabricated homes and buildings allows for a range of customizations. Homebuyers can typically choose from an array of floor plans, layouts, finishes, and materials to tailor the home according to their preferences. The modular construction process allows for increased design flexibility and customization options. However, you might not be able to request highly customized individual modules. Think about it like a Lego set: you have a lot of freedom to customize how you put your Legos together, but you are limited to working with the parts that are already available to you. When it comes to color, prefab buildings will often have a few options available, but you will be limited to what the manufacturer can provide.
Fully Assembled Buildings:
Your options for customizing a fully assembled building will depend on the company you purchase from. Some companies pre-build their structures, in which case you will likely not be able to order a custom building. However, at Jamaica Cottage Shop, we make our buildings to order. This gives you freedom to customize your building during the purchasing process. Most of our buildings come with multiple options for size, floor plan, roof color, and siding. We also offer three insulation options for most of our designs. Some of our models even come with an option to add a space-enhancing loft. If you want an even more personalized building, we can also help you design and build a one-of-a-kind fully assembled building. For the price of a modest design fee, we will have our skilled drafting team bring your idea to life. Our buildings come with natural wood siding, which you can easily paint or stain to perfectly match your home or other buildings on your property.
Time and Cost
Prefab Homes:
Prefabricated homes are known for their relatively faster construction time when compared to traditional on-site construction. The off-site fabrication of the components allows the manufacturing and site preparation stages to occur simultaneously, significantly reducing the overall construction timeline. The shortened construction time often translates into lower labor costs compared to buildings that are constructed on-site.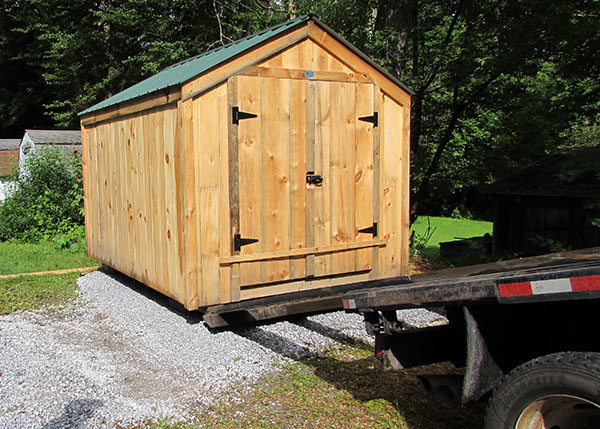 Fully Assembled Buildings:
Fully assembled buildings offer the advantage of eliminating on-site construction entirely. These buildings are crafted and completed off-site, adhering to rigorous quality standards. Just like with prefab buildings, you also get the advantage of the construction and site preparation occurring at the same time, which significantly speeds up the process of putting a new building on your property. The construction time for fully assembled buildings can vary depending on factors such as the complexity and size of the structure. Nevertheless, the convenience, superior quality, and durability of the finished product make it a worthwhile investment.
Conclusion
Prefab homes and fully assembled buildings offer similar conveniences over on-site construction. However, they are different enough in practice that you might prefer one over the other. By exploring the distinctive features of prefab homes and fully assembled buildings, you can make an informed decision regarding the most suitable housing solution for your specific needs.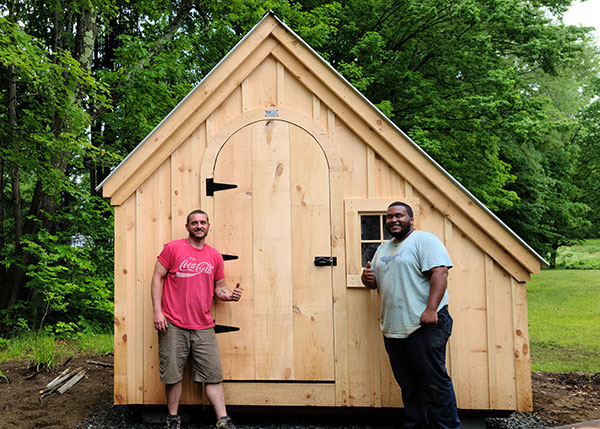 If you decide that you're in the market for a fully assembled building, Jamaica Cottage Shop offers a wide selection of styles characterized by the excellence of their post and beam construction and extensive range of tailored features. Additionally, our online configurator gives you the opportunity to easily personalize your fully assembled building. The unmatched convenience, durability, and aesthetic appeal of fully assembled buildings provides a compelling alternative to traditional on-site construction methods.