You want to be toasty all winter long, right? Well, the best way to achieve maximum warmth is with a cozy wood-burning stove. Since firewood comes from a renewable resource, it is a sustainable heating practice in most parts of North America. Affordability is another popular factor. But before you start burning, you will want to know the best methods and ideas for storing your firewood.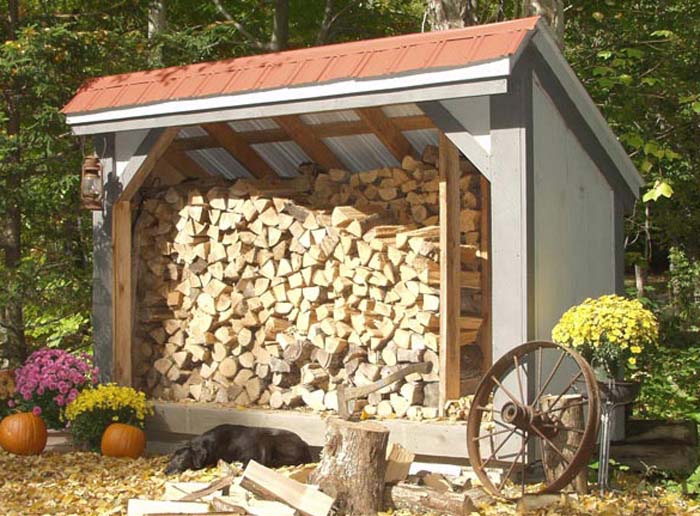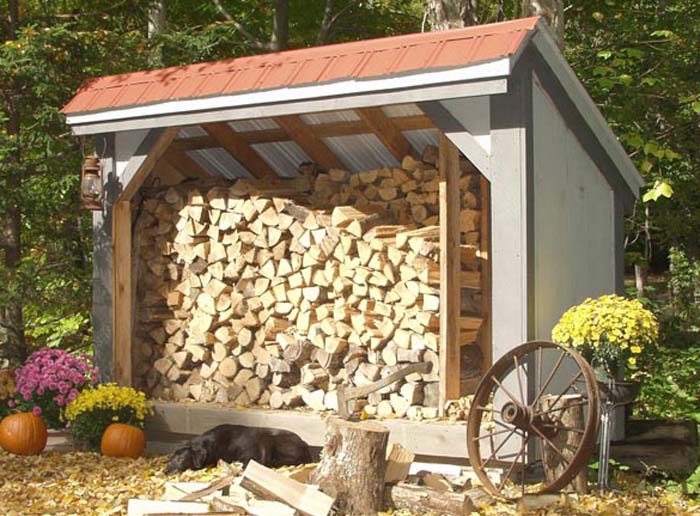 What Type of Wood Should You Burn?
Many think that freshly chopped firewood from your backyard will start up your fireplace. This assumption is false, and you want to make sure you are burning seasoned wood first. Newly cut wood is green, which means it has a pretty high moisture content. The result of damp wood: fires that are very smoky, smelly, and possibly dangerous. Creosote can build up in your chimney or stovepipe, and you don't want that! Also, green wood doesn't burn as efficiently, meaning you will go through your woodpile in a flash.
Seasoned firewood is what you want to burn. Let your chopped firewood age for about six months, or until there is 20% moisture content. Split open the logs and expose the insides to air. Local firewood suppliers will sell seasoned wood too. Buy it early to avoid missing out on this season's harvest.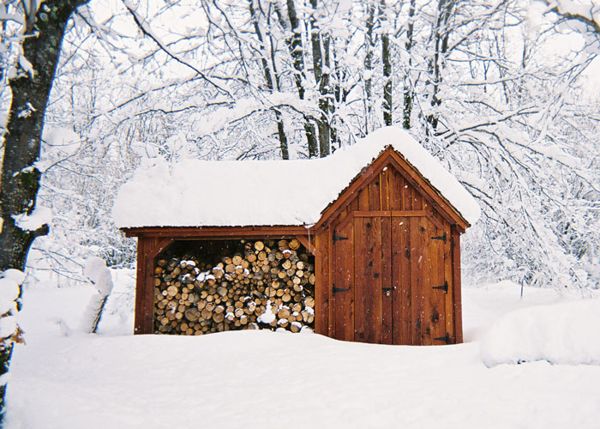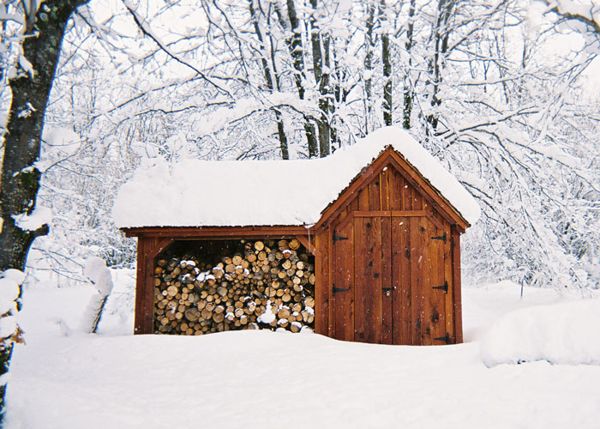 How to Store Firewood
VENTILATE & PROTECT – Keep your firewood outdoors and undercover. Airflow and protection from rain and snow will keep the moisture content down.
PLACEMENT – Keep your dry firewood storage building about 20-feet away from your home. This will deter mice, snakes, and other animals from sneaking into your dwelling. The opening of your woodshed should face wherever you get the most sunlight. Also, consider convenience. In the dead of winter, you will probably want to be able to bring your wood in quickly and avoid long walks.
STACKING – Rows of firewood should be stacked no higher than 4-feet. Bark side down and neatly stacked, and with space between logs to provide airflow.
What are the Elements of a Great Woodshed?
HEAVY-DUTY FLOOR SYSTEM – we build ours with hemlock skids, 2×6 rough sawn hemlock joists, and hemlock decking. Larger sheds hold increased weight with 16-inch on-center joists. Consider upgrading to treated flooring if you live in a damp area.
SIMPLE SIDING – Exterior sheathing should only cover three sides of the building. We like using pine board siding without battens. Increase ventilation with alternating board siding too.
A PROTECTIVE ROOF – Metal roofing is the best since snow easily slides off. Our woodbins utilize saltbox rooflines to direct most of the snow away from the open side, either to the sides or back.
What are the Best Firewood Storage Sheds?
We offer sheds designed for the sole purpose of firewood storage. Multifunctional sheds also provide storage for wood and backyard items. Other designs can be converted into wood sheds, but we think it's better to start with one of these four products:
WOODBIN – This simple, classic design can hold one to twelve cords. The saltbox roofline sheds snow towards the back of the building.
HEARTHSTONE – A tiny shed that can hold one to three cords. The asymmetrical roofline is quirky and stylish. It's perfect for weekend vacation homes and less frequent wood-burning.
VERMONT GEM – Another multifunctional shed, but with a unique roofline. Fashionable, cute, and purposeful. Holds up to three cords.
WEEKENDER – If you need a double-duty design, this building provides two storage solutions in one. The three-sided area holds firewood. The enclosed side can be used as backyard storage or for organizing trash and recycling. Stores a half cord up to six cords.
Conclusion
As you explore these parking options, document your travels with a journal. Keep track of where Now you know how to properly store and stack firewood. Once you complete this yearly chore you can enjoy many nights of wood-burning warmth. Looking for more tips? We really like this blog post with 10 tricks for a winter-worthy wood stack.