If you're planning to build a tiny home kit, a small bunkhouse cabin, or a little cottage house but are finding that the credit market nowadays is quite complicated, then you're not the only one. Although the country has been hit with a nationwide slump, there are many signs that the market is steadily growing and getting more and more stable. That said, there is never a better time to obtain financing for your post and beam home than now.
One of the necessary things you should consider before getting financing for your micro house kit is your budget. Why? Of course, your budget will determine your amenities and location. Knowing at least a ballpark will help you stay within your means or think of creative ways to afford everything you want in your dream home.
Once your budget is established, you can then search for different ways to finance the project and ask questions like where would I find a good lender or what is a secured loan? That said, you should take note that building a timber frame cabin is very much different from renting one.
Why You Should Find an Experienced Lender
Not all lenders are experienced or comfortable with tiny home lending. Therefore, it's wise to choose a lender that has experience in construction lending. This is important because the lender can tailor their funding method to help you understand your options and guide you to avoid some common pitfalls.
If you manage to find a lender like that, consider yourself lucky. But if you are struggling to find one, there are countless lists of lenders on the internet specializing in financing for cottages or tiny homes. Some lenders allow pre-qualification so you can see the loan products they offer and figure out what is the most suitable for you. Your local bank is a great place to start, or visit our financing partners page for other possibilities.
When you find a company to work with, building a good relationship with that lender can help them determine how much they can lend you when they are weighing options for the financing. Now that we have established all of that, here are some ways for you to finance your post and beam home.
TAKE THIS BUDGETING QUIZ

Home Construction Loan
This is one of the most common types of home financing you can get for your project. Of course, when you compare it to a conventional construction loan, there is not much of a difference between them.
However, your lender must have experience in financing cabins or tiny homes, as mentioned earlier. Why? Even though conventional construction loans and loans for cabins are pretty similar, there are some critical differences between them, like differences in payments and timing. Tiny home lenders may also have another list of requirements.
Furthermore, in addition to having a home construction loan, you can ask your lender for a one-close loan or a construction-to-perm loan. This is a loan that will finance your construction and automatically convert to a regular mortgage with monthly installments to pay.
When you're planning to build your own tiny house kit, it might be more challenging to get a loan. Lending officers are wary since they are giving money to someone with no construction experience (unless you happen to be a professional builder). When such is the case, the lending officers will carefully evaluate your scheduling, planning, and budgeting before giving you the approval.
Home Equity Loan
If you've been living in your current house for a long time and have managed to build significant equity with your regular mortgage payments, you can draw out an equity loan from this and have yourself an excellent way to finance your log cabin kit. If you're planning to have a builder do the construction, you can talk directly to your builder. This is so you can draw a schedule, get an estimate of costs and contract specifications.
Builder Financing
Like how car dealers have in-house auto loan financing, there are also builders out there who are offering their services with financing. Not only that, if you talk to a builder directly, there's good room for negotiations when it comes to financing. Many people will recommend that you go for a reoccurring PayPal payment so they always get their payment on time.
If you're paying the builder through cards with cashback perks, you can gain points to save and earn some airline mileage and other bonuses.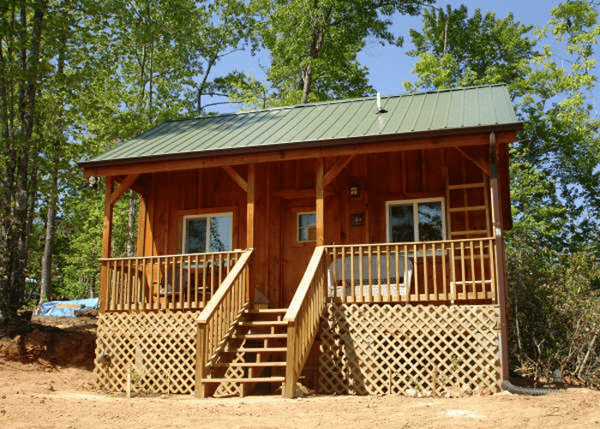 Rent-to-Own
In some cases, you might be able to obtain funding for your project with a rent-to-own or leasing solution. This will typically work well if you are looking to finance a prebuilt cabin that won't be used as a year-round residence and is built on skids instead of on a permanent foundation. This can be a great option if you are working on your credit score and have trouble obtaining a traditional loan. Typically, a rent-to-own company does not do a credit check which can make the application quick and easy.
Conclusion
Tiny home financing is more uncommon than you think, but it also isn't that rare. However, if you want an experienced lender to help you finance your dream home, it might a bit of research to find a company to work with. It's highly recommended to find a lender who deals with tiny home construction experience so that you can tailor it to your project, as well as give you some contacts if you're looking for a builder.
Author: Tiffany Wagner