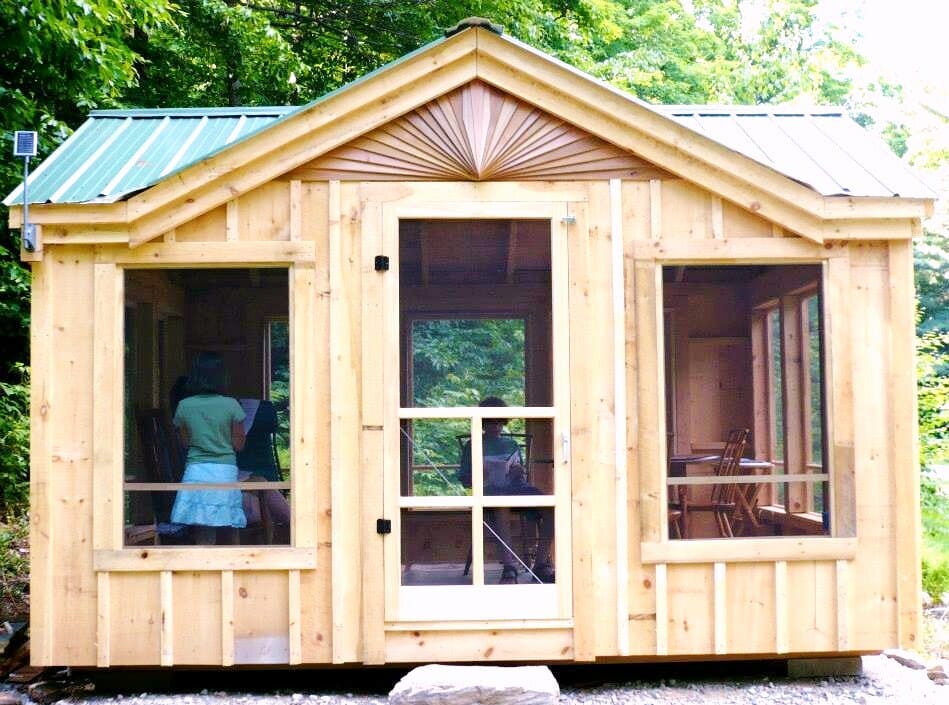 Our screen room design.
Recently, Domenic (the owner of Jamaica Cottage Shop), sent me a list of some suggestions for some articles. #3 made me smile. Turning common backyard sheds into a neighborhood bar, using sheds as living spaces especially for social gathering. Jamaica Cottage Shop's shed plans make this project a fun addition to your yard.
What an amazing (and totally fun) outdoor shed idea! I immediately started to imagine the possibilities for outdoor sheds and kits. Lean tos, empty of the long winter of wood, could host some evening dinners (I've even noticed some creative hosts hang scrim – a loose weave, lightweight fabric, across openings as a bug deterrent).
Common storage sheds with the double doors flung open, revealing neat and orderly tools hung up, while colorful cushy chairs are set up next to cool old vintage bar carts.
Sheds adorned with colored string lights, and space cleared inside for the kids "garage band" rehearsals.
Even run ins, with fresh hay and strings of twinkle lights, would make the sweetest little impromptu special dinner.
Historically, community gatherings, like barn dances, were held in people's barns. Other gatherings, like groups of women threshers, were in the barn, getting the work done together, while they caught up on village happenings. The list is endless how the barn was a common gathering place, both for chores and social needs, to be met. Isn't it interesting to think, that today's common backyard shed, which has taken the place of yester years barn in most backyards, has become a place where people can gather again, and it still can hold the tools for the chores too ?
So, this spring and summer, while you plan out your backyard renovations – whether it be by your own work using shed plans, finally committing to an old fashioned screen room like the Florida Room, or making a creative change to your already existing shed; think about how nice it would be to have a place outside, (under cover), already set up for afternoon book club meetings, impromptu evening gatherings, or teenage sleepovers when considering small shed ideas.
Our Pinterest, Facebook, and website, are great sources for inspiring small shed ideas, actual outdoor shed kits and plans, and answers to questions. You can even download a free set of shed plans by signing up for our newsletter (called the Funky Chicken in honor of the chickens that have been a part of our factory since the beginning).
Yeah Summer!