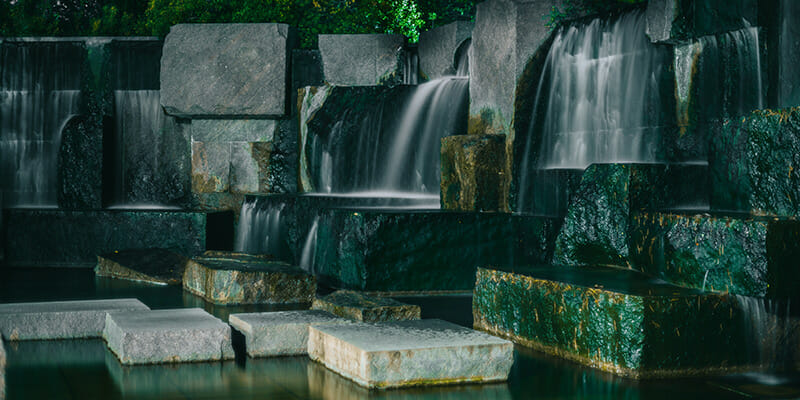 If you crave a peaceful retreat that will transport you far from the hassle and hustle of daily life, your first step should be to invest in the luxury of a cabin. You then need to create the perfect tranquil setting for your hideaway, to surround your senses in the calming effects of nature. And what better way to do this than to add a splash of water. Whether in the form of a still pond or gushing fountain, water offers a visual delight, a proven aid to relaxation and an invitation to wildlife.
ADD VISUAL SPLENDOR
A water feature instantly creates a focal point, a visually appealing centerpiece that will complement any cabin retreat. Opt for a pond beside your cabin, and you will create a surface for dancing sunlight and a site for seasonal aquatic flora and fauna. And a feature with running water creates visual interest in height variation as well as audio interest.
SOOTHE YOUR SPIRIT
There's no doubt that the sights and sounds of water instill feelings of peace in us all. It has the power to transport us to tropical beaches and lakeside landscapes. But, more than this, water has been scientifically proven as an aid to relaxation. Flowing and evaporating water emit negative ions that, when absorbed, have been shown to reduce signs of stress and depression. By adding a water feature to your landscape, you will instantly inspire feelings of calm and tranquility.
CREATE A WILDLIFE HAVEN
Adding a pond or fountain will attract wildlife, at the very least, in the form of bathing birds. A pond will require aquatic plants, such as iris, water lilies and ferns, that will attract new species of insects and animals. Nature watching from your cabin can be a thoroughly enjoyable and relaxing pastime, and is a proven positive influence on health and wellbeing.
INSTALLING WATER: THE PRACTICALITIES
Before consulting your landscape designer, plan out your ideas, and ensure you can easily access water. Your water supply needs to be reliable and properly installed in order to achieve the desired effect. But once your designer has worked their magic, maintenance is usually straightforward. Ponds should be cleaned of debris every few months, and more frequently during the fall; and large fountains should be cleaned of algae monthly. This will ensure you retain the splendor and beauty of your water feature for many years.
THE PERFECT PEACEFUL RETREAT
Adding a little water to your cabin retreat setting will instantly add a new dimension and create a 'wow' factor. Its simple, elegant charm offers a plethora of benefits that will inspire, relax and calm. Water truly is the ideal addition to the ultimate peaceful hideaway.
By: Sally Perkins
Photo by Jomar Thomas on Unsplash