FREE SHIPPING IN
NORTH AMERICA
Many Jamaica Cottage Shop products ship for free in the continental USA. You can qualify for free shipping based on your purchase and your location. 
Continental USA & Eastern Canada
Free shipping covers most of North America. Kits delivered outside of our in-house delivery zone will be shipped via third party freight. Free shipping applies to kits delivered to a business address that has space for a full-sized tractor trailer and the appropriate equipment for unloading. Off-loading equipment includes forklifts that can safely maneuver a minimum of 5,000 lbs.
What counts as a business address? The location must have space to park a full-sized (enclosed) tractor trailer off the road, and also have off-loading equipment such as a forklift that can safely maneuver a minimum of 5,000 lbs. The trailer will not have a ramp or liftgate, so it is imperative that the business selected has a forklift. You must enter a valid business address as the shipping address in order to receive the free shipping. A business considered limited access will not qualify for free shipping. Businesses that do not meet these requirements will incur a $550 limited-access delivery fee.
Shipping to a Residence: A $550 residential delivery charge applies to kits delivered to private residences. A full-size truck and trailer must be able to park off the public traveled right of way to complete your delivery. You will need a forklift at your offloading site to unload the kit. If your kit weighs less than 3,000 lbs, it is permitted to be off-loaded by hand. JCS allows a 20 minute limit for delivery. If off loading by hand, be sure not to lose the labels. It is recommended that several able-bodied people be there at the time of delivery to help unload the kit. Each helper should be equipped with a pair of gloves and a cutting tool to cut bands and plastic wrapping. The driver of the truck is not required to assist with unloading.  Additional shipping fees may apply for extreme urban or rural areas and for deliveries that take more than 2 hours. For kits larger than 5,000 lbs, offloading equipment will be required at your residence.
Do I need to be present? Yes! You and a helper are required to be present for freight delivery. Upon delivery, we recommend conducting a quick inspection of the kit before signing the freight bill to show you received the correct number of packages. You do not have to accept delivery of any damaged merchandise and you may refuse the shipment. If you are considering refusing, please try to contact our Client Care Office while the driver is still there.


We will try to help you make the best decision for the circumstance. Any incidental damage that you note should be noted and pointed out to the driver before he leaves.
Contact JCS within 7 days for replacement of missing or damaged items.
To learn more about logistics and shipping policies our terms and conditions can be reviewed here.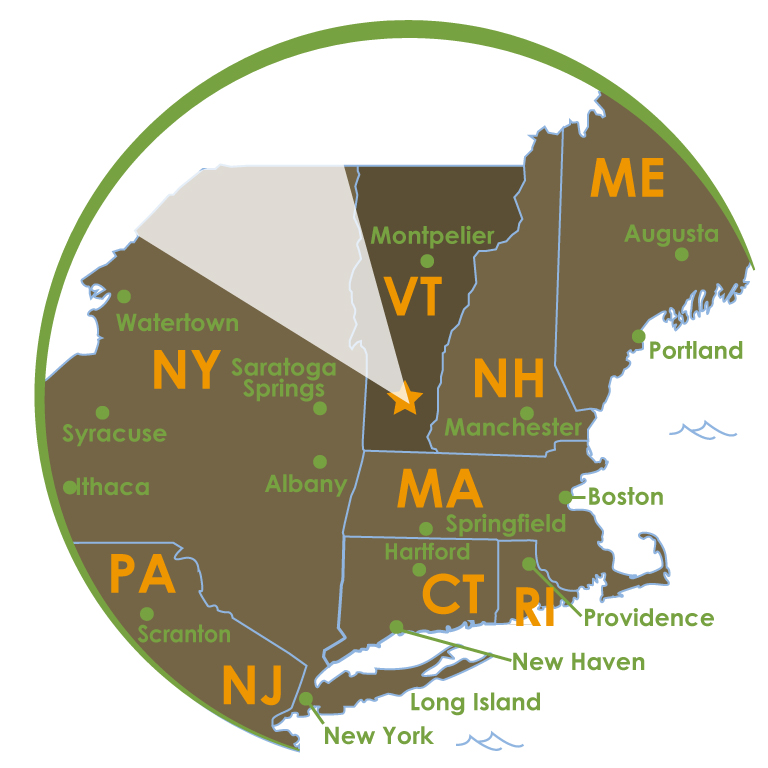 JCS drivers deliver pre-cut kits curbside to residences or businesses that are within a Two Hundred mile radius of the shop (see map to right). free of charge in Vermont, New Hampshire, Massachusetts, Rhode Island, Connecticut, and some parts of Maine, New York, New Jersey, and Pennsylvania. The delivery equipment can off load your kit hydraulically.
Do I need to be present? At the discretion of the driver you may mark the location on your property where the kit can be off loaded. You do not need to be present at the time of delivery.
In-House Delivery Range is 200 miles. Additional charges may apply to and through urban and rural areas, islands, and bridges. Up to 300 mile delivery range may be possible, additional diesel surcharges will apply. See our terms and conditions here.
FULLY ASSEMBLED BUILDINGS
Fully assembled buildings are also delivered within a 300-mile radius of our Southern Vermont workshop. The in- house delivery area includes mainland areas including the following: Vermont, New Hampshire, Massachusetts and Cape Cod, Parts of Southern & Central Maine, Connecticut, eastern New York state, eastern Pennsylvania, the northern New Jersey Tri-State and New York metropolitan areas, including Long Island's Nassau and Suffolk Counties. JCS allows a 3 hour limit for delivery and set up of Fully Assembled buildings. Thereafter, $62.50 for every 15 minutes over the allotted time will be charged. Additional fuel surcharges may apply to rural areas. The delivery time begins where the municipality stops maintaining the road.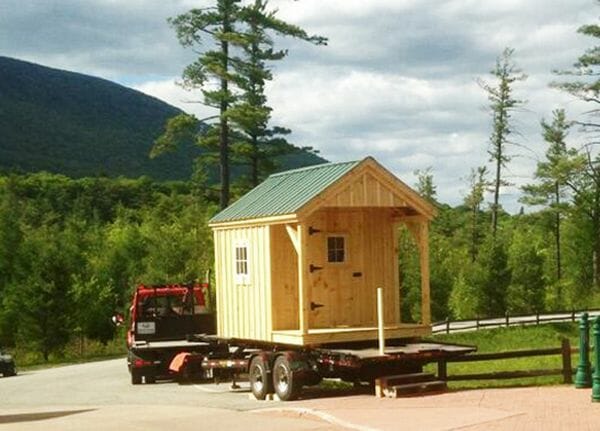 JCS will provide the necessary concrete blocks for installation of the building. Each building has a pre-determined amount of blocks needed for a proper set up on a level site. If the site is out of level and requires additional blocks upon delivery a $10 per block charge is applied.

Delivery equipment is very heavy. If the grass is wet on the day of delivery, rutting will most likely occur. JCS is not responsible for lawn, in ground sprinkler system, buried tank or landscape feature damage that may be caused by delivery equipment.
It is possible to pick up your building project at the factory. There is no shipping or loading charges. A 6% sales tax applies. Local pickups will void the warranty of fully assembled buildings. Please contact our office to arrange.
We Pay You Policy: 
Pick your project up and we will pay you the shipping charge. For FA, you receive the standard shipping cost for your project as reimbursement on your invoice on pickup of your building. For PCK's kits already ship free but now you'll get the standard shipping cost paid to you as a reimbursement on your invoice on pickup. Must be picked up by the same deadline date as our "Free Shipping" deadline date or the offer is not valid. 6% Vermont Sales tax applied to pickups.
To learn more about logistics and shipping policies our terms and conditions can be reviewed here. 
DIY plans are supplied as a document that can be viewed and printed online. Please review system requirements for the online plans here.  
Hard copies of your cottage plans are possible for an additional charge.