Glass roundels are extremely beautiful objects, and yet not a lot of people know what they are, or about their history. At Jamaica Cottage Shop, we are proud to offer beautiful glass roundels as windows for our cottages and cabins. We want to take the opportunity to talk about what they are, how they are made, and tell you a little bit about their history. Learning about these stunning hand crafted objects will definitely give you a greater appreciation for them… and who knows? Maybe you'll want to get one for yourself!
---
What is a Roundel?
In simplest terms, the definition of 'roundel' is a small disc or medallion, particularly a decorative one. Historically, the term was used quite broadly, and could describe anything round! Roundels were a common motif painted on shields, where the color of the roundel would indicate the army of the wearer. This is a tradition that dates from at least the 1100s, but has persisted for hundreds of years. In fact, many aircraft during the first and second World Wars had round, colorful symbols painted on their sides.
Talking more specifically, a glass roundel (or rondel – it depends on who you are talking to!) is a round, flat circle of glass. The glass can be colored or clear. The size of a glass roundel varies: Traditionally they were limited by how large the glass could be spun by hand. Typically roundels are rarely larger than a foot in diameter, but ones that are handmade by skilled craftsman in specialized studios can actually get quite big! Today they are used mostly as decorative objects and sometimes as ornamental windows. But historically, glass roundels were a very common feature of buildings. More on that later!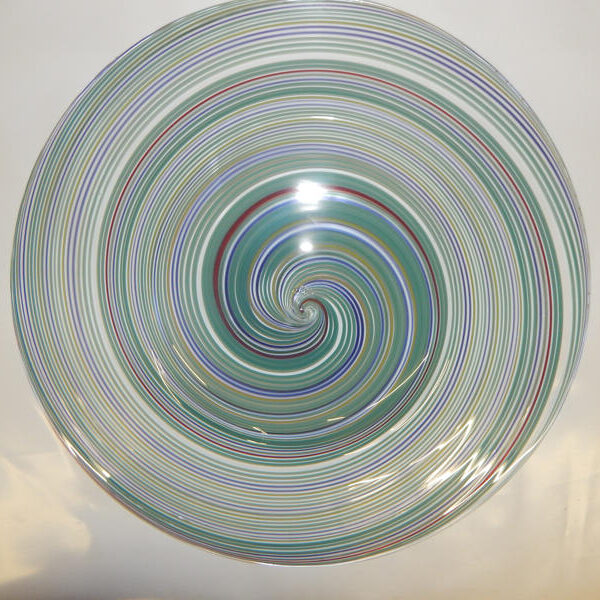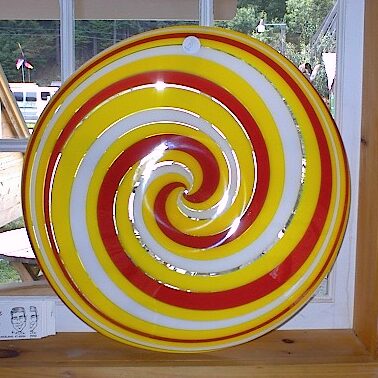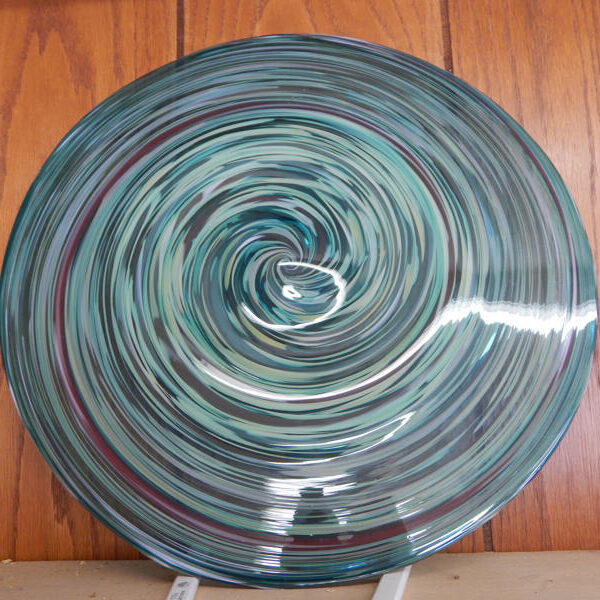 ---
So… Is it Rondel or Roundel?
The root of both of the words Roundel and Rondel come from an Old French word: "roont". It means, you guessed it, Round. While these words have the same background, they have alternative meanings that are distinct from one another. For example, Roundels and Rondels are also types of poems, the structures of which are different. Also, when talking about military insignia (like mentioned above), the term Roundel always seems used.
So, when it comes to glass, what's the right term? We have seen both words used interchangeably to describe these round glass discs. Sometimes, even the variation Rondelle is used! It seems to just be a matter of preference, and most people who have an interest in glass will know what you are talking about if you use either term.
---
How are Glass Roundels Made?
Traditionally, all-glass roundels are handmade by skilled artisans. Glassblowers require specialized equipment and work in extreme temperature conditions to make glassware. First, the glass is superheated until it get soft. This is done in a kiln that typically operates at a temperature between 1000 and 1600 degrees Fahrenheit. A blob of hot glass is attached to the end of a long rod, which is used to spin the glass so it doesn't just fall into the kiln.
Once the glass is at the right temperature, it is taken out of the kiln and shaped into an even ball. Then the glassblower uses the rod, which is hollow, to blow air into the glass ball, creating a little bubble inside. This bubble is transferred from one rod to another: in the process, a small hole remains where the previous rod was attached. The glassblower uses this hole called a navel to open up the bubble, and flatten it out into a disc. Continuously spinning the glass also helps the process of shaping and flattening the roundel until the desired size is achieved. Finally, as the rondel begins to cool, it is broken off from the rod, and left to slowly finish the cooling process. It is important for glass to be cooled very slowly, otherwise it risks shattering!
Because this kind of glass roundel is handmade, each is individual and has its own character. The glassblower can use colored glass to make beautiful swirling patterns on the roundel — no two pieces are perfectly alike, making them unique pieces of art.
A less technical but still beautiful way to make a glass roundel is by taking a dollop of hot glass, and pressing it flat. Pressed glass roundels can use a mold to imprint a shape or design on the surface. These kind of roundels make great ornaments or window decorations. However, they require less skill and artistry to produce, and can be mass-manufactured. Nonetheless, they are still very beautiful.
---
A History of Glass Roundels as Windows
Glass has a centuries-long history of use as windows, but it didn't always look the way it does today. In fact, early windows were made from something very similar to glass roundels! This kind of glass was called Crown Glass, and the technique for making it was developed in Germany in the 11th century, and further refined in France and Italy. It was made in a very similar way to artisan glass roundels, except they were much larger: a piece of crown glass could be up to 5 or 6 feet in diameter!
After the crown glass was blown, flattened, and hardened, it could either be cut down into squares or rectangles to use as window panes, or the glass could be used in its circular form. Windows made using this method can have a typical circular pattern to them, especially if the panes are cut from the very center of the piece of crown glass, where it was attached to the rod. Artisans used this process to produce windows all the way up until the 19th century when more modern and industrial techniques came about for window manufacturing. Crown glass windows are still a part of many heritage buildings throughout Europe. This type of glass was even used in the gorgeous stained glass windows of cathedrals!
Today, windows made using roundels are much more rare. Typically they are only used as a decorative feature, or made as reproductions for historic buildings. Roundels are more often found as décor items, where they are hung in windows to catch light, or used as Christmas ornaments.
---
About Our Glass Roundels
At Jamaica Cottage Shop, we are proud to offer beautiful glass roundels as an addition to our cottages. We install them as windows of about 18 inches in diameter, meaning they can let in a decent amount of light. We sell these windows in Insulated and Uninsulated versions. If you plan on installing one in a tiny home, accessory dwelling unit, or any building where you will spend a lot of time in colder seasons, we recommend that you opt for the insulated version. If you just want a piece of art to spruce up a cottage or shed on your property, the uninsulated style should do the trick!
We source these beautiful windows from the local Vermont glass studio Manchester Hot Glass, which is owned and operated by Andrew Weill. He is a skilled craftsman who makes not just the roundels we use as windows, but also makes stunning drink ware, ornaments, light fixtures, and other décor items. Each roundel he makes is a unique work of art, and the hypnotically swirling colors tell the story of its fabrication process. Our customers that have included these roundels in their cottages can't get enough of how gorgeous they are when the light shines through them.
If you happen to be nearby, you can pop by the Manchester Hot Glass studio to see what beautiful glassware Andrew has in stock. But if you are far away, don't feel left out – you can order from him online! And if you are in the neighborhood, you can stop by our factory and display yard as well to see our collection of cottages, sheds and cabins.
---
Conclusion
The tradition of making and using glass roundels for windows goes much deeper than you might have imagined! It is a time-honored technique that we've updated for the 21st century. We love that we can support local Vermont craftsmanship by offering these beautiful pieces of functional art as additions to your shed, cottage, or cabin. We hope you've gained a greater appreciation for the beauty of glass roundels, and definitely encourage you to check out Manchester Hot Glass to see other stunning handmade glass works.