The health benefits of gardening are twofold. First, enjoying an active, outdoor hobby is good for your mind and body. Second, the fresh fruits and vegetables you grow are an excellent way to add nutrients to your diet. But if the bounty of your garden is getting eaten away by pests, you might end up feeling somewhat frustrated. One method of protecting your garden from critters is to build an enclosed garden. It's more environmentally friendly than using pesticides, and can sometimes enhance the productivity of your garden! Read more about some of our favorite types of garden enclosures, and what each of their benefits are.
Raised beds with Covers
Classic raised beds come with a variety of benefits that make them attractive for gardeners. Because they are higher in comparison to the natural soil level, they are more comfortable to work in and maintain, especially if you have arthritis or other limited mobility. Did you know they're also good at keeping out weeds and pests? The practice of adding mulch on top makes them much less likely to grow crabgrass and other unwanted plants. Plus, the height of the boxes can slow down pests like slugs.
Building a raised bed is quite easy, and requires very simple tools. You can use two-by-fours to create a wooden frame, or you can even stack bricks or patio retaining wall blocks to make the bed. Just be sure that you'll have at least six inches of soil above ground-level in the bed to get the maximum benefits. Here's a helpful guide on how to build a basic raised garden bed.
Adding covers to your raised beds will enhance the protection they already offer, keeping out small animals and even deer. Covers can be built with wire frames or even dowels or extra lumber – the trick is to keep the frame from being too heavy, so it will be easy to move when needed. The frames should then be covered in a material that will let light in, but keep pests out. Chicken wire, mesh, or semi-sheer plastic tarp can all do the trick. The cover shown in the photograph here is made from PVC piping and netting, which is a great light-duty solution for keeping small pests away without compromising on the amount of light the plants get. When building your covers, make sure they are large enough to protect your plants, and sturdy enough that they won't be easily destroyed.
A Polytunnel Tent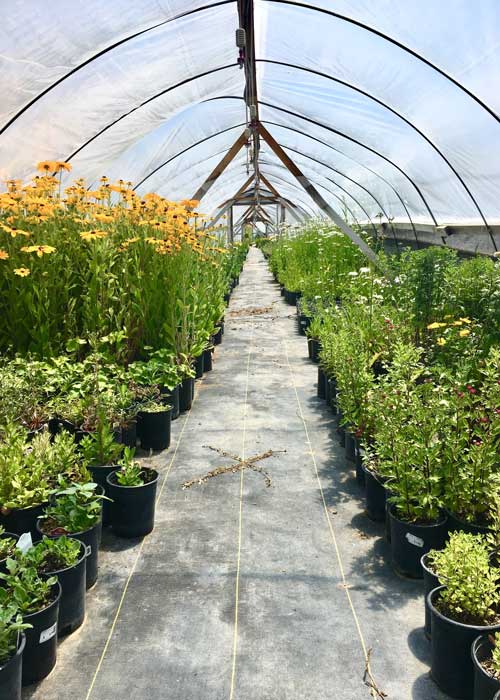 Growing your vegetables beneath a tent can keep out critters and keep the soil moist – they operate very similarly to greenhouses, but typically cost less. Because of this, they are often used for industrial scale farming, but you can build a smaller one to protect the plants in your yard. They're particularly useful for growing fruits and vegetables that may require stable climates for optimal growth.
The basic way you build one of these structures is by placing foundation tubes in the soil in rows parallel to the rows where you will grow you fruits and vegetables. Make sure these tubes are deep in the soil and can't get pulled up easily. Next, you place aluminum hoops onto these foundation tubes so that they create an arch over where your plants will grow. Finally, you place plastic sheeting over the frame. Depending on the size of your tunnel, you can also install a door frame, or just make flaps in the sheeting to access your crops. You can purchase kits for building a polytunnel, or you can find ways to DIY one using bits and pieces from the hardware store.
The benefits of this type of enclosure include that they offer shelter from the elements and from pests, protecting your garden while still allowing ample light. They also can control the temperature around the plants, keeping things a little warmer. Also, they are relatively easy to take down when you want to use the space for something new. The plastic tarping will have to be replaced every few years though, and if you are environmentally conscious, you might not want to make a structure with plastic that will likely end up unable to be recycled.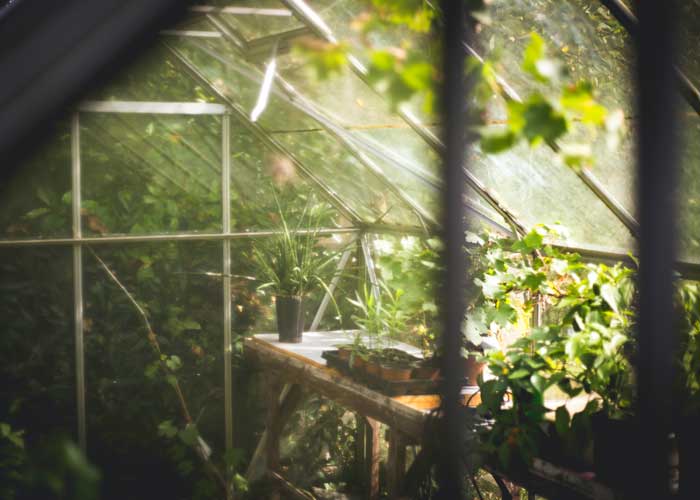 Greenhouses
A greenhouse can provide many of the same benefits as a Polytunnel tent, while being a more permanent and attractive structure. Greenhouses can come in all shapes and sizes, and can be made of plastic panels with wood or metal frames. Greenhouses offer a level of temperature control that can allow you to start seeds earlier in the season, which is great if you want to get a head start on your vegetable garden. And because they are fully enclosed, you'll have no problems with larger pest animals like deer, birds, squirrels or groundhogs.
Inside your greenhouse, you can place raised beds, grow vegetables and flowers in pots, or just use it as a nursery for young plants. An added benefit to greenhouses is that they are great places to overwinter sensitive plants that otherwise might have difficulty surviving tough climates. One issue with greenhouses is that it might be difficult to build one large enough to hold your entire garden, so you might be limited to growing your most sensitive and delicate plants inside of it. They also tend to be more expensive than polytunnels, which have similar functionality.
Jamaica Cottage Shop offers a wood frame greenhouse in three sizes. Unlike all-glass constructions which can be somewhat fragile, this style has a great amount of structural stability, while still allowing in a lot of light through the many windows and the Clearpoly roof. As an added feature, it comes with a built-in work bench for potting your plants and starting your seedlings. All greenhouses need to be maintained somewhat season to season, so read our handy guide on how to prepare your greenhouse for winter at the end of the growing months.
Install a Garden Fence
Placing a gate around your garden is another classic way to protect your plants from unwanted visitors. Fences allow the benefit of protecting your garden from larger animals like raccoons, deer, and rabbits, while allowing your plants to still get full sun and rain. You can also fence in large areas at a time, so per square foot of protection, it is likely a more economical solution than a greenhouse or polytunnel. Plus, when well-constructed from quality materials, a garden fence can be an attractive addition to your yard (much prettier than a plastic polytunnel tent).
The key to having an effective garden fence is knowing what you need to protect your plants from. If deer are your primary concern, chain link, vinyl, metal, or wood fences can all work to keep them out. You'll just want to make sure they are tall enough to be a deterrent. For smaller, sneakier critters, opt for something they can't slip through or chew through. A chicken-wire fence that is buried in the ground can keep rabbits and gophers at bay. There are so many sizes and styles out there that you should easily be able to find one that can suit your needs. Here's a helpful guide to different kinds of garden fencing that gives you some ideas for their best uses.
One drawback to a garden fence is that they don't protect you plants from animals that can climb or fly, so if squirrels or birds are your primary concerns, you might want to consider another method. Also, a fenced-in garden doesn't allow you to start growing your plants earlier in the season, the way a Polytunnel or greenhouse does.
Conclusion
Whether you are growing flowers or tending to fruits and vegetables, keeping your garden healthy is a top priority. How you end up choosing to protect your plants depends on what you are growing, how big your garden is, and what kind of pests you need to keep out. We hope that whatever method you try, you have a successful growing season! For more gardening tips and tricks, read our blog on sustainable gardening. Or if you're an indoor plant lover, read up on how to care for your indoor jungle.