Description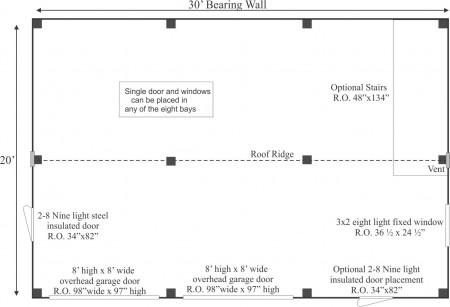 This two car garage plan is now on display at the Vermont Factory; take the tour, see how it's made, and walk into a huge display yard.
The 2 car garage plans with a loft come with design options to create a functional space to suit a variety of needs. This versatile frame can be set up for cold storage, as a two or three bay garage, as living quarters, as a livestock barn or any combination of. The frame set up as a cabin is a favorite as a 1,200 square foot tiny house. As a two car garage plan, the space will create room for your cars and workshop. The 20×30 Barn can shelter horses, cows, goats, and sheep with enough room for tack and grain while the standard full loft makes great hay storage.
Designed to meet tough building standards, our 20×30 Pre-Cut Kit & prefab 2 car garage features heavy 8×8 post and beams supporting a full loft and a steep 8/12 pitch gable roof. The timber frame of this 2 car garage kit offers endless possibilities for customizations. Optional dormers in the loft can provide light and additional space. Our car garage kits also comes with a choice of 8' or 10' first floor ceiling heights to allow either more room on the first floor or in the loft. Shed roof overhangs ranging from 4' to 12' wide on any or all of the exterior walls can accommodate simple firewood storage, create additional interior square footage, or open covered space. The 20×30 Timber Frame is our most customizable and expandable design, all at a great, affordable price. Multiple siding and roofing options ensure your 20×30 frame can match existing buildings on your property.
Consider adding a complete insulation package to turn this quality barn frame into a cozy four season cottage. The 8×8 post and beam frame allows for space to easily install thick insulation with high R-values. The 20×30 two car garage kits feature locally sourced, beefy 8×8 hemlock post and beam construction with true mortise and tenon joinery. All of the necessary oak pegs, fastening materials, insulated windows and doors, and Step-by-Step do it yourself two car garage plans are included.