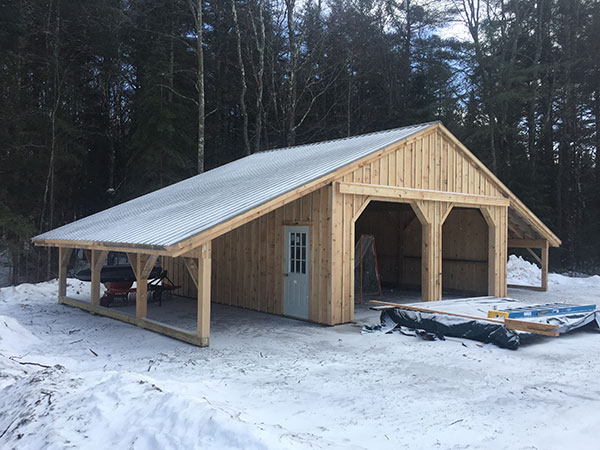 With hefty 6x6 posts, this annex perfectly fits our Simple Garage Model. Use it to create a breezy overhang, porch, or even an enclosure.
This specialty annex series is designed to fit our Simple Garage perfectly. Featuring 6×6 rough sawn hemlock post and beam construction, this series is built to stand tall against anything nature throws at it. Your choice of annex will be determined by how you want to use the added space.
Overhang
This overhang grants you the extra space that you need while not technically adding to the interior square footage of your building. Perfect for snow removal equipment, or any other large equipment that you just don't have room for inside your garage or shed. An overhang can be used for so much more than storage. Clear out the space, throw up some sawhorses and you've got a great outdoor workshop that keeps you protected from direct sun rays and rain. Consider enclosing this overhang to use as an extra room for your garage or shed. This overhang attaches seamlessly to your Simple Garage, adding a nice aesthetic touch to the bearing or gable wall.
Porch
Much like an overhang, a porch is open air with the added benefits of having a floor system. Adding a porch is a wonderful way to incorporate useable outdoor lounging space with your cottage, shed, or cabin. A porch attached to a Simple Garage can make a great patio or grilling station.
Enclosure
With walls on all sides, an Enclosure is the perfect solution to increasing the indoor space of the Simple Garage This enclosure kit includes everything you need to add an extra room to your post and beam building. Use this addition to make a workshop, mudroom, or connected storage space. Whatever reason for needing more space, this DIY porch enclosure kit will help meet your needs.
Build Your Box Beam Annex:
Select the options you'd like to see below and then click "Configure Now" to customize and add to cart.
FREQUENTLY ASKED QUESTIONS
What is a Pre-Cut Kit? What is included in this package?
The Pre-Cut lumber package has all the framing members cut and ready for assembly. It includes siding, roofing, pre-dimensioned trim, and fastening hardware. Many designs also include windows and doors. The floor system, walls and rafters have all been cut, color-coded and part numbered. The detailed cut list coincides with the color-coded exploded view. The head scratching has been removed, the headaches of finding the correct angles and the aggravation of starting from scratch has all been simplified. The kit is geared to a do-it-yourself homeowner with beginner-to-beginner knowledge of carpentry.
Should I buy a Pre-Cut Kit or Fully Assembled Building?
We design our kits to be organized and easy to understand. If you have basic carpentry skills and are looking to save money, a kit is a great idea for you. We ship our kits  all across the continental USA and part of Canada.
If you live within our Northeast delivery area, you are able to purchase many of our buildings Fully Assembled. You'll save time and have the peace of mind that your cottage is being built by expert craftsmen.
What is a Complete Shell and What Comes With It?
A complete shell is an uninsulated building. As a kit, it includes everything required to assemble the building including hardware, precut framing, siding and roofing as well as doors and windows. Hardware, millwork sheathing and DIY plans have been enclosed. Each piece is color coded and part numbered. The exact itemization of what is inserted can be found on the specifications tab of the website for each product page design.
What is the difference between a 3-Season and 4-Season Insulation package?
3-Season –A three-season kit prepares the building for interior finishing. It includes the complete shell plus vapor barrier, solid roof sheathing and insulated floor system. A three season building seals the structure from humidity and moisture protecting from the environment, insects and rodents.
4-Season – Best for year-round comfort. The package includes everything a 3 season does with the addition of insulated thermal pane millwork, wall and roof insulation and pine interior sheathing.
Can I Customize My Building?
Yes! When you purchase your building, you have the option to pick siding, roofing, and flooring options to upgrade or modify your building. Read more about what options we offer.
If you are looking for some very special customizations to one of our buildings, our cottage designers can help. Contact our custom shop team to build a bespoke cottage.
How Can I Pay? Do You Offer Financing?
We accept Master Card, American Express, Discover Card and Visa, Cash, Personal Check, Financing, ACH transfers, Wire transfers, and PayPal. There are so many ways to purchase your dream cottage!
We also offer easy financing options, including a 50% now, 50% later option. See financing page.