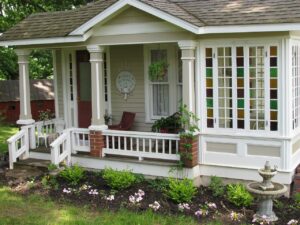 Accessory dwelling units or ADUs are gaining popularity in recent years, supported by the legislature easing the requirements for permissions and reducing fees. The need for the small, secondary residences has been recognized and is based on their numerous benefits. So, why is there such a demand for accessory dwelling units nowadays, and which qualities have earned them their popularity? To answer these questions, we have to give a definition of an accessory dwelling unit.
An ADU explained
There is a difference between accessory dwelling units and our tiny houses for sale. Certain requirements discern an ADU from other types of small dwellings, namely:
It is an independent living unit that serves as a secondary residence.
Owners must build it on the same lot as the primary residence.
ADUs must be built on a permanent foundation, meaning a house on wheels is not considered an accessory dwelling unit.
Its maximum allowed size ranges between 600 and 700 square feet, depending on the local zoning regulations and the lot size.
It must be visually compatible with other homes in the neighborhood.
If an ADU has two bedrooms, homeowners must assign an additional parking slot, either within the property or in its close vicinity.
Moreover, an accessory dwelling unit doesn't necessarily have to be stand-alone. A unit is considered an ADU even if it is attached to the main residence, as long as it has a separate entrance. Such a unit is called a junior accessory dwelling unit or JADU. Its main characteristic is its maximum allowed size, of about 500 square feet. A JADU is most commonly a converted garage, basement, or attic. As compared to a stand-alone accessory dwelling unit, a JADU doesn't have a full kitchen.
Accessory dwelling units: the reasons behind the high demand
The most obvious benefit of an ADU is a financial one. A small unit means low costs, including building expenses, taxes, maintenance, and utilities. An ADU comes out as the perfect choice for homeowners who wish to bring their elderly parents closer to home or families with boomerang children. The units can provide the accessibility and privacy necessary in these situations.
Furthermore, accessory dwelling units are a source of income for entrepreneurial homeowners, whether they live in a primary home and rent an ADU or vice versa. Either way, the ADU can help repay an existing mortgage on a primary home and even generate some extra revenue. Having a rental property in the backyard makes management and maintenance tasks a lot easier.
Most students and young professionals can't afford expensive rentals in neighborhoods close to their college or workplace. Their choices range from living with roommates or long drives to and from home. However, accessory dwelling units are within residential areas, close to important amenities, and offer all necessary home features of an independent home. Also, because state to state moves require a lot of planning and many young professionals often have to move on short notice, renting one of many available ADUs in a preferred neighborhood comes as a relief. With low square footage comes the affordability of these little houses which makes them increasingly popular in hot real estate markets.
Because accessory dwelling units belong to the same property as primary homes, they raise the resale value. Raising home value is the biggest homeowners' concern when the time for sale comes. Investing in an ADU on time will not only raise the property price but attract a larger number of interested homebuyers. The diversity of possible uses for accessory dwelling units also attracts a wider range of potential buyers.
Furthermore, ADUs can serve as offices, ateliers, or workshops. They provide adequate space and peace necessary for professionals, all while in the vicinity of their homes. As the business world is shifting toward remote work, ADUs are slowly finding yet another purpose.
Another advantage is that accessory dwelling units are more sustainable, allowing for resource conservation and the use of repurposed building materials. They are built on an existing lot, reducing the need for new land. Also, due to their size, ADUs allow for more economical energy consumption and are more environmentally friendly than larger houses.
Don't forget the permits
Starting with a building permit, a homeowner will need to obtain electrical and plumbing permits. It is vital to contact the local authorities before any work on the ADU begins. Permit requirements may significantly alter the home design later and, thus, unnecessarily increase the design and building costs.
Moreover, an assessment is required to determine if building an ADU is even allowed on the lot, and which zoning criteria and construction standards apply to it. Eligibility depends on the size of the lot, and the position of the primary residence and planned ADU. These requirements do not only have privacy in mind but also open spaces in the neighborhood. Over-crowded areas reduce the quality of life as well as property prices. It is vital to determine if the current water supply and existing septic system can support another residential unit.
If homeowners disregard the building permits and raise the ADU anyway, they risk fines and even demolition of the accessory dwelling unit. Should an elemental or any other damage befall the unit, insurance will not cover it if it doesn't possess a building permit. However, a financial loss should not be the main motive to obtain a permit, but the safety of the residents.
Some final notes
The above mentioned benefits of ADUs are rightfully placing these small secondary residences in the spotlight. Homeowners see them as rental properties that can help them repay a mortgage and even make some additional money. On the other hand, it allows them to bring elderly family members or kids closer. Long-term renters such as students or young professionals can easily find an economical residence closer to their work or college. And Airbnb guests get an affordable, fully equipped, private short-stay residence close to favored amenities. Hence, it doesn't surprise that authorities are easing requirements, allowing more accessory dwelling units on the market with each passing year.
Author bio
Peter Mendes is a freelance writer who has managed to turn his interest in architecture and design into a profession. Through his research, he hopes to further develop his knowledge of this field and have more opportunities to write on the topic in the future. When he isn't working, Peter enjoys traveling and photography, as well as spending time with his girlfriend.