Do you have a shed on your property that you would like to turn into a sauna? Or maybe you are looking at a Jamaica Cottage Shop shed, and think it would make a wonderful sweat lodge. Whatever the case may be, converting a shed into a sauna isn't as hard as you might think!
The Benefits of Using a Sauna
If you aren't completely sold on the idea of turning a shed into a sauna, maybe learning about the health benefits will persuade you. Not only are saunas extremely relaxing, but they are great for your cardiovascular system. Studies show that using a sauna improves respiratory function, and regular sauna visits significantly decrease cardiovascular mortality.
For best results, you should use the sauna three to four times a week. Many gyms and health clubs have saunas, but going out of your way to use them frequently can be a big drain on your free time, and don't have the privacy of an at-home sauna. Having a sauna on your property is a great option if you want to reap the health and relaxation benefits in the comfort of your own home
What Kinds of Sheds make Great Saunas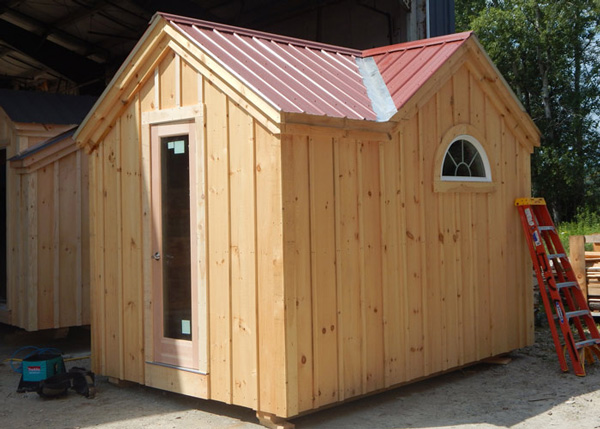 When choosing a shed for a sauna, you'll want to think about how many people will be using it at a time, and the costs of operation. It should be big enough for you to stand and sit comfortably, while still being compact enough that it can heat up quickly. We recommend the shortest side of the sauna be at least 6 feet in length. An 8×12 foot shed is an ideal size, as it will give taller folks the luxury of being able to spread out.
If you are looking to pick out a new building to convert into a sauna, we have several recommendations. Smaller sheds like our Nantucket or Shed Roof are a great option to convert into a sauna for one or two people. If you want something a little larger, the Cross Gable or Saltbox start at 8×12, which is an ideal backyard sauna size.
Keep in the Heat with Insulation
Your sauna will get hotter and be more energy efficient with proper insulation. In the walls, you will want to use insulation with a high r value, with r13 being the recommendation. Most sources advise using either fiberglass or mineral wool for insulation, as they have very high thermal tolerance. Jamaica Cottage Shop offers r13 fiberglass insulation for building walls, so this is a perfect choice for your sauna. Don't forget to insulate the ceilings as well – heat rises, and having insulation above your head will help lock in the warmth. Vapor Barrier is an essential part of insulating your sauna. It will help protect the building from accumulating moisture in the insulation. This is very important if you are building a steam room.
To install your insulation, first make sure you are wearing a protective mask and gloves. If needed, cut the fiberglass to proper sizes for your walls. The fiberglass can be installed by using a staple gun to attach the mounting tabs to your building's studs. Make sure that if the insulation has a foil side, that this faces the interior of your building. The vapor barrier then gets placed over the insulation, where it will sit between the framing and the interior sheathing. There are many helpful tutorials online to guide your installation of the insulation and vapor barrier for your sauna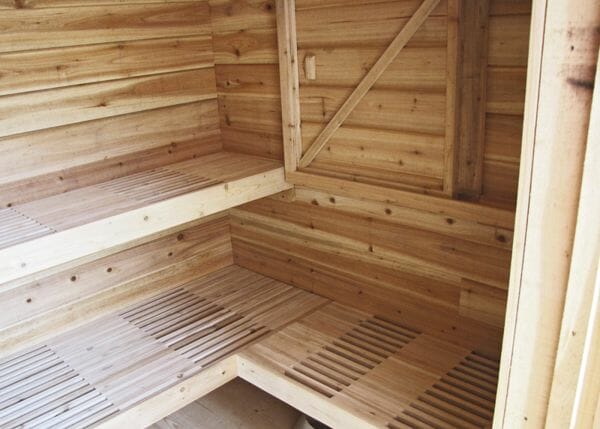 Interior Design
The next step in converting your shed into a sauna is finishing the interior. You will need both ceiling and wall sheathing to finish the inside of your sauna. The best material choice for this is cedar. Not only is cedar an attractive and fragrant wood, but it is the best at withstanding the heat and moisture of your sauna. Avoid using pressure treated wood, as it contains some chemicals that could possibly be released in the heat and moisture of your sauna.
You can use wood or tile as the flooring in your sauna. Typical shed flooring might be quite drafty, so adding insulation here is also a good idea. Ideally, the floors of your sauna will be smooth, comfortable to walk on barefoot, and easy to clean.
Heating Your Sauna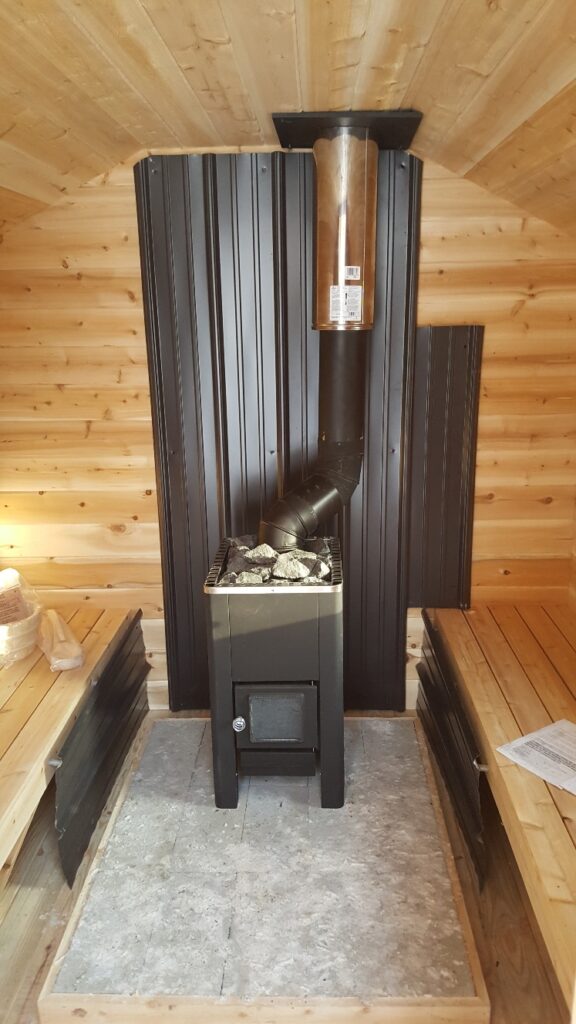 Now for the most important part of a sauna: the heat! You can use an electric heater if your shed has access to power, but for many people, a wood-burning stove is a better option. There are many sizes and models available. A deciding factor in what stove you should choose is the number of BTUs needed to heat your space. You can use a calculator to find out how many BTUs your sauna needs, depending on its size and the desired temperature. If you do choose a wood-burning stove, make sure you have access to plenty of firewood!
Where you position your stove in the sauna is important to consider. A wood-burning stove requires more clearance around it than an electrical one does, so keep this in mind, especially if you are building in a small shed. Local regulations can give you guidance on how far your stove should sit away from the walls of your sauna. Following these rules is very important for your safety.
Protecting the area around your stove is essential. Cover the wall closest to the stove with cement board and paving bricks to prevent the wood from getting burned. Your stove will also have a ventilation pipe. Where to install the pipe will depend on which stove your purchase. Double-walled pipe is best for connecting the stove to the outside, as it will prevent heat transfer. Be sure to use fireproof materials where the pipe is inserted into the wall.
Sauna Benches
One of the most fun parts of turning your shed into a sauna is adding the benches. It is best to do this after you have determined where you will place your stove. For a very simple layout, place the bench along the longest wall, ideally facing the door. Your bench should be around 2 feet deep and at least 1.5 feet high. For a more luxurious layout, make a two-level bench that wraps around two sides of your sauna.
Ventilation For Your Sauna
Adding ventilation to your sauna can be a nice touch. This is not entirely necessary, but it can make your sauna experience more comfortable. There are many kinds of vents to choose from, and they can be as simple as an opening with a sliding door to modify the airflow. For the best ventilation, you will want two openings. One should be positioned low, on the same wall as the stove. The second vent should be installed high on the wall or in the ceiling, on the opposite side of the stove. This will allow the air in the sauna to circulate, drawing the heat upwards and bringing fresh air inside.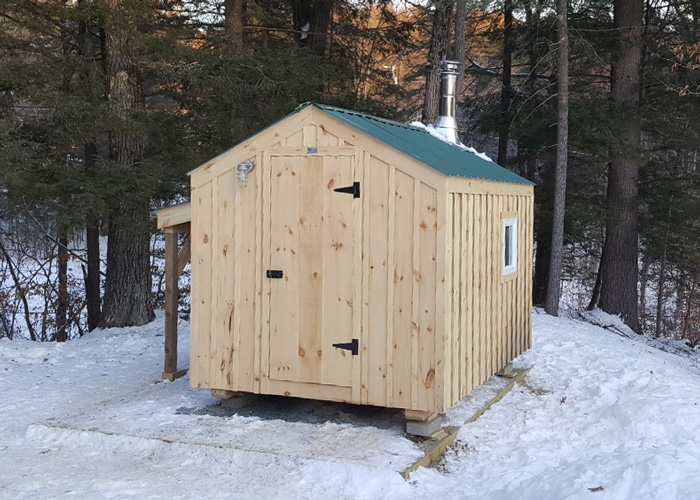 Conclusion
With proper planning and materials, having a sauna in your own backyard is very do-able! You can convert an already standing shed, or pick a brand new shed model and do the conversion on your own. Having a sauna on your property will increase its value. But more importantly, your sauna can do wonders for enhancing your happiness, health, and wellbeing. If you end up converting a Jamaica Cottage Shop shed into a sauna of your own, we hope you will send us some pictures when you finish!