Turn a Tiny House into an Airbnb Rental
Considering how easily a tiny house can be settled onto acreage, it is not surprising that the tiny house community has discovered how quickly a profit can be turned from renting out these charming little spaces. Learn the ins and outs of Tiny House AirBnB rental properties.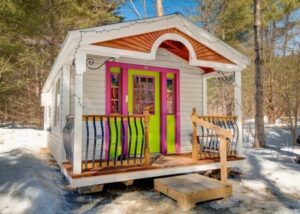 Enthusiasts (including families who are considering a downsize in their life) want to experience the tiny house lifestyle. Couples live for their weekend getaways, skiers & snowboarders want simple accommodations, and anyone who likes to travel has experimented with Airbnb.
Jamaica Cottage Shop has started its own tiny house AirBnB rentals in the form of their Apple Blossom Cottages. If you are interested in how successful this venture could be – note how often this cozy little cottage is rented out, and how happy the customers are.
If you are ready to start with your enclave of rentals, Jamaica Cottage Shop's beautiful, handcrafted tiny houses, cottages, cabins & camps are excellent examples of design-build construction at an affordable level. Knowledgeable in house staff is available to answer your questions about our tiny house rentals.