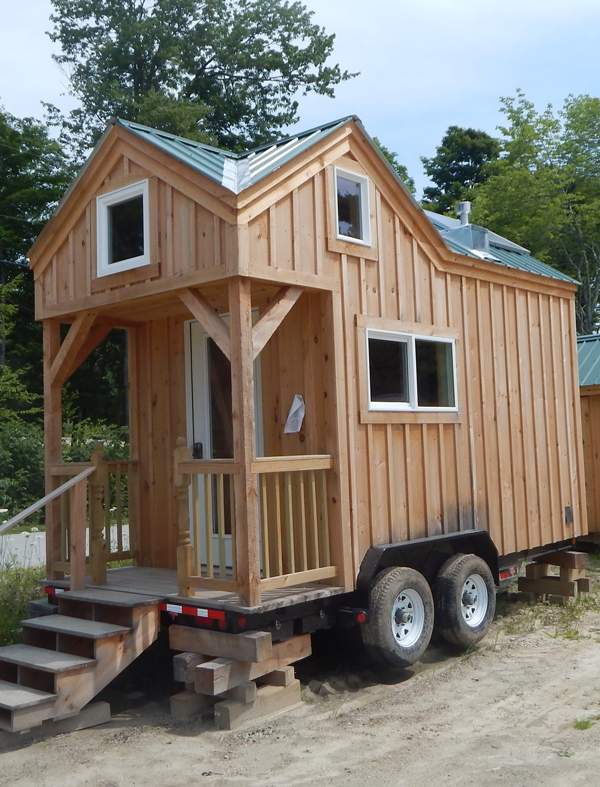 Have you been thinking lately that living in a tiny house on wheels would help solve some of your problems? Well, you could be right. With how the world is rapidly changing, being mobile, with only the things you truly need, will provide the clarity and freedom you might have been longing for.
I made the switch a year ago, into a tiny camper, which my partner and I worked to fully rebuild into a tiny home on wheels. It is about 96 sqft of living space, the bed takes up a good portion of that, which leaves about 2 short yoga mats of room. Of course, when planning our set-up, we didn't expect a pandemic which made everyone stay home. We ended up thriving through it. Yes, this lifestyle isn't for everyone, and if you were annoyed with your partner in your 3 bedroom, 2 story house, then maybe jumping straight into a tiny house isn't the right first move. If that is the case consider something like the Vermont Cabin.
How Much Space?
We spent about a year figuring out what we could live with and without. This JCS quiz can help you get started. For just the two of us, and our two dogs, we decided to do a closed water system with a foot pump for the kitchen sink, and add a composting toilet for plumbing. We kept the original propane stove for cooking. Our source of electricity consists of two solar panels that power up the lights, fan and one USB outlet. This made our life simple, also making it easy for us to make repairs when needed. We have no heat or a/c because we thought we would live in mild environments. Well, things change, and we jumped into this tiny house to go live in Colorado through the winter! Luckily, we found a guy who was renting out spaces on his land (good old Craiglist) and we got an electric hook up to run 2 space heaters.
How Much Stuff?
We downsized A LOT before moving in which not only included clothing/gear but everything else. 2 cups, 2 plates, a few utensils, 1 pot, 1 pan, some Tupperware and a teapot is what we have come to make work. This is fairly extreme but you get the picture…do you need those 19 coffee mugs? Having things that have 2 or more uses is a must, so the glass Tupperware doubles duty as guest bowls. We continue to downsize as well. This has made us more conscious consumers which resulted in saving more money (another benefit of going tiny: the savings!)
Storage and Layout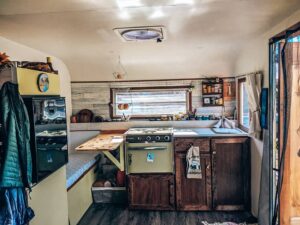 After watching tons of YouTube videos and Instagram stalking tiny home dwellers, I started to become stressed about trying to design the perfect layout. Truth be told, we never really decided on one. There was a faint idea, but nothing set in stone. While constructing our tiny home, the layout and new ideas on how to utilize every square inch of space started to reveal itself. For example, a small, weird space became a toiletries drawer. A BIG lesson we learned, once you are living in the tiny house, is that you can still add to it! Meaning you will figure out new ways to store things like building shelves that double storage. So, having an open layout that will be able to be used in multiple ways for storage is a must.
With all this new time we've all spent at home due to Covid, perhaps you have realized you don't need as much space and stuff as you thought. Begin to downsize, organize, and even test out what you need. Take a trip and rent a tiny Airbnb to see if living small will work for you. You could even put some of your things in storage if you're the kind of person who doesn't mind paying to store stuff you aren't using.
Be sure to do your research on THOWs since regulations will be different in every location. If naysayers are questioning your reasoning for going tiny, remember THOWs will present new challenges but owning a standard house does too. At least in a THOW, you can decide to leave with your house and things so if your neighbors are unagreeable, or the foundation is crumbling, you aren't stuck!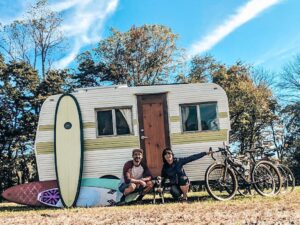 In conclusion, was switching to a THOW worth it? A million times yes. Even through the cold, dark (our battery died, and we had no lights for a month) and sometimes lonely winter nights. Even through the frustrations of building, planning, and towing everything we own. Even through having no access to a shower (gyms closed due to Covid), limited fridge space (it's smaller than the one you had in college), and NO privacy. The freedom we have felt is worth it. The clarity from living simply and knowing exactly where all your belongings are at all times is stress-reducing.
Spending more time in nature is enlightening. Learning to live with someone so closely is heart-opening. And being able to move back home on a week's notice to be with family through Covid was life-changing. Plus it has brought us here, to Jamaica VT, so yes it was all worth it.
Your time for tiny home living is NOW with these tips!
Author's Bio
Adrienne is outdoor sports enthusiast who has lived in many states, in an array of tiny structures, including a Saab 900. She spends most her time thinking and talking about her dogs, pizza or the next time she'll be able to kite surf.