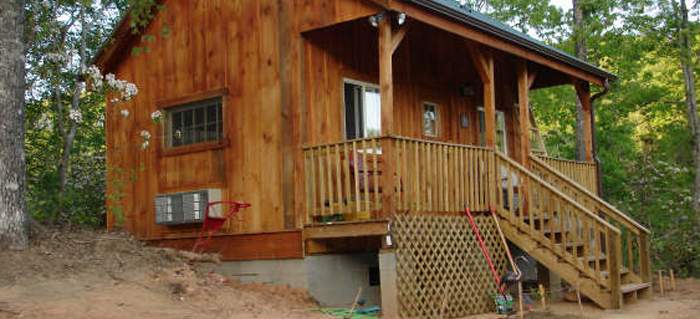 I have been in the building trades for the past 35 years. I recently came across concrete foundation terminology I had never heard of. A strip foundation and a flat foundation. Tiny house or Shed Foundations, what is necessary in your area? I have worked all over the United States including states with incredibly strict zoning, to hurricane and earthquake-prone areas as well as termite and wildfire susceptible regions. Each of these natural disaster-prone zones takes precautions in protecting buildings and it all starts with choosing the best foundation solution based on your personal criteria.
A strip foundation is very similar to a crawl space configuration where the bottom of the building is suspended off soil grade preventing the building structure from meeting the ground. The foundation is versatile and can be configured in several ways depending on the local climate. It can be done with or without a poured concrete floor. A flat foundation most resembles a slab foundation again depending on local environments may be configured to withstand the heaving of frost in cold climates and suggestions of keeping the slab a few inches above grade is highly beneficial to prevent water draining into the building. This type of design is sometimes referred to as a floating Alaskan slab originating in a permafrost type of environment. I always recommend consulting with local professionals for best practices in your area.
So, do you need a foundation for a shed or a tiny house? Good planning and preparations are essential before beginning to build. As a journeyman carpenter my mind would not allow me to begin a build until I had but the last nail into the structure in my head. Before I even cut the first piece, I had already finished the building in my head. Of course, this takes years of training to do this as second nature. So, let's look at the criteria basis for choosing the best foundation.
All foundation requires basic broad elements to make it successful weight distribution and moisture control. In order to support the structure, keep it true and from settling the dead and live weights of the structure must be transferred to the ground. Best to direct the weight-bearing areas directly to the ground with minimal weight transfer via a beam. Essentially a bearing wall or post should go straight to the ground but first connect to a foundation that will evenly distribute the weight and transfer the loads to solid ground. This is commonly done by spreading the weight out using footings below frost grade on to undisturbed solid soil. Drainage and moisture control can be accomplished with the use of vapor barriers and the all-important gravel base. You may have heard of vapor barriers, insulation lining, French drains, and radiant heating, none of these solutions cannot be utilized until a plan for moisture control is made. Even in dry climates, there is always a concern of moisture which can promote mold, decay, and insect inhabitation. A vapor barrier sits between the gravel base and the concrete floor system preventing moisture from wicking up through the poured floor. If a concrete pier foundation or "Sonotube" forms are used the vapor barrier will be required in the wooden floor system. Depending on the type of insulation chosen it is best to keep the vapor barrier on the bottom exterior of the floor system preventing moisture from being trapped inside the insulation and wooden floor joists.
Choosing the best solution for your application will be based on several variables including a budget, soil stability, and long-range plans for the project. Let me explain.
What is the intention of the building when you no longer desire or need shelter? Do you plan on selling the property? A traditional mortgage company will often reject applications for homes not build on an enclosed foundation such as slab, crawl or full foundation.

Is an expensive foundation necessary? No, it is not, however, there are pros and cons to be considered. If the investment and budget warrant the longevity and prolonged use of the building, then yeas a foundation that will last the test of time is imperative. No foundation or done at minimal cost should always include gravel and when gravel is not variable consider pinning to solid ledge if there is any or digging footing piers and using steel such as helical piles or treated wood posts either set on the ground or sunk down below frost level.
|For a tiny house, small camp or simple storage shed a gravel base is all that is required depending on the weight of the building the gravel should be 4" thick to 12" thick and is always best if it can be compacted first. Removing the topsoil and stumps is encouraged. Set the gravel bed a foot larger than the building on all sides taking into account the access to the building to prevent a bulky awkward ramp. The water dripping off the roof should drip onto the gravel.
See additional site preparation guidelines here.