Over the past few decades, self-sustainability and eco-friendly habits have been growing in popularity. Learning how to grow and hunt your own food is practical and enjoyable. Fishing may be one of the best and beneficial ways to hunt for food. First of all, it is relaxing to hang out on a boat for hours on a sunny day. Secondly, fish is one of the healthiest sources of protein, and they taste great grilled up. Finally, fishing is a sport that nearly anyone can participate in. It is relatively affordable and there are a wide variety of opportunities to enjoy it – anywhere there is water!
No matter what your skill level is, it is always a good idea to make sure you organize your fishing gear. Keeping your fishing supplies accessible and tidy means more time for enjoying your favorite pastime. Imagine a frustration-free day where you can pick up your fishing line and tackle box without tripping over lawnmowers and rakes. This is very possible with some creativity.
Fishing gear storage can range anywhere from a tackle box up to a large Equipment Shed. A large shed can shelter several boats, your fishing gear, rods, tackle, bait, and anything else you might need to keep safe and sound. Here we outline a few of our products that will help fishers of any skill level keep their gear tidy.
Fishing Gear Storage for Novices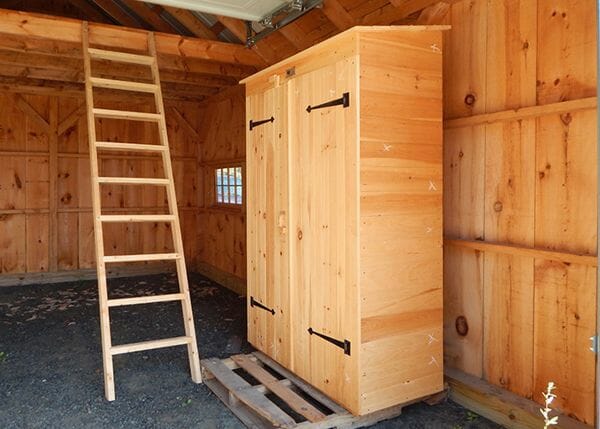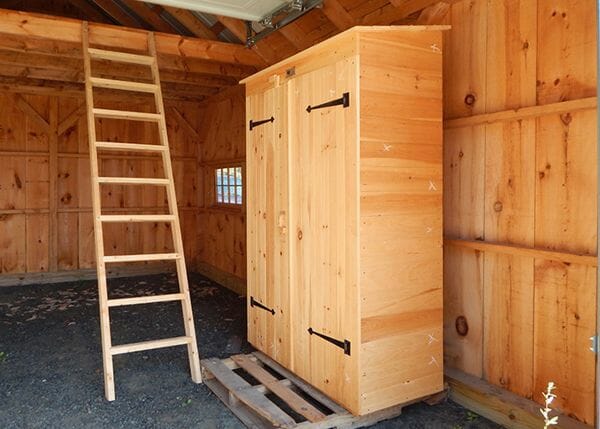 Perhaps you are just learning the art of fishing or only go on the occasional outing. One or two fishing rods and a small tackle box might be your only fishing possessions. Or maybe storage space is a concern: You might not have a yard where you can set up a fishing shed, or you own a storage shed that is already filled to the brim. If you fit in this category, we recommend craftily organizing your gear with some of our accessories and furnishings.
We have a variety of handy racks made of all-natural, unfinished pine. Our peg rack could be used to organize fishing rods and oars. A spice rack is a useful organizational tool for storing tackle when it is not in use. The rotating tie rack, which has 24 pegs, might be a great way to sort out loose fishing lines and small ropes. Add a cedar toolbox so you can grab your favorite supplies and go.
Consider combining these accessories with our 2×4 Garden Closet to create a self-contained area to stash your fishing gear. This Garden Closet, with its double doors, has adjustable shelving on one side. The shelving is perfect for holding tackle boxes, small coolers, and life jackets. The other side is open, which makes it ideal for long items, like fishing poles, that need to be stored vertically.
Fishing Gear Storage for Hobbyists
Those who find themselves casting a line nearly every weekend will need a bit more storage space. Small storage sheds can be a great way to dedicate space to your favorite hobby. A 10×4 Utility Shed can easily fit storage racks, shelving, and bins for organizing your gear. This tiny wooden shed adapts to nearly any backyard and could be used in other ways if your interest in fishing fades. Our Weston Potting Shed is a multipurpose building for work and storage. This building is enclosed on one side with double doors. The built-in workbench, located on the open side, is an exceptional place for assembling tackle.
Kayaking is growing in demand. Fishing kayaks are easily transportable on top of a car, making them a perfect watercraft for hobbyist fishers. Think about getting an Overhang Kit to add to an existing building. Build a DIY kayak rack underneath, along with a Garden Closet and storage accessories. This simple and affordable storage solution will have all of your needs covered.
Fishing Gear Storage for Fanatics
Fishing fanatics, it's more than just a hobby, it's a way of life. They probably own one or more fishing boats and dozens of rods. A fishing pro will construct lures, harvest worms for bait, and make DIY repairs on their boats. Their space is decorated with housewares, knick-knacks, and artworks that are fishing-related, along with nets and buoys. Their significant other might not want this fishy stuff cluttering up the home or have different tastes in décor.
For this reason, a fishing fanatic will need a workshop where they can have a fishing shed sanctuary. This dream building will probably have a storage loft, workbenches, shelving, cabinets, and maybe even an overhang or enclosure add-on. It might even have electricity installed, as well as have space for a refrigerator and a grill. It could even be a small post and beam cabin set up on a lakefront property for fishing getaways.
The first building that meets all of these requirements is the Hobby House. This modest and spacious building has it all. The double doors, with a ramp, make it easy to cart a boat in and out. A workbench provides space for building custom fishing lures and woodworking for boat repairs. The loft adds handy storage, or a place to toss a mattress for sleeping. Finally, the side overhang can shelter small fishing boats when they are not in use.
Business Fishing Gear Storage Ideas
Boat repair and detailing are services that are in demand. You could set up a boat shop business, along with selling and renting fishing equipment, canoes, and kayaks for income. If you want to turn your passion into a business, think about getting one of our larger buildings. The Equipment Shed and Two Bay Garage are two designs that come to mind. These buildings contain multiple bays and offer plenty of shelter for boats, sales racks, register counters, and displays.
Conclusion
Fishing can be an enjoyable hobby or business. Either way keeping your fishing equipment organized and safe can be very beneficial. A dedicated space for your supplies will eliminate frustrations and keep everyone in your family happy. Consider your skill level and what you think your future interest in fishing will be to decide on a backyard storage shed, a lakeside cabin, or boat garage. Once you have built your shed deck it out with furnishings and décor. Maybe even top your post and beam building with a Shark Weathervane!