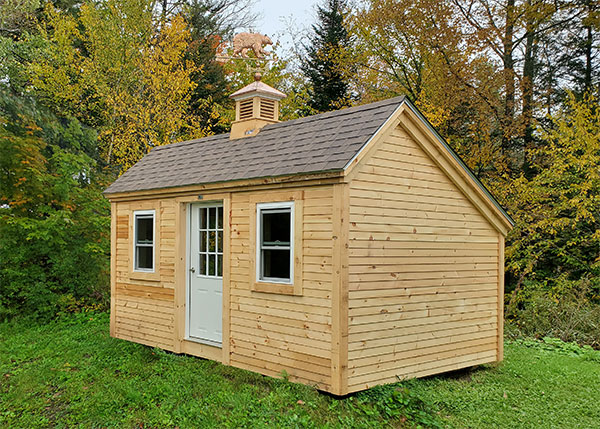 The Roof of your building can really make a statement, and not just aesthetic ones. You can enhance the strength of your structure and add functionally, like shed water and snow away from doors. Combine materials and aesthetics, with structural needs. Then factor in enhanced functionality to create a protective and unique roof perfect for your project.
SURFACE
Jamaica Cottage Shop's signature roof material is Evergreen 29 gauge corrugated metal, but there are TONS of options for a wide variety of styles, looks and colors.

•    Metal and Poly Panels: Corrugated metal roof material comes in 15 different colors to pick from, including the subtly sophisticated Patrician Bronze, the energetic and fun Bright Red, or the new Copper Penny. See the color chart here.
If you don't plan on insulating your roof, consider adding a few panels of Clear Poly. These clear panels have a corrugated pattern that matches the metal panels, making for relatively easily swap on installation. Place these clear panels strategically to enhance the natural light in just the right spot.
•    Asphalt and Cedar Shingles: Architectural Asphalt Shingles are a very popular upgrade and generally offer enhanced durability. See swatch sheet here to pick your favorite or match to existing structures on your property, 
Cedar and Shake shingles offer a distinct look and provide a bit of natural insulation. These offer a more stable roof temperature season to season than metal and asphalt roofs. Western Red Cedar shingles are a favorite. Cedar Shakes offer a bit more texture for a rustic and quaint aesthetic.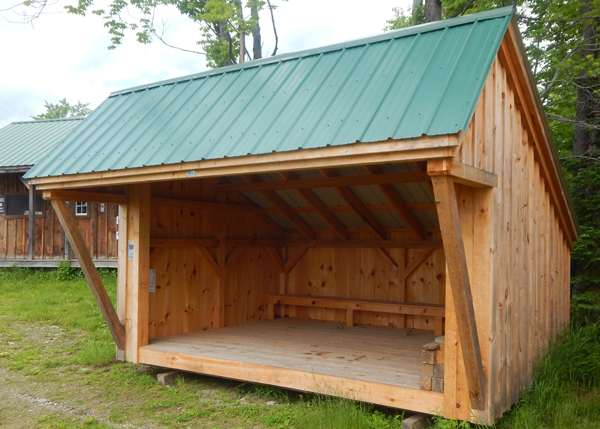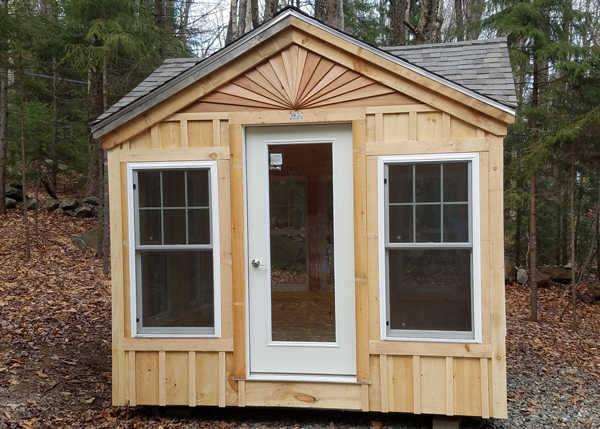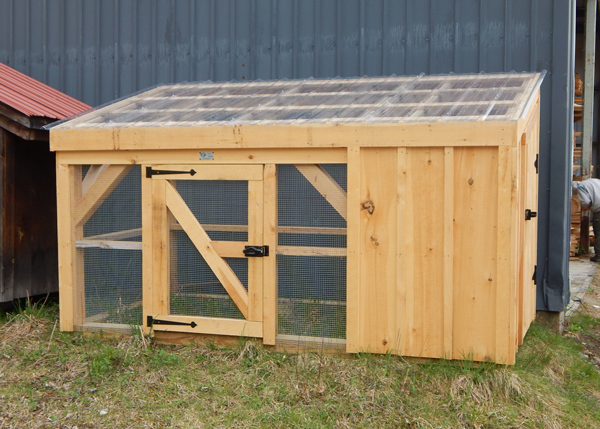 UNDER THE HOOD
Structural upgrades aren't as easy to show off, but they certainly aren't to be scoffed at. You won't see these upgrades from the outside since they are hidden under your roofing material, but these options provide additional support and protection when added.
These include:

• Solid Pine Roof Sheathing: This sub-layer of wood right under the roofing material is required when added to insulated or shingled roofs. Adding roof sheathing to an uninsulated metal roof creates a barrier between the building and the roof metal. This can make it more difficult for critters to get in, reduce the effect of the roof metal temperature on the interior on the building, and dampen the sound of falling rain.
• Rafter Spacing: Increasing the number of rafters in your building enhances the structural integrity of your roof. This option is often referred to as increasing the load capacity. More rafters mean less space between them. Rafter spacing is often offered in 12″, 16″ or 24″ (measured on center). 24″ on-center is the most common. Increase the load capacity by choosing 16″. In some cases, even 12″ on-center is offered.
• Rafter Material: The material your rafters are made from can also have an impact on your roof. Hemlock is a hard wood and great for sheds. It's best worked with while it's green.
If you're planning to insulate your roof, right away consider Kiln Dried Spruce rafters. Help deter mold growth by only insulating lumber that has low moisture content. Kiln-dried lumber will have a lower moisture content than hemlock. If you're not looking to insulate your roof right away, note hemlock can be dried over time.
• Insulation: Insulate your building to help regulate the internal temperature. We recommend insulating any structure that's meant to be lived in. Insulated options are also great for storage in hot and cold climates. The "4-Season" option from Jamaica Cottage Shop generally includes vapor barrier, insulation, and interior sheathing. There is a "3-Season" option also. This option efficiently sets the building up to be insulated in the future.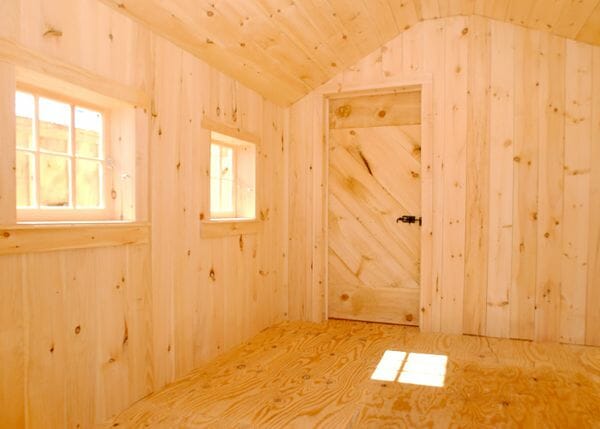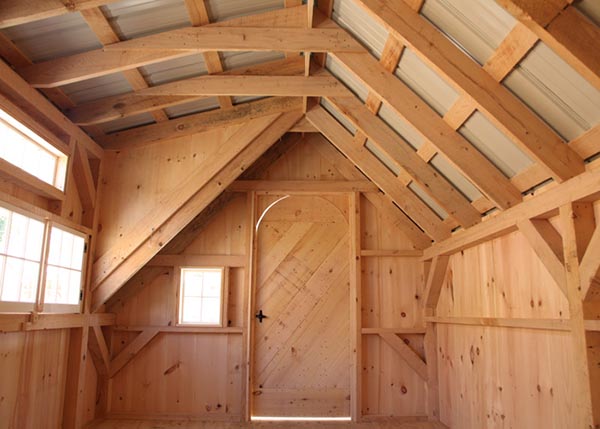 TOP IT OFF
Other fun details can be added to your building for extra pizazz with these stylish cosmetic options.
WEATHERVANES are quick and easy to install and come in several adorable styles. Our favorites are the shark, the bear, or the moose.
A DECORATIVE CUPOLA can transform your shed or cottage into a faux New England-style sugar shack. It sits right on top of your roof, making it very easy to install.
If you are getting a metal roof, the PREMIUM TRIM PACKAGE provides metal trim that matches your roof color. Enclosure strips fit under the metal roofing and ridge cap. These foam strips fill in the tiny gaps created from the ribbed pattern in the panels.
COPPER ROLL RIDGE CAP: This luxurious, high-end choice looks great with asphalt or cedar shingles. Normally a shingled roof would get shingled ridge caps. Copper caps come in one piece for easy installation. Copper starts off shiny and will weather over time into a fine patina.
CONCLUSION
As you can see, there are countless ways you can upgrade your roof. If you are on a limited budget, consider your needs and what can be done more efficiently now and what additional work will be required to add it on later. If you want to insulate your roof in the future, be sure to get vapor barrier and roof sheathing from the get-go. Options like Decorative Cupolas, and Weathervanes for architectural interest can be added at any time or even added to existing structures. Be sure to consider all your options when deciding on the perfect roof for your project.

DOWNLOAD this printable roofing guide to reference as you plan your cottage, shed, barn or garage.