Sugar Shack Plans- Decorative Cupola with Floor
Learn to build a storage shed with a decorative cupola by following these step-by-step instructions.
Specifications
Select alternate Sizes and Types to View Specifications
Our Sugar Shack is a classic sugar house design typically used in New England for boiling sap, though this sugar house layout could be used for so much more. Whether you plan on using it for boiling, as a stylish storage space or even as a guest house, this design is sure to be a hit with the neighbors. This unique design is highly customizable, you can choose your own siding and roofing materials, add additional windows and doors, or insulate it for year-round use.
Our easy to follow plans start with a full list of materials as well as a detailed and color coded cut list, as well as a list of recommended tools for the job. Following that, we give you full specifications for your foundation, whether you choose to put your new outbuilding on a concrete slab or on piers. Once your foundation is ready, you're ready to start building! Following the step by step instructions couldn't be easier. In fact, we have designed our plans so even a novice is able to follow along. Starting with the rugged post and beam framing, to your choice of siding, and right up to installing the functional cupola, our plans will guide you every step of the way.
When you purchase these plans, you will get digital viewing access as well as a physical copy in the mail. Should you run into any issues or have any questions at all, our tech support team is here Monday through Saturday from 8am-3pm to help you overcome any hurdles you may encounter. We have many sizes of Sugar Shack building kits for sale to choose from, and if you purchase plans and then decide to purchase a Sugar Shack kit through us, the complete cost of the plans will be reimbursed.
16×20 Sugar Shack
Base Area: 320 sq. ft.
Loft Area: 128 sq. ft.
Total Interior Area: 448 sq. ft.
Recommended Foundation: Compacted 12" Crushed Gravel
Overall Dimensions: 19'4" H x 18' W x 22" D
Estimated Weight: 10,400 lbs
SILL PLATES
4×6 Rough Sawn Hemlock Skids
2×6 Rough Sawn Hemlock Joists, 24″ On Center
3/4″ CDX Plywood Decking
LOFT
8×16
Ladder Access
2"x6" rough Sawn Hemlock Joists; 24" on center
1×8 Smooth Shiplap Pine
Weight Rating 25 lbs / sq. ft.
WALLS
4"x4" Hemlock Post and Beam Wall Framing
Wall Height: 96"
Siding: 1" rough sawn Pine Board & Batten
1" rough sawn Pine Corner, Door & Window, Pine Fascia & Shadow Trim
ROOF
Gable Roof Style
Roof Pitch: 8/12
4×8 Decorative Cupola
2"x6" rough sawn Hemlock Rafters 24" On Center
2×6 rough sawn Hemlock Exposed Collar Ties
1"x4" rough sawn Hemlock Strapping 20" On Center
Corrugated 29g Metal Roofing, Color: Evergreen
12" Overhang on all sides
DOORS & WINDOWS:
Door: 1 (qty) 6-0 JCS-built 2" Thick rough sawn Pine Double Doors, no ramp
Additional Features
1 (qty) Wood Louvered Vent
Loft Ladder
Estimated Assembly Time
Estimated Assembly Time: Two People: 44 hrs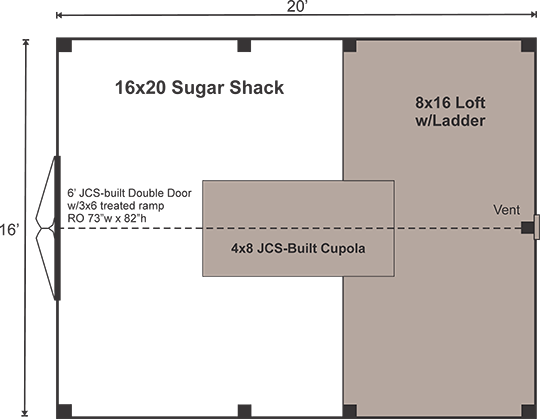 Shipping Information / Logistics