Specifications
Select alternate Sizes and Types to View Specifications
Our comprehensive plans will give step by step instructions on building a working outhouse using 4X4 lumber and rough sawn pine. Featuring decorative accents like a crescent moon door and exposed rough cut hemlock lumber framing this would be the perfect addition to any diy cottage kits or Vermont Cottage. Whether assembling one of our Pre-Cut kits or starting from scratch with your own rough pine these instructions will help make your shack plans come to life!Printed on standard 8X10 high quality printer paper and covering 50 pages these plans include exploded views, actual size templates for angle cuts, shopping list, cut list, information for site preparation, a list of suggested tools and much more!
No need to choose all your options in advance as we provide instructions for metal roofing or shingles as well as multiple types of foundations to suit your needs. Often customers will purchase a set of plans for permitting reasons and rest assured! If you purchase a set of plans and then later buy our pre-cut kit we will happily reimburse you for the previously purchased plans. We also have Tech Support available from Monday to Saturday 9am to 3pm eastern standard time, who can assist you directly should you have any questions, comments, or concerns regarding the contents of the Plans. Each purchase of our Plans will come with digital access to view the online copy through your JCS account, as well as a hardcopy that we will mail out to you via USPS. An order can be placed through our website by adding your preferred size to your shopping cart, or you can give us a ring and place your order with a JCS rep over the phone.For an alternative approach to an outhouse consider our outhouse storage shed and a nature's head composting toilet.
4×4 Working Outhouse
Base Area: 16 sq. ft.
Total Interior Area: 16 sq. ft.
Recommended Foundation: 3–4" Crushed Gravel
Overall Dimensions: 8'6" H x 4'10" W x 4'10" D
Estimated Weight: 1,200 lbs
SILL PLATES
4×6 Pressure Treated Sill Plate
2×4 Pressure Treated Joists 24" On Center
¾" CDX Plywood Floor Decking
Floor Weight Rating: 10 lbs/ sq. ft.
WALLS
4"x4" Hemlock Post and Beam Wall Framing
Wall Height: 60"
Siding: 1" rough sawn Pine Board & Batten
1" rough sawn Pine Corner, Door & Fascia Trim
ROOF
Gable Roof Style
Roof Pitch: 12/12
2"x4" rough sawn Hemlock Rafters 24" On Center
1"x6" rough sawn Hemlock Exposed Collar Ties
1"x4" rough sawn Hemlock Strapping 20" On Center
Corrugated 29g Metal Roofing, Color: Evergreen
DOOR
1 2-0 JCS-built 2" Thick rough sawn Pine Single Door with Crescent Moon Cutout, no ramp
Additional Features
Fully enclosed plywood bench with vent stack, toilet seat and hopper
Estimated Assembly Time
Estimated Assembly Time: One Person: 10 hrs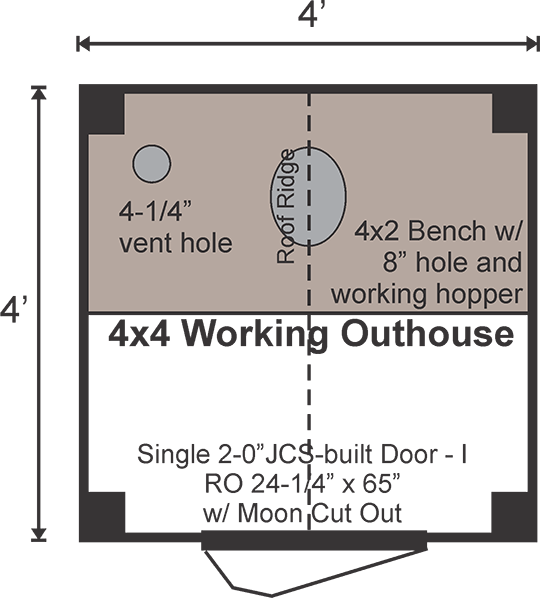 Shipping Information / Logistics