Home Office 4-Season Plans
Build your own insulated home office with our do-it-yourself assembly instructions.
Specifications
Select alternate Sizes and Types to View Specifications
12×16 Living Home Office
Base Area: 192 sq. ft.
Total Interior Area: 144 sq. ft.
Porch Area: 48 sq. ft.
Recommended Foundation: 10–12" Crushed Gravel
Overall Dimensions: 10'6" H x 13'8" W x 17'8" D
Estimated Weight: 8,700 lbs
FLOOR SYSTEM
2 (qty) 6x6x16' Hemlock Skids
2"x6" Kiln Dried Spruce Joists 24" On Center
¾" CDX Plywood Floor Decking
1" rough sawn Hemlock Porch Decking
Floor Vapor Barrier
5½" Fiberglass Insulation (R21)
Under Deck Sheathing: ⅜" Plywood
Floor Weight Rating: 25 lbs/ sq. ft.
WALLS
Exposed 4"x4" Hemlock Post and Beam Wall Framing
Wall Height: 82"
Wall Vapor Barrier
Foil Backed Rigid Foam Insulation (R13)
Shiplap Pine Interior Sheathing
Siding: 1" rough sawn Pine Board & Batten
1" rough sawn Pine Corner, Door & Window Trim & 2" rough sawn Pine Fascia & Shadow Trim
ROOF
Gable Roof Style
Roof Pitch: 4/12
2"x6" Kiln Dried Spruce Rafters 24" On Center
1"x6" Kiln Dried Spruce Exposed Collar Ties
1" rough sawn Solid Barn Board Roof Sheathing
Roof Vapor Barrier
5½" Fiberglass Insulation (R21)
Shiplap Pine Interior Ceiling Sheathing
Corrugated 29g Metal Roofing, Color: Evergreen
DOOR & WINDOWS:
Door: 1 (qty) 3-0 nine-lite Insulated Steel Door with Keyless Lever Locking Hardware
Windows: 2 (qty) 3'x2' Insulated Slider Window: White Vinyl Interior/Exterior w/ Screen
Estimated Assembly Time
Estimated Assembly Time: Two People: 68 hrs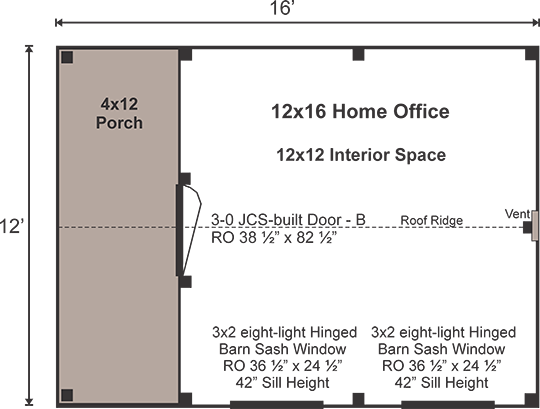 Shipping Information / Logistics