5X10 Chicken Coop Plans
Learn how to build a 5×10 Chicken Coop with these DIY building plans.
Specifications
Select alternate Sizes and Types to View Specifications
Looking at wood buildings for sale, to convert into a Chicken Coop? Jamaica Cottage Shop's 5×10 Chicken Coop Plans are very affordable only $39.90.  Our color-coded diagram with matching color-coded cut list will help you make the decision to source your own rough-cut lumber or purchase a Jamaica Cottage Shop chicken coop assembly kit. The 5×10 Chicken Coop plans were originally created to build an addition to a preexisting coop. With our post and beam shed roof design makes this 5×10 Chicken Coop able to build up against another building.  Even if you wanted fresh ground for your chickens to inhabit this coop can be moved around the yard as well.
If your still unsure about buying plans for our cute chicken shack, then look at our free post and beam shed plans. Get free plans gives our customers a chance to digitally view the 8×10 Vermonter plans before purchasing their small post and beam chicken house. Once our plans are purchased, we will print and mail a physical copy along with giving you instant digital views on our site. The 5×10 tiny post and beam chicken house plans have step by step directions on how to build it from the ground up. We developed comprehensive plans that explain site choice, site preparation, materials, hardware and more. This Coop is easier to build with a 5×10 frame a simple 3×5 enclosure with the chicken wire (Hardware Cloth) wrapping around a 5×7 run. Once your wire is secure you then finish the outside by adding siding to the enclosure, all the trim pieces, battens, doors, and roofing. Clear poly roofing will help your chickens get all the best lighting in the world, sun light. If your worried about your feathered babies cooking in the heat, Jamaica Cottage Shop also has accessories. Add our wood louvers vent to your DIY prefab kit or our ready to assemble nesting boxes. Your chickens will love their cute micro post and beam chicken shack.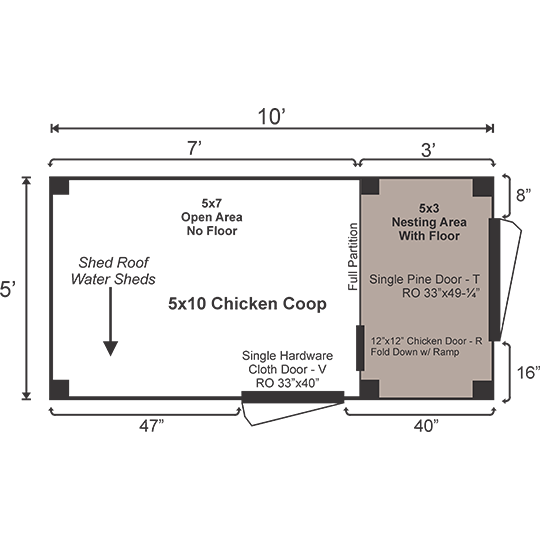 Shipping Information / Logistics
5×10 Chicken Coop
Base Area: 50 sq. ft.
Enclosed Interior Area: 15 sq. ft.
Screened Interior Area: 35 sq. ft.
Recommended Foundation: 3–4" Crushed Gravel
Overall Dimensions: 6' H x 5'6" W x 10'6" D
Estimated Weight: 1,200 lbs
SILL PLATES
4×6 Treated Sill Plate
2×4 rough sawn Hemlock Joists 24" On Center – Enclosed Side Only
1" Rough Sawn Hemlock Board – Enclosed Side Only
Floor Weight Rating: 10 lbs/sq. ft. – Enclosed Side Only
WALLS
4"x4" Hemlock Post and Beam Wall Framing
Wall Height: Front: 48" Rear: 63"
5' Full Partition
Siding: 1" rough sawn Pine Board & Batten (Enclosed Side) & Hardware Cloth (Open Side)
1" rough sawn Pine Corner, Door, Window & Fascia Trim
ROOF
Shed Roof Style
Roof Pitch: 3/12
2"x6" rough sawn Hemlock Rafters 24" On Center
1"x4" rough sawn Hemlock Strapping 20" On Center
Corrugated Clear Poly Roofing
DOORS:
1 (qty) 2-8 JCS-built 2" Thick rough sawn Pine Single Door, no ramp
1 (qty) 2-8 JCS-built Hardware Cloth Door in Open Area
1 (qty) 12"x12" JCS-built rough sawn Pine Chicken Door w/ ramp
Estimated Assembly Time
Estimated Assembly Time: One Person: 16 hrs