4x6 Chicken Coop Plans
You can build your own small chicken coop with these do-it-yourself building instructions.
Specifications
Select alternate Sizes and Types to View Specifications
Our 4×6 Chicken Coop model is the smallest of the bunch that we have to offer here at Jamaica Cottage Shop and is perfect for any beginning livestock keeper looking to raise a few hens right in their backyard.  The Plans we offer for this specific size and model are composed of a full cut list, a complete material list, and all the step by step assembly instructions needed to erect the matching Complete Pre-Cut Kit.  Alternatively, you can purchase the Plans to reference while looking into locally sourcing your lumber and hardware, should you be considering any modifications to our standard design.  Either way, if you place an order for the Plans prior to ordering the whole Complete Pre-Cut Kit, we will reimburse you for them once your package ships.  All recommended hardware bits for this unit will be listed within the Plans as well, to ensure that the correct components are sourced so that your flock is safe and sound from any lingering & unwelcome predators or harsh weather conditions.  Each step in the Plans is color coded to match the incorporated cut list, as well as the labeled pieces in the corresponding Kit.  The assembly instructions within are organized from start to finish, beginning with the directions for prepping your foundation of choice, to the fitting of the Eastern White Pine siding and rustic millwork pieces, and then finishing off with the installation of the galvanized, 29 gauge metal roofing sheets.  If at any point you find yourself scratching your head while delving into these Plans, do not chicken out quite yet! — We have Tech Support available during weekdays from 9am to 3pm eastern standard time who can certainly take you under their wing and walk you through it.  Orders can be placed both online and over the phone with any available JCS representative.
4×6 Chicken Coop
Base Area: 24sq. ft.
Total Interior Area: 24sq. ft.
Recommended Foundation: 3–4" Crushed Gravel
Overall Dimensions: 7'6" H x 4'8" W x 6'8" D
Estimated Weight: 1,000 lbs
SILL PLATES
4×6 Treated Sill Plate
WALLS
4"x4" Hemlock Post and Beam Wall Framing
Wall Height: Front: 60" Rear: 80"
Siding: 1" rough sawn Pine Board & Batten
1" rough sawn Pine Corner, Door, Window & Fascia Trim
ROOF
Shed Roof Style
Roof Pitch: 5/12
2"x4" rough sawn Hemlock Rafters 24" On Center
1"x4" rough sawn Hemlock Strapping 20" On Center
Corrugated 29g Metal Roofing, Color: Evergreen
DOORS & WINDOWS:
Doors: 1 2-8 JCS-built 2" Thick rough sawn Pine Single Door, no ramp
1 (qty) 12"x12" JCS-built rough sawn Pine Chicken Door w/ Ramp
Windows: 2 (qty) 2'x2' six-lite Hinged Barn Sash Window
Additional Features
Five 12"x12" rough sawn Pine Nesting Boxes
Estimated Assembly Time
Estimate Assembly Time: One Person: 14 hrs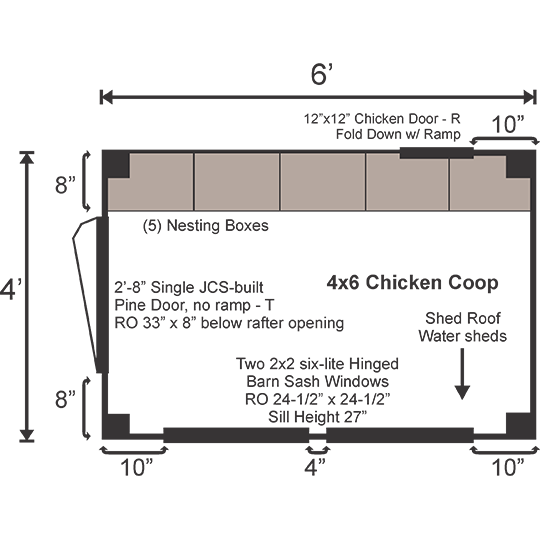 Shipping Information / Logistics