When searching for the right shed for you, its looks are just as important as its function. And if having a place to spend time outside and relax is a high priority, you'll want to choose a shed with a porch. Having a porch enhances the look of the shed, and gives you a comfortable spot to sit back, relax, and appreciate being outdoors. We've compiled a list of all our sheds with porches here for you, along with some unique porch décor ideas to make your shed a pleasant place to hang out. We've organized these buildings in order from smallest porch to largest porch to help you find exactly what you are looking for!
Sheds with Small Porches: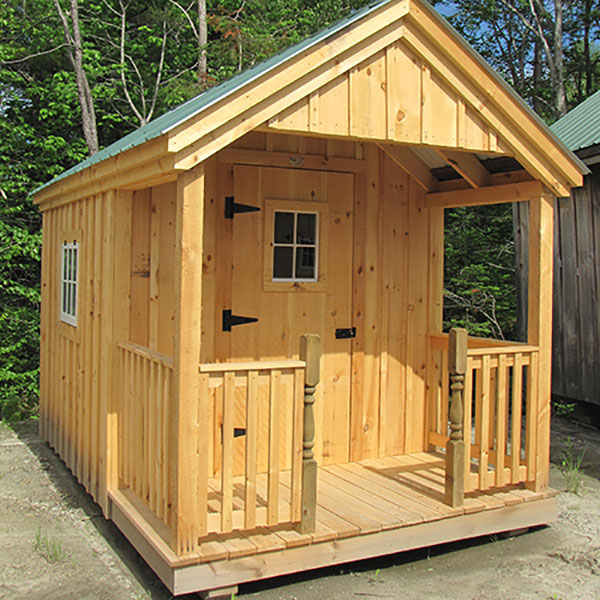 Do you want a shed with a porch, but need a building with a small footprint? Look no further than this beauty! Sizes start at a total floor plan of 8×10, which is small enough to fit in many yards. The porch on this model is four feet deep and eight feet wide, for a total of 32 square feet of area, just enough for you to put up a small chair or bench. The Nook is an ideal shed for modest storage needs, or a small getaway where you can enjoy your hobbies. The Nook in this photo has an added porch railing and half newel posts that give it some curb appeal!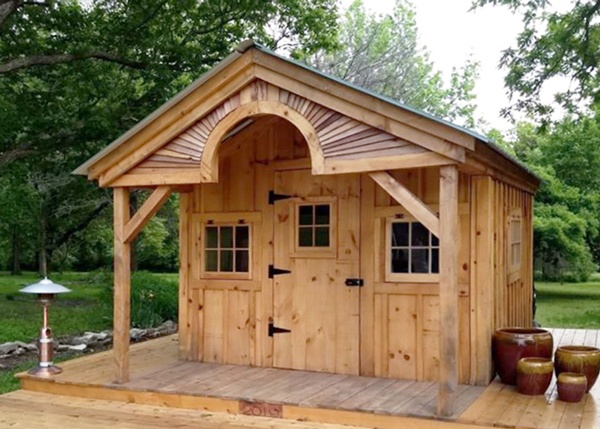 The quaint pond house comes in either a 10ft or 12ft width, with a 4 foot deep porch, affording you at least 40 square feet of room. Our customers commonly choose the Floor Plan B for this model, which adds a beautiful cedar sunburst above the porch. Also opting for a railing can elevate the look of this little shed. The Pond House makes an excellent guest house, studio space, or a very deluxe storage shed.
We love what these customers did with their Pond House: they opted for the cedar sunburst, and they added decking around the already-built porch to expand the area. The added space is really inviting, don't you think?
Sheds with Unconventional Porches: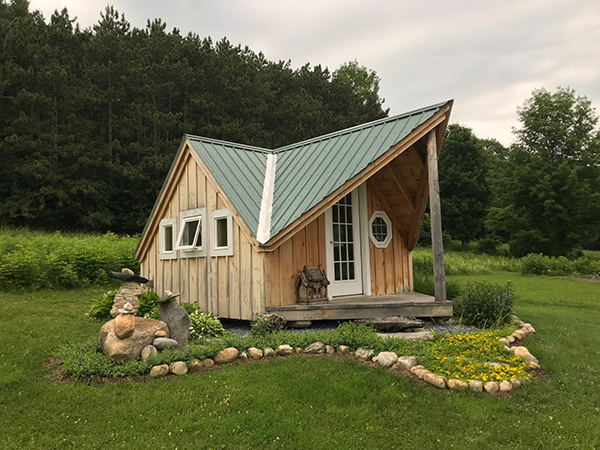 This unique building is designed to inspire the artist inside all of us. The triangular porch gives you a total of 36 square feet of area to decorate, enough room for a couple of simple chairs and maybe a table positioned near the front point of the porch. On the inside, a built-in daybed makes this shed a cozy place to snooze as you daydream up your next creative project. The owner of this Writer's Haven opted to keep the porch decor simple, but make the area surrounding the porch into a simple, organic looking garden.
Like the Writer's Haven, this shed has a unique, triangular shape to the porch, also 36 square feet in area. The decorative look to this shed makes it perfect for customers that want a more ornamental building to place on their property. Of course, this can be used as storage, but it also can be so much more. Adorn the porch with potted plants and surround it with shrubbery to give your shed a cozy, down-to-earth vibe. Or choose to replace the post with a skinned hemlock post, like they did in the photo, for a more rustic, woodsy touch.
Sheds with Medium Porches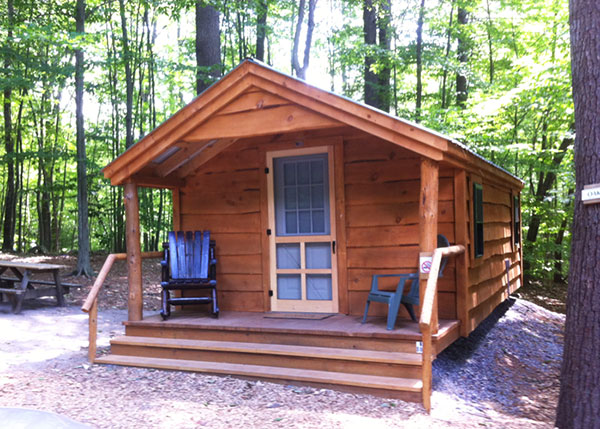 This building comes in a variety of lengths, but the porch is always 12ft wide by 4ft deep, for a total of 48 square feet of space. The front door of the Home Office is positioned in the center of the façade, so an ideal porch layout would be to place two benches or chairs on either side of the door, like they did in this photo. We also offer upgrades to skinned hemlock posts on this cottage. Some of our customers have turned this fabulous building into a wine tasting room, tiny house, and outdoor she-shed.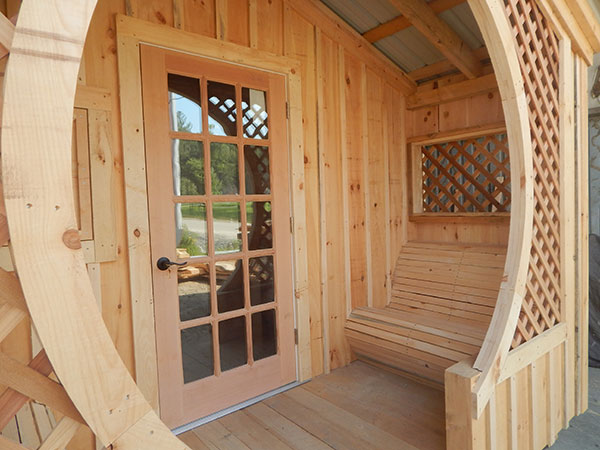 The porch on this beautiful shed already has a ton of character! The keyhole entrance and latticework conceal two built-in benches on opposite sides of the door. This porch allows you to enjoy privacy and comfort while still getting a view of the outdoors through the lattice. Seeing how cozy the benches are, it is easy to imagine spending time here with friends, loved ones, or just a good book. The total area of the porch is 12×4 ft, for a total area of 48 square feet. Place some fairy lights in the enclosed section of the porch for a magical and romantic effect.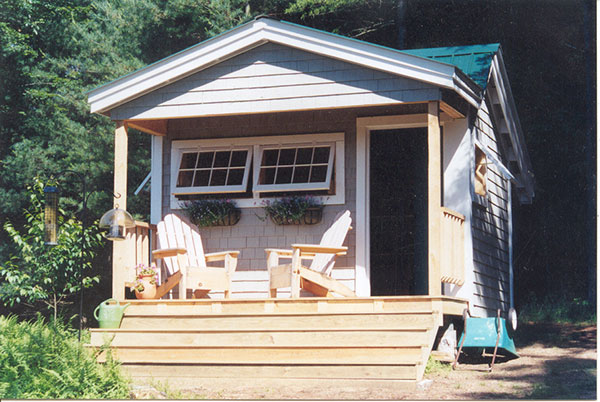 This shed is a saltbox style shed with a dormer that extends over the porch. We offer this in two sizes, 12×12 or 14×14 – both of which come with a four foot deep porch. The front facing windows give it a very charming and classic look, and the front door is positioned towards the side, giving you a large uninterrupted porch area that is perfect for a couple of chairs and a table. Although this building was originally designed as a place for gardeners to start seeds and store gardening equipment, there are so many other possible uses. It can make an excellent pool house, play house, or backyard bar.
Sheds with Large Porches: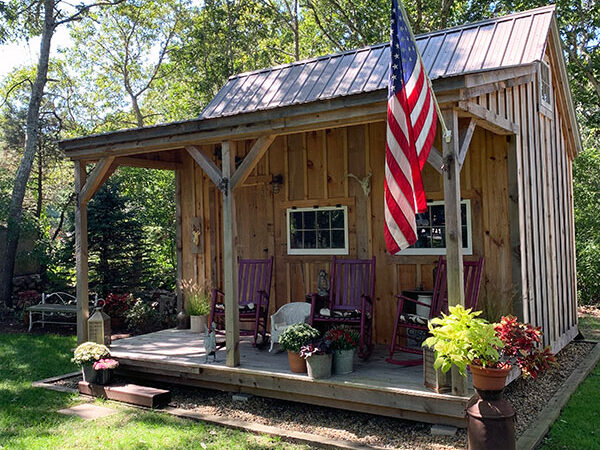 The Homesteader has a deeper porch than our other sheds, at 6 feet deep. The 18ft wide sizes give you a porch with a total of a generous 144 square feet, while the 16ft wide buildings have 96 sqft porches. The nice deep porch on this building makes it ideal for placing cozy couches that will really let you stretch out, or offers you space for multiple chairs to fit easily. Inside, the loft that comes standard with this building can be turned into storage, or a place to hang out, relax, and have a snooze.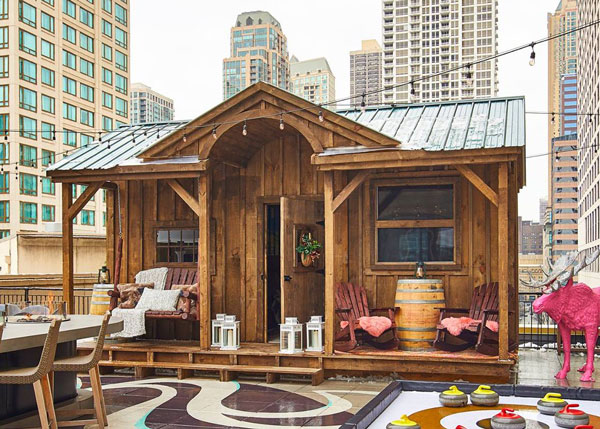 This stately shed places the porch on its longest side, giving you ample room for seating, décor and more. Choose from options that offer either a 20×4 foot porch (80 square feet) or a whopping 30×4 foot area (120 square feet). Over the door, a barrel arch gives the porch of the Gibraltar a timeless elegance that draws your eye. This shed is large enough that you can turn the interior into a tiny living space, a recreation room for you and your friends, a cozy chalet, or even a yoga studio or gym for holding classes. The ample space on the porch will give you and your guests the perfect place to chill together.
Vermont Cottage
Larger buildings like our Vermont Cottage A and Vermont Cottage C also come with porches! Though these buildings are a bit bigger than a traditional shed, they can still be used for storage purposes, if you love their look. Both of these buildings have porches that are 4 feet deep. The Vermont Cottage A comes in sizes that will give you a 30×4, 24×4 or 20×4 porch size, for up to 120 square feet of space. The Vermont Cottage C has a 16×4 porch with 64 square feet of space.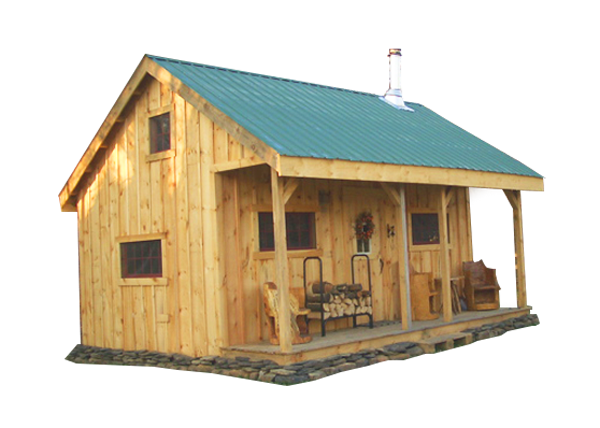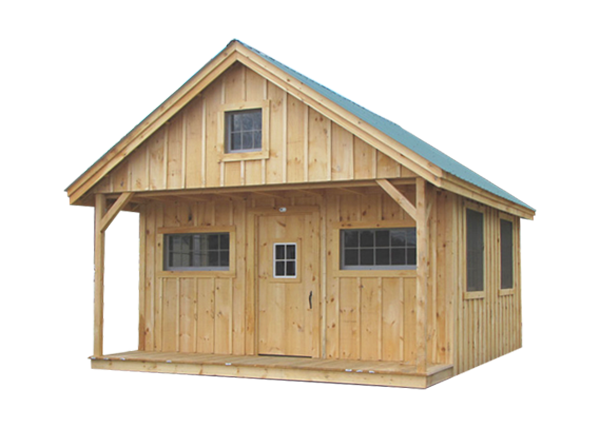 Adding a Porch to Your Shed
If you see one of our sheds that you love, but it doesn't come with a porch, the chances are you can add one on! Most of our sheds are compatible with either our Universal Annex or Basic Annex, which can be configured to have a flooring system to make it a perfect porch. If you have questions about this process, or about whether or not your shed is compatible with an added porch, we invite you to contact our sales representatives!
Five Unique Porch Décor Ideas
The classic way to outfit a porch is with some rocking chairs, a coffee table, and maybe some greenery. But there are way more interesting ways to turn your porch into a cozy and inviting space. Maybe one of these five ideas will inspire you!
• Add a Bird Bath
Instead of placing the bird bath in your yard, try placing it on your porch instead! This is a particularly nice idea if you can position it near a window, so that when you are inside, you can watch the birds frolic and bathe up-close. Place your sitting area opposite the bird bath and leave some distance, so that the birds might be brave enough to join you when you're relaxing on your porch. A bird bath that mounts on your porch railing might be ideal, as it will be light-weight, and can extend outwards from the porch, avoiding any splashing or mess.
• Drapery For Ambiance and Privacy
Hanging fabric between the posts of your porch can add a unique look to your porch. Opting for a sheer fabric will allow for greater visibility, and let in the light. Choosing the right fabric will be an important factor: something that is lightweight, weatherproof, and not very absorbent is ideal. Curtains softly rippling in the breeze on a summer day while you read a book on a lounge will make your porch feel like a resort!
• A Vertical Vegetable Garden
Greenery makes any space more beautiful, so why not try growing your own vegetables in a vertical garden on your porch! Greenery like lettuce, cabbage, and bok choy are ideal candidates for growing in a hydroponic tower. Make sure your porch gets enough light, and that it can hold the weight of a vertical growing system, and you'll get to enjoy fresh, nutritious salads and veggies during the growing season!
• A Custom Doormat
This easy DIY craft idea can make your porch just a little more quirky and unique. Buy a plain doormat and paint it to look like the front of your shed or home! You'll love the personal touch that this little detail brings, and you'll have fun making it. Here is a blog post about how to DIY a house doormat.
• A Funky Chandelier
If the gable above your porch is pretty high, consider putting a focal point there to activate the space. You can find chandeliers at vintage shops and sometimes at home goods stores. Spray-paint a vintage chandelier to give it a pop of color! Or if you can't find a chandelier that you like, you can always opt for electric luminaries that will give your porch a warm glow in the evening.
Conclusion
Your porch is a reflection of your personality! When looking for a shed with a porch, you'll want to consider how much space you need, what the use of the shed will be, and how much time you expect to spend there. Once you've picked the right shed for you, make sure you spend time on the details of your porch to turn it into a place you'll love coming back to again and again!