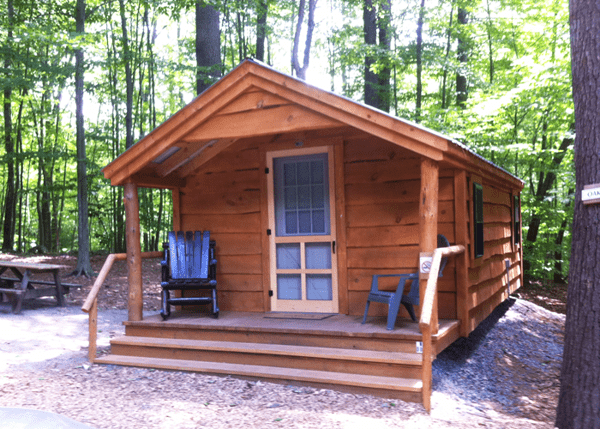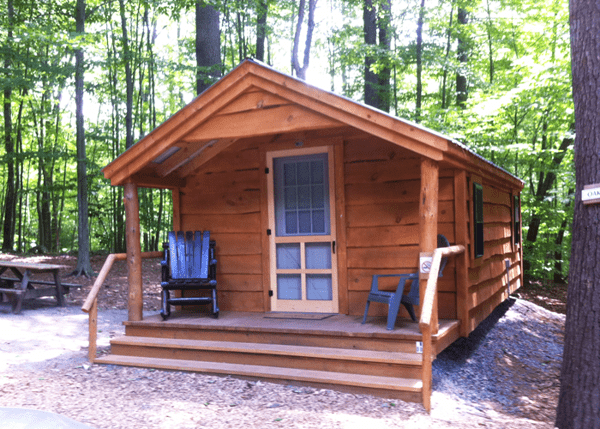 Summer is here and undoubtedly is the best time get outdoors and go camping. Nothing beats breathing in the fresh air, being woken up to songbirds singing, and falling asleep to crickets chirping and owls hooting. Roasting marshmallows next to a roaring fire is a must when you are on a camping trip. Setting up a perfect site for cabin camping can enhance the overall outdoors experience.
Many people have purchased plots of land in the woods so they have a spot to escape from big city life. Others are building a permanent cabin or home. They need a comfortable place to relax while waiting for completion of a larger project. Campgrounds know that investing in small cabins is a good idea. They can be rented out to campers who lack the most basic piece of equipment: a tent. This collection of ideas will help you plan your campsite for maximum comfort and fun.
The Benefits of Cabin Camping
While tent camping can be very appealing for many people there are multiple reasons why cabin camping might be a better choice. These reasons usually fall into one of three categories: convenience, comfort, and money.
Convenience & Fun
Some people might be dipping their toes into the camping experience. They might not know where to start. Purchasing equipment can be expensive. Or they may lack space to store tents, sleeping bags, and firewood at home. Staying in a cabin it allows them to pack light for a quick and easy trip. Without having to worry about learning how to set up the site they can spend their vacation having fun. More time can be spent going on hikes, horseback rides, boating, swimming, and socializing around a campfire.
Luxury & Comfort
Others may choose cabin camping because their comfort level does not tolerate tent camping. They want protection with four walls and a roof. Screened windows keep mosquitos away, and solid wood walls keep bears away. A strong metal roof prevents clothing and linens from getting soaked much better than a tent will. Plumbing and electricity can be permanently installed in a cabin to amplify the amenities. A camping season can extend into colder months. Build a three- or four-season cabin with insulation and set it up with a woodstove for heat.
Saving & Making Money
Finally, some love cabin camping because it is usually less expensive than a hotel rental. It is certainly cheaper than buying all of the necessary gear when camping for just a weekend. Save money on apartment rentals or hotel fees, if you are building a larger home, with a prefab cabin. Later on, you could resell your portable cabin. Or use it as an accessory dwelling unit or storage shed for personal use. Our small cabins and cottages are also used to earn income. Many rent them out through Airbnb to travelers.
How to Set Up the Perfect Camp Site
Your campsite, whether it is for a campground or your land, should meet basic needs. These needs include a place to sleep and a way to prepare meals. Here we are going to outline some of our most popular camp buildings, things that are a must-have, and other bonus recommendations that will make your camping experience extra special.
Setting the Scene
First, you are going to need to pick an area based on what you want the environment to be. Do you want your cabin nestled in the woods under some shady trees, or on a sunny, open field? Is it going to be near water or on a sloped piece of land? Once you have decided on a dry, flat spot you will level the ground and prepare your building site with a gravel foundation or set up concrete piers. Make sure you have room for a firepit and place it at least 20 feet away from your wooden post and beam cabins.
The Best Camping Buildings
Any of our post and beam buildings, including our sheds, can be used in a campsite setting. Here are few designs that we love for a rustic glamping wood cabin setup.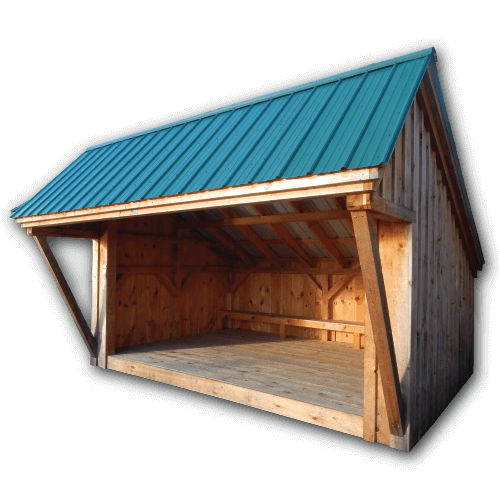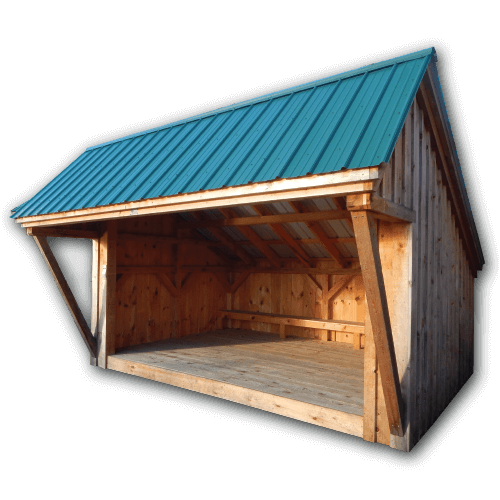 Those who want an authentic camping experience will enjoy the Camp Alcove. This three-sided lean-to features a front overhang extension and a built-in bench for resting. The saltbox-style roofline directs rainfall toward the back of the building keeping campers dry. The alcove creates a shady spot to relax and eat a meal in the shade. Adventurous campers will lay their sleeping bags out on the floor, or on a bench, so they can enjoy the stars as they fall asleep.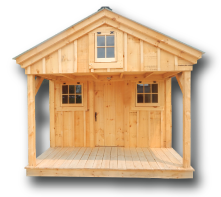 For complete protection consider purchasing one of our Bunkhouses. This prefab cabin with a porch also comes with a built-in bunk bed and a loft. The over-the-porch loft with a ladder and a small barn-sash hinged window is an ideal sleeping spot for a child or stash less used supplies up above. Memory foam or air mattresses can be placed on the bunks for a soft sleeping spot.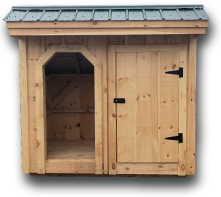 Finally, we recommend the Weekender, a useful structure for those who are glamping, tent camping, or even rolling in with an RV or trailer. This multifunctional woodshed helps keep your site tidy and your essentials close by and protected. The open side is meant for keeping firewood dry so you can buy in bulk and save money. An enclosed side, with double pine doors, can be used to store grilling tools and equipment, coolers, a weed wacker, shovels, rakes, backpacks, and water toys.
Other Campsite Essentials
Now that you have selected your site, and built your glamping wood cabin, you can finish out the setting with these necessary items. A campsite without a campfire is just depressing. This is a top priority, otherwise, you might have to eat cold hot dogs, and go to sleep as soon as the sun sets. Build a firepit or outdoor stone fireplace nearby. A picnic table can be helpful for preparing meals and as additional seating. If you do not have a campsite with a bathroom, consider adding an outhouse, or setting up sheds with a composting toilet and off-grid showers.
Other nice to have, but less mandatory, items might include electricity, and running water. Many people can get by without these things. Bring in jugs of water for drinking and washing. There are hundreds of solar-powered gadgets that can assist with lighting, sound, battery packs, etc. Others might need their creature comforts (grid electricity, wi-fi, and traditional plumbing) to feel less anxious and disconnected from the outside world.
Are you excited to start setting up your campsite now? We created a discounted bundle of our favorite camp building plans called the Camper Collection. This bundle features the three designs discussed above. Our do-it-yourself plans come with a cut list, rafter templates, diagrams, and detailed written instructions for each step of the building process. There is no wrong way to set up your campsite but we hope these tips have helped. Let us know if you have other ideas or want to share photos of your campsite.