We at Jamaica Cottage Shop are proud that all of our operations and manufacturing happens right here in the USA. Every one of our beautiful post and beam products is made at our Vermont factory by a dedicated team of skilled craftsmen. At our core, we value teamwork and cooperation and know that our success would not be possible without our fantastic employees that build, sell, and deliver our products to our customers.
Jamaica Cottage Shop specializes in making cottages, sheds, and other outdoor structures that are as functional as they are beautiful. Our in-house drafting team designs all of our buildings from start to finish. They set up the DIY plans and cut lists that our carpenters and our customers rely on to build our sheds, barns, and cottages. They also take technical support calls which helps them gain insight on how to clarify written instructions in the plans or fix any typos that may occur. 
Once the drafting team completes the cut list for a new building, those cuts get sent to our production and carpentry teams. Production is responsible for pulling the lumber and cutting all the parts that go into one of our Pre-Cut Kits. They also stack and organize the lumber, metal roofing, windows, and doors onto pallets to prepare them for shipping.
Production also works closely with our drafting department to ensure the quality of the plans being passed to them from drafting. To complete the Pre-Cut Kits made by our production team, a support team builds pine double doors, puts together hardware packages, and gathers insulation materials that are used to build our three-season and four-season cabins.
We sell prefabricated sheds and cottages as part of our inventory, and for that, our in-house carpentry team is essential. They take the components manufactured by our production team and build them into the final structure. Our carpenters carefully construct each post and beam building with our rough sawn hemlock framing, then add siding, roofing, windows, and doors. They pride themselves on their quality building and frequently receive compliments on their rustic building techniques.
Our sales team is the next step in getting our products from our headquarters to the homes and businesses of our customers. These are the folks you will first talk to if you have questions about purchasing a cabin kit, pre-built shed, or our DIY building plans. They can walk you through the process and guide you to the best solution for your building needs. Our sales team's goal is education first. We believe in the quality and value of our products and want to help you feel confident in picking a design that will be just right for you and your needs.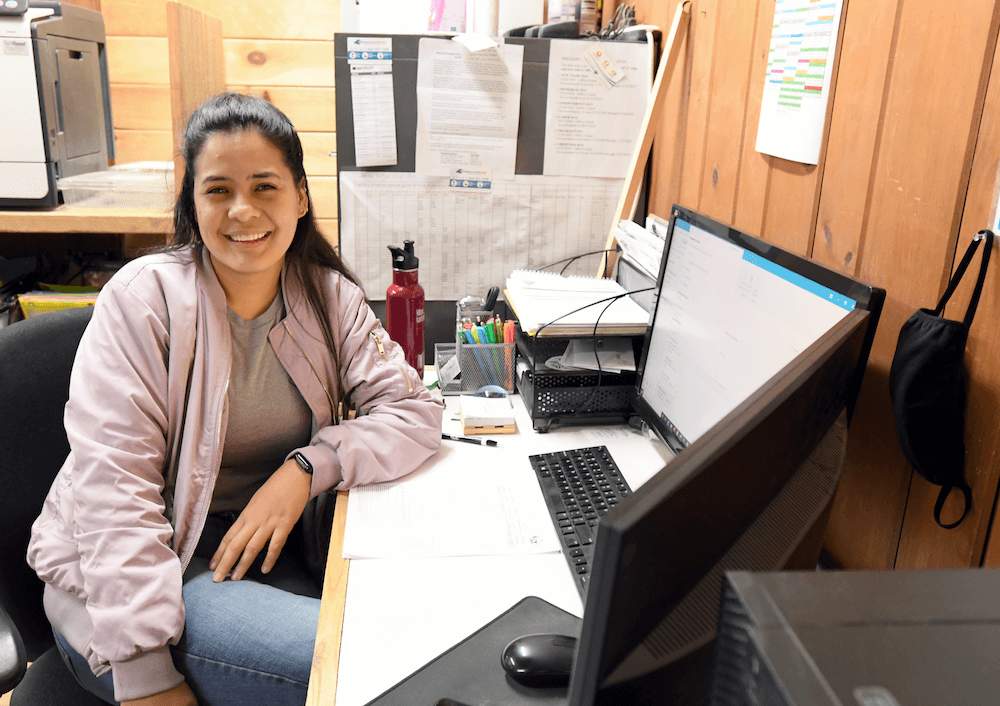 Once a customer places their order, it is the logistics team's turn to shine. They are the ones who make sure the delivery of anything from Pre-Cut Kits to fully assembled buildings goes off without a hitch. The staff in our logistics office arrange freight shipments, permits, police escorts, and scheduling. JCS also employs highly skilled delivery drivers that allow us to offer free delivery of our cottage kits.
We know that delivery isn't the end of the road for making satisfied customers. That is why our service team is always available to help. If you have questions about your invoice, or maybe have a piece of broken lumber in your kit, our friendly service team will work as hard as they can to make sure you are a happy customer.
Our devoted office staff work cooperatively with all our departments to make everything possible. They delegate work, spearhead marketing campaigns, maintain the website, and design educational pamphlets. Our accounting, marketing, human resources, and design departments are the behind-the-scenes support that helps the JCS team turn raw lumber and a set of plans into a beautiful building that can be used and loved for many years!
Jamaica Cottage Shop is committed to investing in our community and local economy. We locally source as many of our materials as possible, which helps keep our manufacturing eco-friendly. Our rough sawn hemlock, pine, and spruce lumber are primarily milled in the Northeast United States. Our 29-gauge corrugated metal roofing is produced by another US company located in the south.
We have great relationships with our local tradesmen, and hire local contractors for electrical work, plumbing, and spray foam insulation for our turn-key tiny homes. A local Vermont glassblower creates colorful handmade roundels that adorn many of our prefabricated cottages. Plus, we provide our employees with a wellness program that gives them a stipend to spend at local gyms, ski resorts, and other fitness companies in the area.
JCS takes pride in our small but talented crew. We are committed to our vision of creating great jobs and great products. If you are interested in joining our team, take a look at our employment opportunities or fill out an application for future consideration!