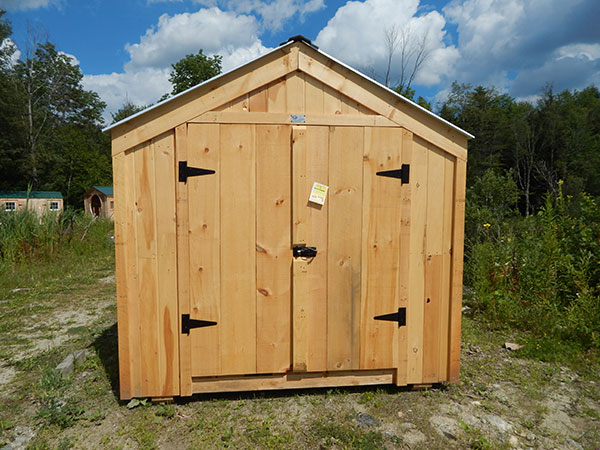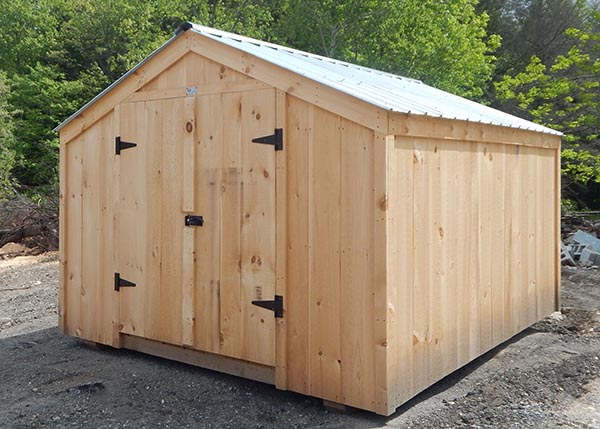 The stripped down Economy Vermonter is a no-frills shed that is both affordable and sturdy. We use economy grade siding and an unpainted metal roof so we can pass the savings on to you.
Economy Vermonter Features
For those watching their wallets, our Economy Vermonters offer the best value around. We took one of our most popular storage sheds and made a few minor changes to make it even more affordable. You can expect your Economy Vermonter to be built with the same rough sawn hemlock post and beam framing that all of our storage sheds are made of. Same with the 1″ thick true-dimensional hemlock floor decking.
So, you must be wondering how they are so affordable? It's pretty simple. Instead of a painted metal roof we top it off with an unpainted silver galvalume corrugated metal roof. This means the roof lasts 20 years instead of the 30 years that a painted roof would. Additionally, we use industrial pine for the siding. Sometimes this means there may be some knot holes, marks, and weathering. For some, this provides an aesthetic advantage if they are going for a rustic antique barn look. Really, these are cosmetic features that can be easily covered up later on and do not affect the structural integrity of your storage shed.
Economy storage sheds are most ideal if you are on a budget, but that doesn't mean you can't beautify them later on. The great thing about the industrial siding is that it creates a flat base for adding other types of siding on later on. So, if you find a great deal on cedar shingles or shakes at a building supply store you can easily install them on this shed after delivery.
Economy Vermonter sheds are built with 4″x6″ hemlock skids, 2″x4″ hemlock floor joists and 1″ thick hemlock board decking. 4″x4″ rough sawn hemlock lumber is used for the wall post and beam framing. Then the roof rafters are built with 2″x4″ hemlock too. Siding is industrial pine, and the roof is galvalume metal. A set of heavy-duty pine doors (2″ thick) and a treated ramp create a roomy entrance. The double doors also come with a latch and foot and chain bolts to keep the doors securely shut.
Choose Your Size
This spacious shed can be purchased in a variety of sizes ranging from 8'x8′ up to 10'x20′. We find that the 8′ wide sheds are ideal for general backyard storage for lawnmowers, grills, gardening tools and bicycles. 10′ wide sheds can store even more stuff. The economy grade sheds would also make great livestock shelter for animals like pigs, goats, and sheep.
Customize
To keep these sheds budget friendly, we keep the options pretty simple. You may upgrade your roof if you would like a painted one instead of silver galvalume. Shed anchors and termite shields may be purchased with the shed to keep it secure to your foundation. If you are looking for additional customizations for your shed, like treated floor systems, increased weight rating and other siding and roofing choices, you may shop our Vermonter page.
In a Hurry?
Shop our Inventory page for Pre-Built Economy Vermonters. We like to keep an array of these on-hand because they are so popular. We know that sometimes not everyone has time to fully plan their shed projects, so it can be convenient to have something ready to go. While we try to stay on top of stock, our inventory sheds are first-come, first-served, and we have limited quantities.
*Materials may contain defects.* Siding may be vertical, horizontal, patterned or regular board siding. No guarantees of preference. Discoloration, fading, scratches, dings and other blemishes may exist. Upgrade to the standard option to include battens.
Build Your Economy Vermonter:
Select the options you'd like to see below and then click "Configure Now" to customize and add to cart.
FREQUENTLY ASKED QUESTIONS
What is a Pre-Cut Kit? What is included in this package?
The Pre-Cut lumber package has all the framing members cut and ready for assembly. It includes siding, roofing, pre-dimensioned trim, and fastening hardware. Many designs also include windows and doors. The floor system, walls and rafters have all been cut, color-coded and part numbered. The detailed cut list coincides with the color-coded exploded view. The head scratching has been removed, the headaches of finding the correct angles and the aggravation of starting from scratch has all been simplified. The kit is geared to a do-it-yourself homeowner with beginner-to-beginner knowledge of carpentry.
Should I buy a Pre-Cut Kit or Fully Assembled Building?
We design our kits to be organized and easy to understand. If you have basic carpentry skills and are looking to save money, a kit is a great idea for you. We ship our kits  all across the continental USA and part of Canada.
If you live within our Northeast delivery area, you are able to purchase many of our buildings Fully Assembled. You'll save time and have the peace of mind that your cottage is being built by expert craftsmen.
What is a Complete Shell and What Comes With It?
A complete shell is an uninsulated building. As a kit, it includes everything required to assemble the building including hardware, precut framing, siding and roofing as well as doors and windows. Hardware, millwork sheathing and DIY plans have been enclosed. Each piece is color coded and part numbered. The exact itemization of what is inserted can be found on the specifications tab of the website for each product page design.
What is the difference between a 3-Season and 4-Season Insulation package?
3-Season –A three-season kit prepares the building for interior finishing. It includes the complete shell plus vapor barrier, solid roof sheathing and insulated floor system. A three season building seals the structure from humidity and moisture protecting from the environment, insects and rodents.
4-Season – Best for year-round comfort. The package includes everything a 3 season does with the addition of insulated thermal pane millwork, wall and roof insulation and pine interior sheathing.
Can I Customize My Building?
Yes! When you purchase your building, you have the option to pick siding, roofing, and flooring options to upgrade or modify your building. Read more about what options we offer.
If you are looking for some very special customizations to one of our buildings, our cottage designers can help. Contact our custom shop team to build a bespoke cottage.
How Can I Pay? Do You Offer Financing?
We accept Master Card, American Express, Discover Card and Visa, Cash, Personal Check, Financing, ACH transfers, Wire transfers, and PayPal. There are so many ways to purchase your dream cottage!
We also offer easy financing options, including a 50% now, 50% later option. See financing page.