Even in winter, heading outside into the garden can be a wonderful way to relax, get some fresh air and even a little physical activity, too. However, beautiful backyards don't just happen by themselves – even the simplest of gardens requires some level of upkeep, but that's all part of the fun (mostly)!
If you're new to the world of gardening and looking to embrace your green-fingered side, this post has plenty of gardening inspiration to help you get started on the road to creating a horticultural haven. Offering actionable tips and yard improvement ideas for simple gardening projects, we'll show you how to optimize your outdoor space even if this is the first time you've ever picked up a trowel.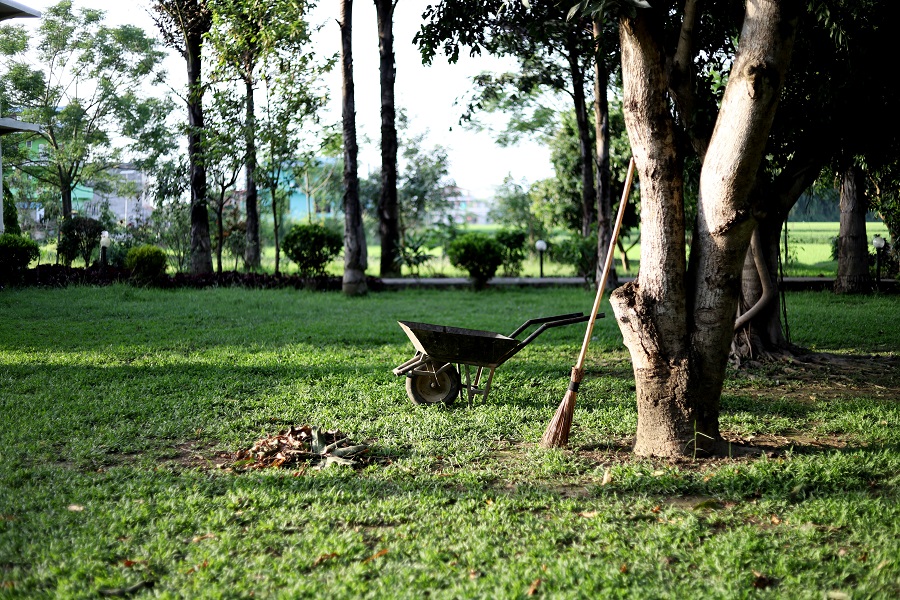 Clear the decks
Whether you're focusing on just one small part of your garden or tackling the whole area, just like inside your home, it's important to clear and prepare the space before you start.
Whatever grand designs you have for your backyard, always take the time to cut back overgrown trees and bushes and remove as many pesky weeds as you can. While this isn't the most enviable job, the rigorous workout will be worth it when you're left with a clear space and the knowledge that your new garden won't be overrun by fast-growing weeds within weeks.
Late winter and early spring are good times to start this type of project as most plants won't have begun blooming yet and any hardy weeds will still be in their infant phases. For plant growing areas like vegetable patches and flower beds, add a good layer of mulch once you've de-weeded to ensure they don't come back. With the right preparation, you'll be ready to get creative in the garden.
Get tooled up and organized
When you're starting out, you may find you don't need a whole lot of high-tech tools to tackle your gardening projects – but a few essentials will definitely stand you in good stead. Top of your list should be some sturdy gardening gloves to keep your hands protected, as well as some sharp pruning shears and some small secateurs for trimming back bushes, trees and even trimming the lawn edges if you want to go that far. You should also invest in a decent trowel, shovel, fork and rake, as well as a lawnmower if you have any grass to keep maintained. Finally, make sure you have a hose or at least a large watering can so you can keep those thirsty plants well fed.
With a sizable amount of tools, it also pays to keep things organized from the start. There's nothing more frustrating than going to do a quick job and having to spend more time finding what you need than doing it. Investing in a summer house or a small garden shed is the way to go here, as everything will be outdoors and close to hand. Of course, you don't want your summer house to feel cramped and cluttered, so keep things tidy and secure with storage lockers for your gardening equipment. Whether you're stowing away trowels, seeds or planting pots, you'll have a compact gardening station with everything ready to go when you are.
Keep things simple
It's easy to get carried away with big DIY backyard landscaping ideas on how you want your garden to look, but in the early stages of developing your outdoor area it's often advisable to start with simple and smaller projects. As your confidence and knowledge grows, so too can your garden projects.
One effective starting project to transform a dull, bland garden into a horticultural paradise is to add some flower beds, vegetable growing areas or a combination of the two. For a low-maintenance option that looks professional and striking we'd suggest opting for raised beds that work for flowers, shrubbery and vegetables.
These can be stand-alone features in the middle of the lawn or border-hugging designs. Either way, the height aspect makes planting and the inevitable weeding easier, while also giving your garden added dimensions and some low-level seating. From recycled railway sleepers to brick or stone, you can use all kinds of materials to create your raised beds, then simply line them and fill with topsoil ready for planting.
If space is an issue, using pot plants is also a great way to add color and character even for inexperienced gardeners, but just remember they will need more water than ground-based beds, so keep your watering can at the ready!
The key to achieving the garden of your dreams starts with preparation and a clear vision of how you want it to look. With these elements in place, you can begin the exciting journey of transforming your backyard into a beautiful haven to enjoy for years to come, whatever backyard garden ideas and designs you have in mind.
Author bio:
Tom Brialey adopts his philosophy that, in addition to the highest quality products, you must also provide the highest standard of service to your customers in order to succeed. That's why it's Tom's mission to provide expert support 100% of the way.