How to Design Your Own Shed & Shed Building Tips
More on ~ Building Custom: Having the Answers Ready.
This option is crazy pretty. Apparently, Jamaica Cottage Shop has been making these hand forged iron (local) pieces available since they started making buildings in 1995. I think they are a wonderful way to make a building a little extra special, and they are both affordable, and unique. I especially like the hinges.
But, hang on, I am getting ahead of myself. Recently, Domenic (the owner), suggested I put some questions up, that need to be answered before ordering custom projects. (I'm the kind of person to hang the curtains before I've even ordered the guest house, so it gave me pause.) What kind of questions?
Well, important ones. And, furthermore, there is a special order that Katrina (and dog pal Flux), Mindy and Andrew, (the friendly cottage associates at the other end of the phone line), ask these questions. Hmmm. So, before you have built in your mind the coolest chicken coop ever…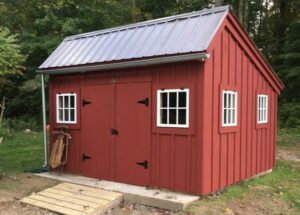 Well that makes sense. Weeds out a whole lot of potential problems, if I am going to want them to build that special chicken coop, and the land deal hasn't closed yet, where would it get delivered too? They don't want to start that project, until I am all set on my end.
What will the building be used for?
That makes sense too, being clear on my purpose. If I don't know what I need (do I have 6 chickens, or 100, coming in 3 weeks?), I can't possible know what kind of building to order.
What is my shipping zip code?
Nice and organized. Determining whether I am able to take advantage of one of Jamaica Cottage Shops well known special offers on shipping.
Good point. If I'm not sure how much I want to spend, maybe I should look at some of the shed kits in their homesteading line to get a better feel for what my spending limit is.
When am I hoping to have the project completed by?
Makes sure everyone is on the same page in the shed planning. I like that. Clears out misunderstandings. Jamaica Cottage Shop has an A+ rating at the Better Business Bureau, and has been doing this since 1995. They know how to keep us happy. Check.
Is it going to be for 3 or 4 season use?
On this one, Jamaica Cottage Shop could help me, because they have been farming with chickens since they started, and I am new to the backyard homesteading idea. I am excited to get started, so I am glad they know their product line so well!
Will it have running water?
Good question. That idea is something I might not have considered before. Let me think about that now. I'm sure Jamaica Cottage Shop has some ideas on how that might or might not work, if I asked them for some feedback on my situation as well as some shed-building tips, before I committed to such a project.
Jamaica Cottage Shop is open and running Monday-Friday 9-5pm (EST) during the winter, at this toll free number (1-866-297-3760) – they have a design team, tech support team and a client care team, to help with different kinds of questions. Jamaica Cottage Shop also has a frequently asked questions page to read that helps too.
I'm feel more prepared knowing these questions I have answers to already, and am excited to start my project! Is there a project you are needing help with planning?