In the wake of the pandemic, you might find yourself not only spending more time at home but truly valuing that time more than ever before. This sentiment has caused the popularity of at-home gym setups, especially in the garage, to skyrocket. If you're looking to renovate a space for your own at-home gym, here are some key points to help you get started.
Create a Budget
Building a home gym can be an exciting task and is an achievable endeavor for any budget. Before getting into the planning process and the details that follow, you'll want to establish a realistic budget for yourself. Depending on the size of the gym you want and what sort of equipment you'll need, you'll be able to discover how extensive this project will be.
Once you have your budget nailed down you can evaluate all the things you want to have in your gym. The options are endless and you can make it entirely your own. If you're asking yourself how you're going to be able to fund the project, you might want to consider looking into alternative financing options that are available to you. One way to help pay for your gym is to apply for a home equity line of credit. This allows you to borrow against the equity you have already built up in your home and receive funds as needed. You also could allocate your budget monthly by taking on smaller projects within the space and doing it one step at a time. No matter which option you choose, you'll be on your way to getting in shape in the comfort of your home.
Renovate
The second step in making the space conducive for optimal gym performance is renovating the garage. This doesn't have to be a big renovation project, but ensuring you have enough room to move is key. Two options you might want to consider implementing in your home gym are flooring and mirrors.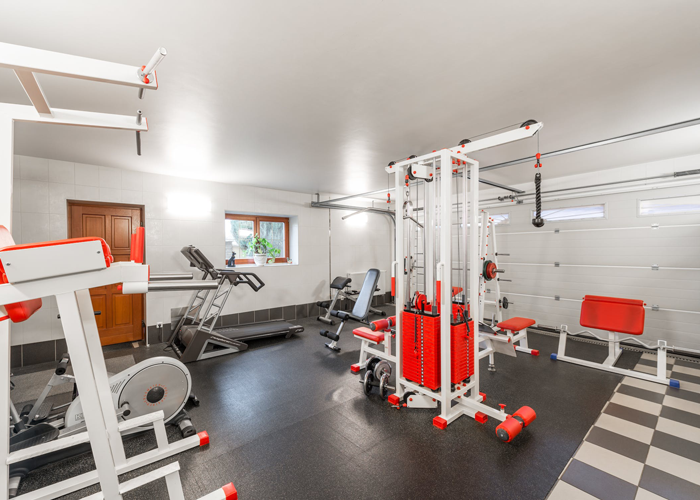 There are a variety of options for flooring; however, the most commonly used material is rubber. This type of flooring is an optimal choice because of its durability and softer impact on your joints. It also has a water-resistant nature, and preventive qualities against growing mildew, mold, and other bacteria so you can be assured that your gym can maintain cleanliness.
In addition, you'll want to look into larger mirrors to install around the space to ensure you are using the proper form and even make the space look bigger. It might be wise to allocate some funds to this specific item so you can get a quality tempered glass mirror that won't shatter while you're working out.
Organize
You'll want to have a well-organized garage to ensure you can have the best setup for your gym. This can be an overwhelming task so take it one step at a time and even start with just a basic cleaning. Take some time to go through your belongings before jumping into the big project of assigning a space for it all. You might find that you can dispose of some items, giving you less to worry about. Once you've done a clean sweep, you can start looking at different storage tools to help get the space organized after a workout.
No matter how you begin the daunting task ahead, you'll be thankful you did. This will help guarantee a smooth transition in turning your garage into your dream gym space. For more ideas check out how to tidy up the garage, so you can be sure you're having the most optimized organization.
Purchase Equipment
The final step in setting up your at-home gym is purchasing the workout equipment. This is the exciting part because you can customize it however you like with items to help you achieve your goals! Perhaps you want to start with a treadmill for cardio, a set of dumbbells, or a simple yoga space with a mat and block to focus on stretching and flexibility. Be sure to have your fitness goals in mind ahead of time so you aren't buying too much equipment or some that you simply don't need.
Studies show that at-home workouts are just as impactful as ones in a physical gym. Even just using your body weight can provide great results. Whether you're just starting your fitness journey or you're maintaining your regimen, you'll be able to burn some calories and feel great all while staying in the comfort of your own home.