No matter what your age, a treehouse can be a fun place to chill out, hang with friends, or enjoy some alone time. Plus, your kids or grandkids will love having a sky-high sanctuary to call their own. Building a treehouse on your property might seem like a daunting task. However, with careful planning and a methodical approach, you can make a sturdy, safe, and super cool structure that will make your friends and neighbors want one of their own. We're here to offer a starter's guide to building a treehouse, and to show you how some of our customers have converted Jamaica Cottage Shop buildings into the treehouse of their dreams.
Before You Build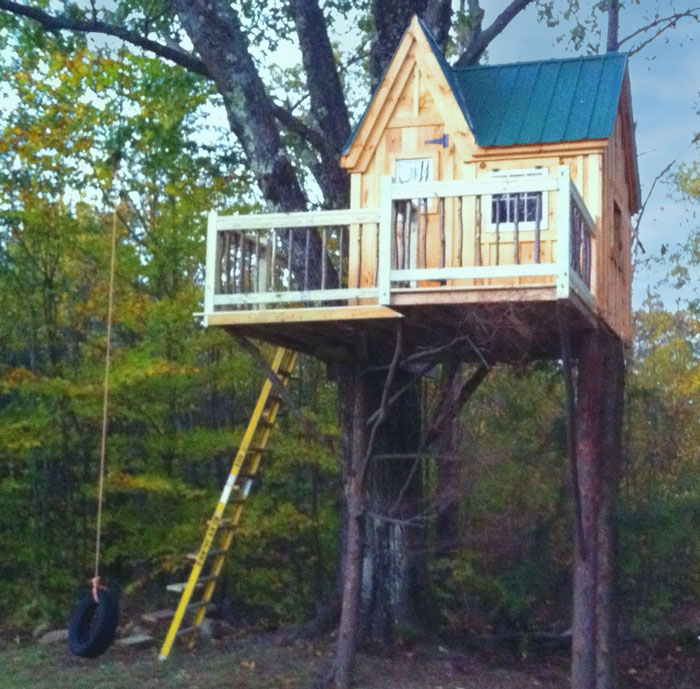 If you are thinking about adding a treehouse to your property, the first thing you will want to do is check with your local planning department. Read up on regulations, height restrictions, and other zoning laws. It is possible that you might need a permit to build your treehouse, so make sure you've done a thorough job of researching what you need to do before you start your project.
Talk to your insurance company during the planning phase. Potential damage caused by building a treehouse might already be covered in your home's insurance policy. If it isn't you might consider changing your policy, or build with caution.
Finally, if you have neighbors nearby, you might want to give them a courtesy notification that you intend to build a treehouse. If you are part of an HOA, you will also want to discuss building the treehouse with them as well. If there are no objections or other issues, then it's time to start finding the right place to put your treehouse!
Picking the Right Tree
You can't have a treehouse without a tree! You must choose a tree that is in good health, and is strong enough to bear the weight of a structure, and the people in it! Mature trees with strong root systems are ideal. If possible, choosing two trees close together as the site of your treehouse is a great idea. Multiple anchor points can allow you to build a larger structure, and your building will have greater support.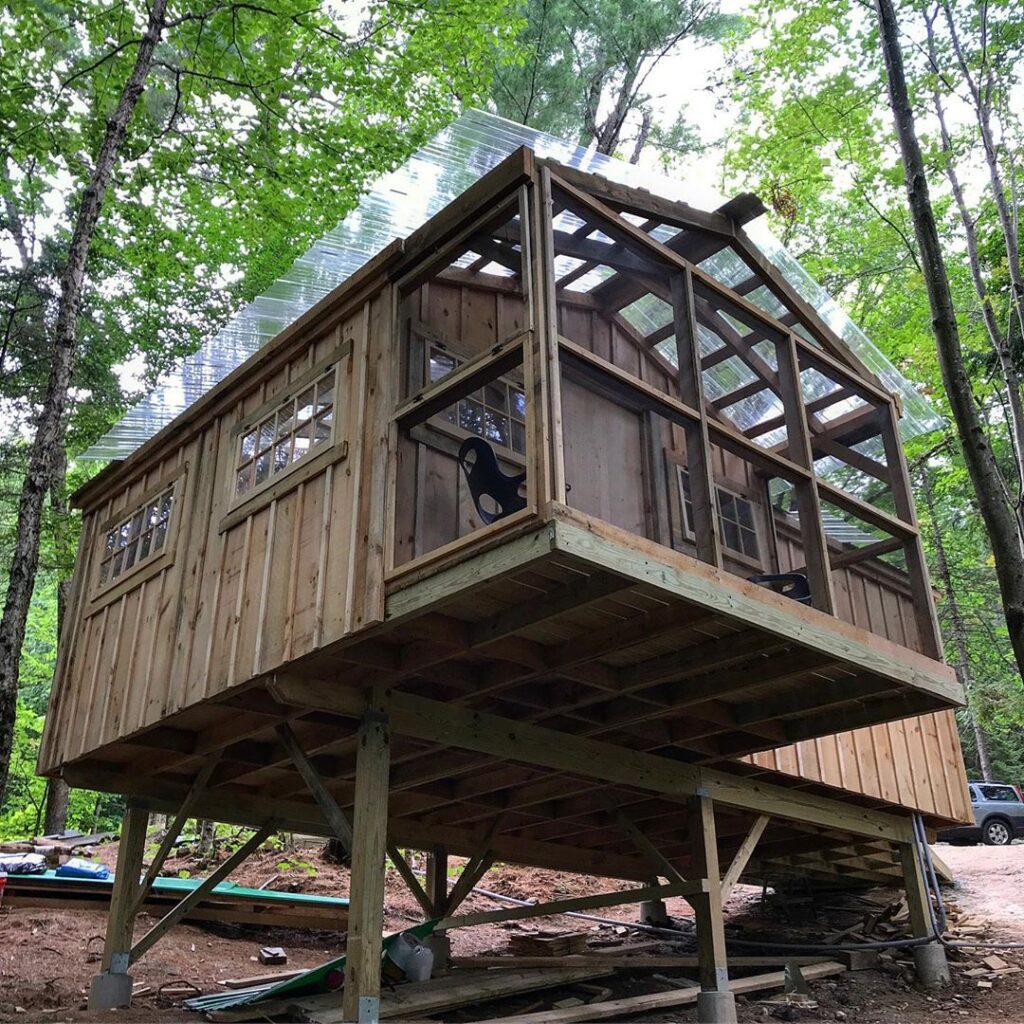 The types of trees that are good for treehouses have strong trunks and established root systems. Species that are highly suitable include maple, fir, oak, and apple trees. Other hardwood trees are also good options. Branches that you plan on bearing loads should be at least 8 inches thick. For an 8×8 treehouse, we recommend that you use a tree with a trunk that is at least a foot in diameter. As aforementioned, larger houses often need the support of multiple trees.
If you have questions about whether or not your tree is fit for holding a treehouse, you may want to talk to a local arborist. They can also give you information about whether or not you have protected species of trees on your property that you should not use for your build. If you don't have trees on your property, or your trees aren't suitable for building a treehouse, don't worry! You can always build a treehouse by putting a building on stilts, like our customers did with this Heritage cottage. It has the same effect as a real treehouse, but without needing to use mature trees to hold it up!
Designing Your Tree House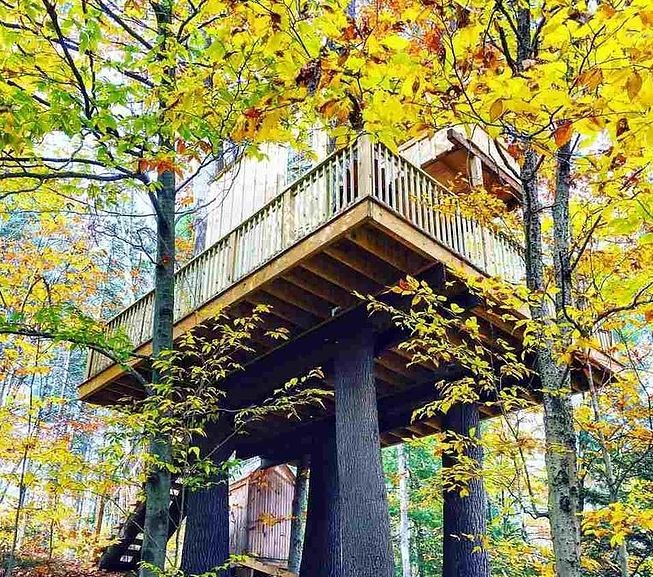 This is the part of building a treehouse where you get to let your creativity shine! In designing a treehouse, there are a few essential parts to consider: the supporting structure, the platform itself, and the building. You will also need to think about the size, weight, and purpose of your tree house. Amenities are also worth considering, if you are thinking about something elaborate. Do you want to add electricity, cable, or internet?
If you are building a small treehouse for your children to play in, you can opt for a simple but safe structure that has minimal insulation and is relatively lightweight. If you want to build a place where you can spend extended periods of time, like an Airbnb or cottage, you'll want to opt for more heavy-duty materials, more structural support, and insulation for your building. For larger, more advanced projects, you'll probably want to have an engineer or builder involved in your treehouse build.
If designing a treehouse yourself is a bit daunting, you can always use a shed or cottage design for the structure of your build. For a smaller treehouse that you're making for your kids to play in, we recommend an 8×8 building, such as our Gable or Shed Roof designs.
Our customers have used our Backyard Retreat, Heritage, and Dollhouse sheds to make some fantastic and fabulous treehouses! If you want to build one of these models as a tree house, you will definitely need to make sure you have as stable of a foundation for your treehouse as possible, as these are larger designs. Read on to learn the basics of building a support structure for your treehouse.
Consider the Structure
The supporting structure will be the parts of the treehouse that are fastened to the tree, and bear the weight of the structure. It is crucial that these parts of your treehouse are well planned in advance. You will need at least 2 horizontal beams upon which to build the platform for your structure. Making sure these beams are level when they are installed is an important part of making sure your treehouse is structurally sound. If they are uneven, your whole structure can end up warped, and doors and windows might be difficult to open!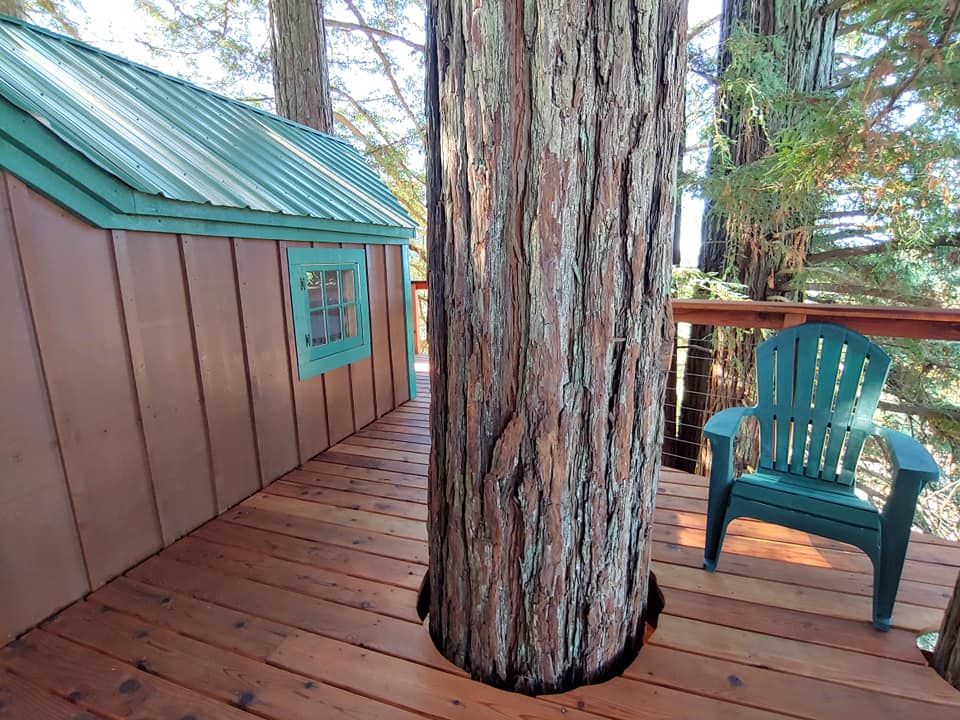 Make sure when you are planning where to put these beams, you are choosing an appropriate height. Most treehouses are between 6 and 10 feet from the ground. You'll have to do some math by subtracting the height of your beams, joist, and decking to determine where on the tree you should attach your beams.
When you plan your deck, make sure you consider any branches or trunks that you might need to work around. If there will be holes in your deck for parts of the tree to pass through, plan to space your joists around these parts, and plan on making openings in your deck with room for the tree to grow.
If your treehouse is built on a single tree trunk, make sure the weight of the platform and treehouse will be distributed over the center of the trunk. In addition to the horizontal beams, consider using either support posts or braces to keep your structure stable.
Attaching Your Beams
The horizontal beams that bear the weight of your treehouse are the most important structural element of your build. How you attach them to the trees is a critical part of making sure your treehouse is structurally sound and built to last.
The bolts you use to attach the beams to your tree should allow for the tree to move somewhat as it grows. We recommend using Treehouse Attachment Bolts (or TABs), which are specially designed to bear the heavy weight of a treehouse while doing minimal damage to the tree providing the support. They also allow the tree to grow around them. These kind of attachments are ideal for large and heavy treehouses, as they are designed to hold thousands of pounds.
This photo shows a Backyard Retreat cottage that is being supported using TABs that are inserted into the tree. The TABs are then attached to the horizontal beam using a metal bracket that allows for some sliding.
A smaller and lighter treehouse can be supported with a less heavy-duty setup. Consider mounting your horizontal beams using a sliding bracket, like the one shown in this video. This clever design allows for tree growth and movement without damaging your structure, and lets the deck of your treehouse 'float'. Make sure you don't put too many bolts into your tree – one strong bolt per attachment point is preferable to many small ones. Drilling into your tree too much can hurt it, and cause damage and rot that will compromise your treehouse.
Adding the Deck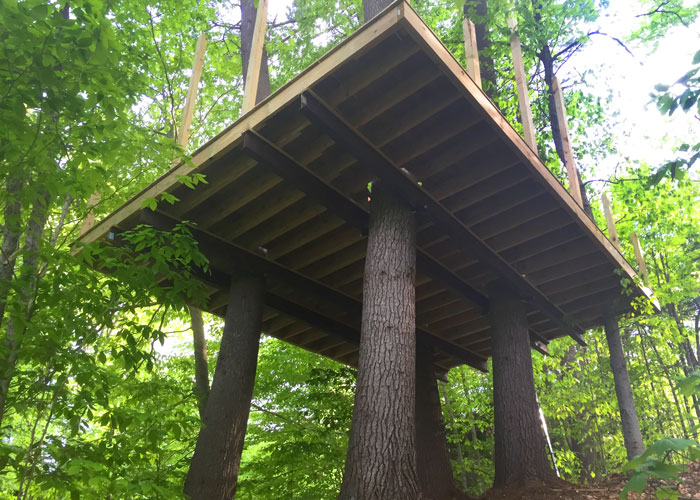 Place your joists roughly perpendicular to the supporting beams. Your joists will provide the foundation for the deck of your treehouse. As aforementioned, joists should be spaced evenly, avoiding places where parts of the tree may pass through the deck. You can secure your joists to the main supporting beams using rafter ties, and attach the sides of the platform using joist hangars.
This photo shows the underside of a treehouse platform. Here, the support beams are actually made out of metal. The joists are laid out perpendicular to the support beams, with gaps to make room for the trees that are poking through.
The next step is to install the decking. The decking is placed perpendicular to the joists you have just laid down. Screw the decking panels into the joists securely. One tricky part of installing the deck is making holes for trunks and branches. One tip for how to do this easily is to use newspaper as a template for making hole shapes. Once you have a good shape made, trace it onto your decking and cut it out!
Building The House
Now it's time to add the structure to your treehouse! How you do this will depend on the design you started out with. Some treehouses take up the entirety of the platform. Others have a lot of decking around them, which makes a perfect porch or lookout area. If there is a lot of decking around the treehouse, make sure you place a railing around it for safety, like our customers that made this Smithaven treehouse did!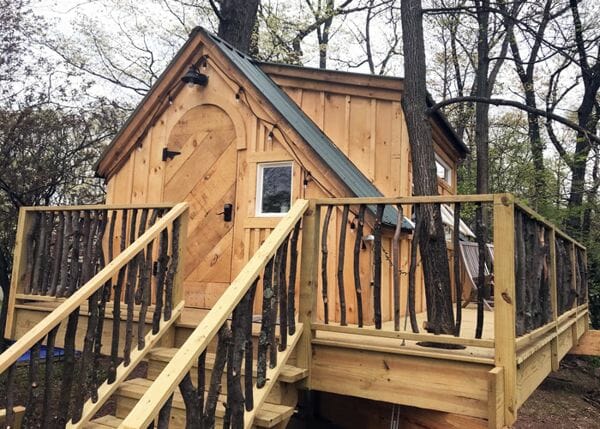 Many builders agree that you should do as much of the framing as possible on the ground. This is because it is a lot easier to make sure everything is properly measured and assembled on the ground. You will also have more space to work on the ground, and it will be a lot safer. You can use a pulley system to lift the walls of your structure onto the platform you just built. Or if your design includes stairs, just carry the framed walls up! If there are branches or trunks that will pass through the walls or ceiling of your treehouse, you need to plan for these in advance. You may have to do part of your wall framing on the platform itself if you need to build around your tree.
Once the walls are framed and in place on the platform, you can add the roof to your treehouse. Some simple treehouses only use a tarp roof, while others have a full roof system. The choice is yours! Whatever roof system you opt for, you will have to install it once the basic wall structures are in place, meaning you'll have to do it on the platform. Be careful and use safety precautions while working high up!
Finishing Details
Now it's time to add the final features of your treehouse! A way to get up and down is essential. You can make a wood or rope ladder, a staircase, or a climbing wall to access your treehouse. Kids especially love ladders and climbing walls, but for a safer (and more adult-friendly) option, you can always build stairs.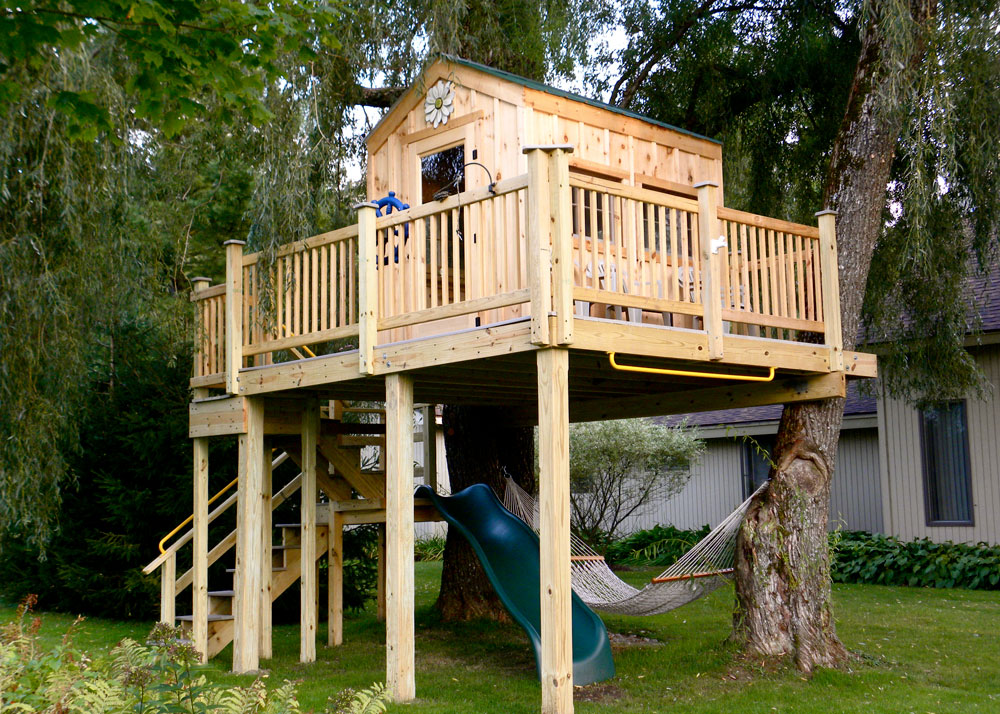 If you have a deck, you'll definitely want some chairs to put on it. You can also design a pulley system to make bringing small objects up to the platform of your treehouse easy. Just anchor the pulley into one of the branches of a tree, and attach a rope to a bucket or basket.
You can also turn the space beneath your treehouse into a place to hang out, play, or relax. Add playground equipment or a sandbox for the kids, or maybe a hammock or lawn chairs for the grown-ups. These customers of ours added a slide and a hammock underneath the structure of their Gable shed that they converted into a fabulous treehouse. We love what they did to make their treehouse a truly unique place to relax and have fun!
Conclusion
We hope this starter's guide on how to build a treehouse has demystified some of the more confusing or daunting parts of the process. There is, of course, a lot more reading and learning you can do about the building process. We encourage you to explore the numerous resources out there. Youtube videos and blogs by professional builders are especially helpful. If you end up being interested in choosing one of our cottage designs for your treehouse, our team can help answer any questions you might have on how to turn your dream into reality!