A circular saw is one of the most popular power tools that can cut through lumber accurately and quickly. With the right blade, this power tool can cut through a wide range of materials, including metal, roofing, and framing lumber. Therefore, it can be a time saver during a woodworking project.
A circular saw can be a perfect tool for building outdoor furniture since it can make a wide range of cuts, including miter cuts, crosscuts, and rip cuts. A circular saw can make accurate cuts on different types of boards, including pressure-treated wood, wet boards, and dense boards. Depending on the kind of lumber or material you are using, a circular saw could be the only power saw you need to finish a woodwork project.
For some using this power tool can be quite challenging, especially when
making miter or even plunge cuts. With a little practice and steady hands, you can make these cuts using a circular saw. Here are some useful cuts that you can make with a circular saw when building your outdoor furniture.
Useful Cuts That Can Be Made With a Circular Saw
Crosscuts
Crosscuts are quite common in all woodworking projects. And with the right tool, you can have several equal-sized pieces of wood for making your outdoor chair's back and seat slats. Miter saws are the best tools for making repetitive cuts, but if you don't have one, you can use a corded circular saw instead.
All you have to do is:
● Draw the cut lines on your pieces of wood using a speed square.
● Place your saw on your workpiece with its notch on the cut line and make your cuts.
● Repeat the above procedure for all your pieces of wood.
Plunge Cuts
With a circular saw, you can cut out any shape at the center of a sheet of wood. However, making plunge cuts can be challenging, especially if you don't have steady hands. Plunge cuts can be beneficial when building a cooler outdoor table using a single sheet tabletop. You can cut out the space for the icebox in the middle of the tabletop using a circular saw.
Set your saw's blade to the right depth and align its notch with your cut line. Tip your saw forward on its base while you are holding the guard backward. Start your power tool and lower the saw onto your workpiece. And then push it forward as you make your cut. Once you are done with all the four sides, you can finish the last few inches with your hand saw.
Rip Cuts
Making straight cuts can be quite challenging, especially since your circular saw didn't come with a cutting guide or a fence. So, make sure you purchase a Rip-Cut fence if you plan on making rip cuts. A Rip-Cut fence follows the straight edge of your piece of wood, ensuring that you make straight cuts every time. Most fences are adjustable, and they can make up to 24-inch wide cuts. With a Rip-Cut fence, you can break down sheets of plywood and make repetitive cuts for your woodwork projects.
Kerf Cuts
If you are using your circular saw for just cutting plywood and trimming deck boards, you are underutilizing it. A circular saw can be used to make joinery grooves on places where a table saw cant. Before you even start making the grooves, you can replace your 24-tooth blade with a 40-tooth blade. Adjust the saw to the depth of the groove and then mark the exact size of your groove on your lumber. With the size of your joint, determine you can start cutting kerfs at least 0.24 inches apart.
After making the last kerf cut, you can break the saw kerfs using your hand or hammer and clean the remaining waste using a chisel. Joineries can be used to build joints in several projects, including outdoor sectionals, outdoor bench, and an outdoor sofa, among others.
DIY Outdoor Furniture Projects That Need a Circular Saw
Adirondack Chair
Adirondack chairs are outdoor seats with tail slatted back, wide armrests, and a slanting seat. All the parts of this chair can be cut using a jigsaw and a circular saw and then assembled using glue, clamps, and a drill. Start by preparing all your pieces of wood as per your design. The back pieces are quite hard to cut, and the best way to deal with them is by cutting them from a wide board using a circular saw.
The next steps are:
● Assemble the back part of the seat
● Build the front legs of the chair
● Attach the back legs to the front one
● Add the arms
● And finally, attach the back to the legs, before adding the seat slats.
A Simple Outdoor Bench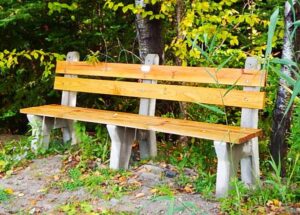 An outdoor bench can be a great addition to your backyard. For this project, you will need some pressure-treated landscape timbers, washers, and galvanized lag screws. The landscape timbers are quite heavy, so put them on your workbench. And then:
● Cut them into three beams for the bench seat using a circular saw.
● Prepare the joinery that will connect the seat beams to the legs using a circular saw. The outside beams will rest on L-shaped notches on the legs.
● Make U-shaped notches on both sides of the beams. The U-shaped grooves will rest on the supporting bar that will connect the legs.
● Assemble the legs separately and finally add the seat slats making sure the legs fit perfectly in the grooves made on the seat beams and screw them up.
Final Thoughts
A circular saw is one of the most common power tools that are loved by all woodworkers. Circular saws are affordable, portable, and easy to use. This power tool can be a perfect replacement for various saws, including a miter saw and table saw. Therefore, it can make a wide range of cuts in any woodwork project. So, if you want to make outdoor furniture and can't afford a miter saw or table saw, then you should purchase a circular saw. With a little training, you will be making miter, plunge, and repetitive cuts in no time.
Author Bio: Kristen Chapple. Kristen is the editor and content creator at Woodwork Nation. She is passionate about sustainability in style and interior décor with a soft spot for DIY projects.