Exciting Happenings at Jamaica Cottage Shop!!! —National Geographic's Top Rated TV Show "Building Wild", and the well known TV hosts, "The Cabin Kings", have partnered with Jamaica Cottage Shop, to bring you the story on how a large cabin kit can be built to suit your needs – and Jamaica Cottage Shop's exciting hot new design, the 20′ x 30′ Timber Frame Home Kit – is the building they are going to use!

The trend of shipping precut buildings is rapidly growing, and while Jamaica Cottage Shop has been providing these buildings since 1995, they also have been paying attention to what people want. They noticed there are a variety of needs, not always met with a large inventory of designs, but better met with designs that have a range of useful options to choose from – and clearly a big part of the success behind their cabin kits is that they can be sculpted in many ways. The kicker is, they are also affordable. Tie that into the fact that this company has the shipping all figured out (free shipping on prefabricated kits in the continental US and parts of Eastern Canada – and a side note…they can also ship worldwide), and you have this cute little tiny house company that isn't so tiny at all, since they are one of only a handful of companies worldwide providing a comprehensive affordable source of prefabricated kit buildings for cottage living.

Jamaica Cottage Shop has had many collaborations with media sources, including both of these great companies before – I think this one is going to be really special though – how fun to see this 20' x 30' Cabin Kit get built as an extra large Sugar Shack, with a working Cupola! I think the idea behind this show, what these mega media companies can share for us here at home, is exactly how versatile this post and beam kit is – when they say the frame can be utilized however you need it – this is an incredible example! Precut architecture and modular building design, is clearly still an evolving notion, so this will be a fascinating visual in this world – Can't wait to see the show!

The show will air April 7th, and is currently being filmed nearby, in upstate New York. This kit has an estimated assembly time of 2 people, 80 hours – so the show will bring you many of the highlights of the building, and the hosts love doing this, so it will be really fun to watch!

Here are some interesting stats on this design, that I think help fill in the idea behind the options-
Via the Jamaica Cottage Shop website – only a very partial information piece on this versatile design –
"Designed to meet tough building standards, our 20×30 prefabricated house kit features heavy 8×8 post and beams supporting a full loft and a steep 8/12 pitch gable roof. The timber frame offers endless possibilities for customizations. Optional dormers in the loft can provide light and additional space. This cabin kit also comes with a choice of 8' or 10' first floor ceiling heights to allow either more room on the first floor or in the loft. Shed roof overhangs ranging from 4' to 12' wide on any or all of the exterior walls can accommodate simple firewood storage, create additional interior square footage, or open covered space. Our timber frame large cabin kit is our most customizable and expandable design, all at a great, affordable price. Multiple siding and roofing options ensure your finished prefabricated cabin kit can match existing buildings on your property.

Consider adding a complete insulation package to turn this quality frame into a cozy four season cabin. The 8×8 post and beam framing members allow ample space to easily install thick insulation with high R-values. Like all of our cabin kits, the 20×30 kit features locally sourced, beefy 8×8 hemlock timber frame construction with true mortise and tenon joinery. All of the necessary oak pegs, fastening materials, insulated windows and doors, and Step-by-Step do it yourself plans are included."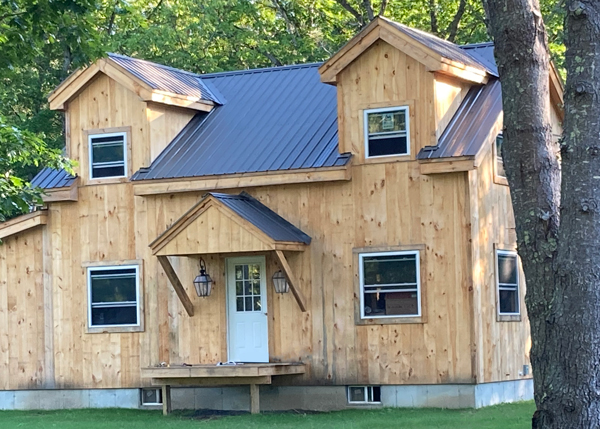 Another example of a 20' x 30' Cabin Kit as a 1,200 sq. foot tiny house, made larger with a customer modification of a matching wrap-around porch. Very nice!

Jamaica Cottage Shop won't have the pics of the 20' x 30' Cabin Kit as a Sugaring House example until it airs…but, in the meantime, make sure you look carefully at some of the many possibilities Jamaica Cottage Shop offers, in the extensive line of prefabricated cabin kits they have been developing over the past 2 decades, for the cottage living lifestyle. The friendly in house staff at the factory will happily help you with any questions – they are trained, long time staff, in both design and building, and are always professional, prompt and courteous. (One of my favorite things about them). You can use their toll free number at 1-866-297-3760, or email. Winter hours are 9-5 (EST) Monday-Friday (Weekends by chance or appointment).

This is a serious tiny house company – making affordable cottage living available and accessible, and I can attest, they are always forward thinking. Call them about your next project!
By Kim Rak