If you love barbecue as much as we do, you will absolutely adore this idea, especially if you have some space to spare in your backyard. Grilling is a popular cooking method enjoyed throughout the summer. But rain or chilly days can put a damper on your grilling action. What if you converted a storage shed or small cottage into a sheltered backyard grilling station? It wouldn't be that hard to do, but we have some ideas to make it incredible.
Step One – Pick a Location
This decision is very critical in the entire shed conversion process. You will want to consider the distance from your home to the shed. Also, think about the distance from the shed to the dining area. Perhaps you have a patio or deck set up already. Put your grilling station a short distance away from there. Or, if you decide to place it further away, consider having a picnic table or two nearby.
You will also want to think about environmental factors. What is the wind like where you want to build? If you are putting in tons of effort to cook delicious food for your guests, you want the wind blowing from the shed to the spot where they will be gathering. That will increase their appetites and build anticipation for the incredible hamburgers and hotdogs you are cooking up.
Avoid putting it too close to where kids or animals could get in your way. Stay away from areas where ant hills and wasp nests converge too.
Step Two – Decide on Size
If your yard is tiny, you will need to go with a smaller-sized shed. Choose a compact design like the Nantucket, or a Nook. Another option is to build an Overhang off the side of an existing shed. 
Perhaps you have more space to work with. Maybe you want to set up an entire catering operation in your yard. If this is true for you, go with something like the Heritage. This two-room shed includes an interior partition joined with a door. This set-up provides an enclosed storage area with a refrigerator, and an open-air station for your grill and smoker. We have had a customer convert this shed into a backyard bar too, so you could even do something like that also.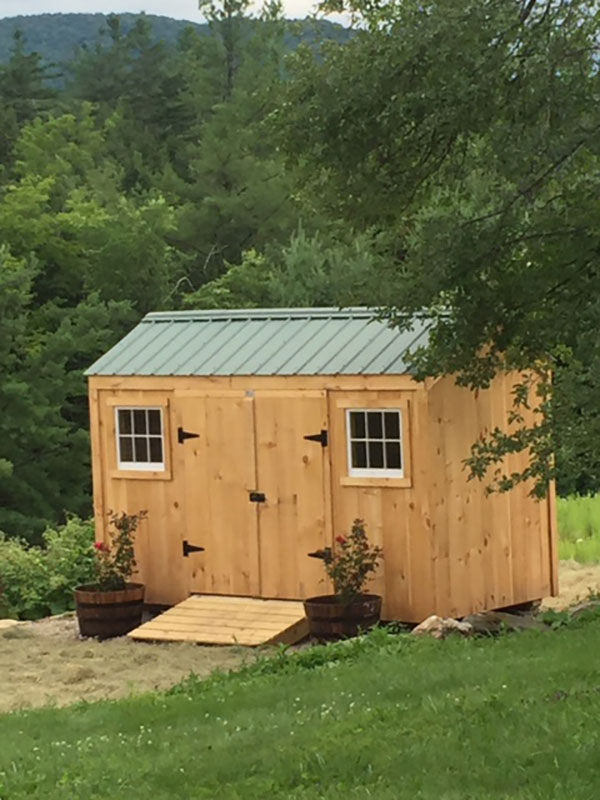 Step Three – Customize
Once you decide how big you want your shed, you can start shopping around for options to personalize your building. You might want to choose a different siding type or omit it altogether. Removing the siding leaves you with a covered shelter open on all sides. Some people partially side their shed so they can add shelving and hooks to the walls for storage. Metal roofing is probably the best material for a grilling station, but other types could work well. Western Red Cedar would be eye-catching, and the aroma would complement your cooking.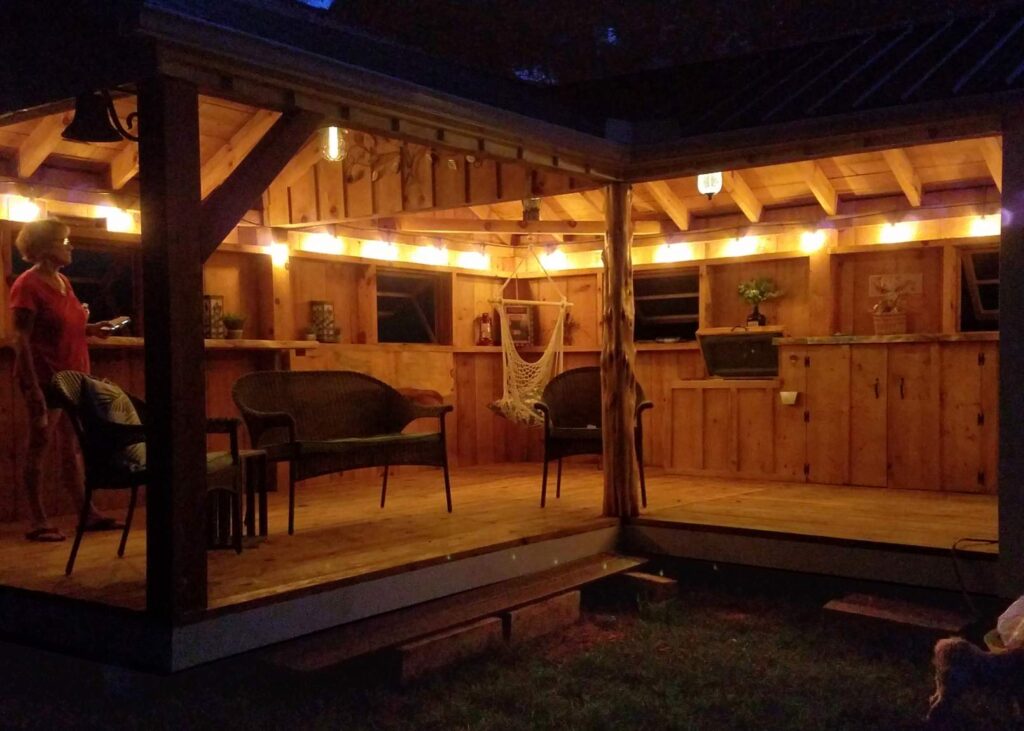 If you keep the siding, consider getting a building with windows, or better yet, screened windows, like a Florida Room. Screened windows will provide plenty of ventilation and allow the aromatic smoke to waft through your yard. And, if you buy a large enough screened room, it can be outfitted with tables for mosquito free dining. 
Step Four – Accessorize
Now that you have decided on your size, design, and customizations, think about how you will set up your station. Not only will you need a grill and cooking utensils, but you will also want to set the scene and create an organization system for keeping everything handy.
Here are some of our ideas:
Rooster Weathervane – Topping your grill station with this weathervane will advertise that you have delicious wings ready to be served. Installing it on top of a decorative cupola will be adorable and make your building even more visible.
Spice Rack – We have them in two sizes. 12-inches and 24-inches wide. Perfect for bottles of hot sauce, barbeque rubs, and other dried herbs.
Garden Closet – Use this ready-to-assemble cabinet to store tablecloths, plates, cups, cutlery, aprons, oven mitts, and other odds and ends.
Cedar Wooden Toolbox – Great for holding napkins and utensils. Place one on each table for your guests.
Wishing Well Bucket – Fill it with ice and a six-pack to keep your guests refreshed and in a festive spirit.
We found this Murphy Grill Station on Pinterest. It's a small cabinet that folds down into a table (just like a Murphy Bed)! Inside a pegboard provides storage for tongs, a knife, and a spatula. A small shelf holds the hot sauce. You can find directions to build this project here.
Finally, finish off the building with cute wooden signs, artwork, and other décor. String up lanterns or solar-powered patio lights just under the roof. Hang potted flowers from brackets for a summery vibe.
Have you completed a shed-to-grilling-station conversion? We would love to see how yours came out. You can upload a file here.