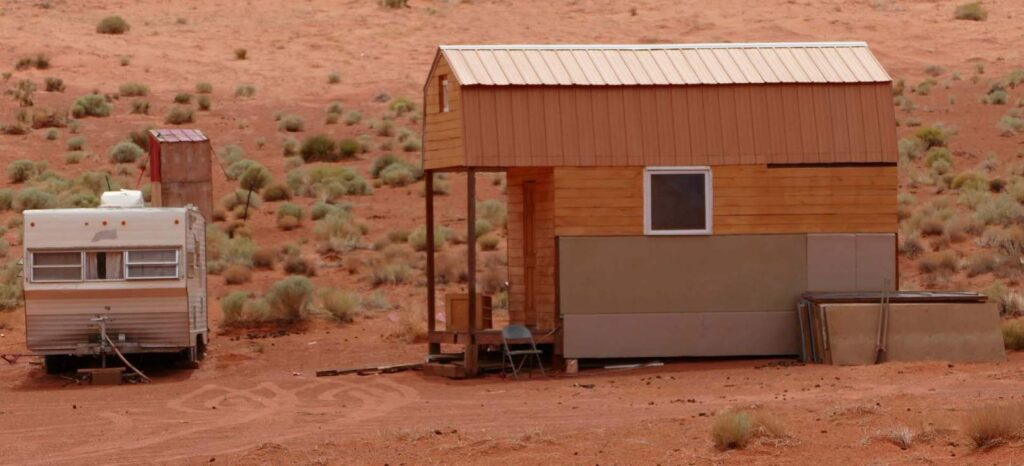 These days, as more people are seeking to declutter their lives, you hear a lot about "tiny living." What does it mean? Essentially, it's self-explanatory–a term for existing in a stripped-down version of your usual living space.
While the average American home has about 2500 square feet of living space, "tiny homes" typically feature just 100 to 400 square feet. For most people, however, a tiny home is a weekend getaway or a vacation spot rather than a full-fledged way of life.
How does tiny living compare to camping? Here's an exploration of the most notable differences between the pros and cons of tiny house living and camping.
Cost
While a tent or camping trailer represents a significant investment, a tiny house costs even more. You'll need to invest in the lumber, all the fixtures and appliances, and whatever it takes to furnish the space.
If you're planning to keep it in one place (see "Mobility," below), there will also be real estate expenses involved. Even if you choose to splurge on a designer tent, you'll save money by choosing camping over tiny living.
Mobility
Some small houses are built on wheels, designed to be towed on a trailer so you can take them wherever you'd like to go. In these cases, you'll have to deal with the cost of a trailer on top of everything else.
Campers offer more peace of mind in this regard, and tents don't even require a heavy-duty truck for transportation. In short, you should consider a tiny house only if you plan on returning to the same spot multiple times throughout the year.
Comfort
Tiny houses offer more of the conveniences of home, which gives them the slight edge over tent camping in this category. However, most modern campers have similar or superior conveniences, and may be even larger than the typical tiny house. If you invest in the right gear, you won't have to sacrifice as much comfort as you might expect.
Sustainability
Tents have small footprints, and require no energy outside of the good old-fashioned kind known as elbow grease. Campers burn through more fossil fuels, but sometimes it's better to use something that's already built, especially if it's in danger of being thrown away otherwise.
When you opt to build a tiny home, you're using materials to create something entirely new, rather than repurposing an existing item. If you do choose to go this route, consider investing in a tiny home that's already been built.
Climate
Northerners might prefer tiny homes over campers, simply because they provide better insulation in all four seasons. In addition to being more practical in terms of comfort, this will also allow you to make a better return on their investment. If you reside in a warmer climate, then you should be just as comfortable in a tent or camper.
Final Thoughts
When it comes to camping vs. tiny living, there's no right or wrong answer. If you consider the pros and cons of tiny house living and camping we've listed above, it should be easy to find a solution that works best for you and your family.
Author – Brad V.