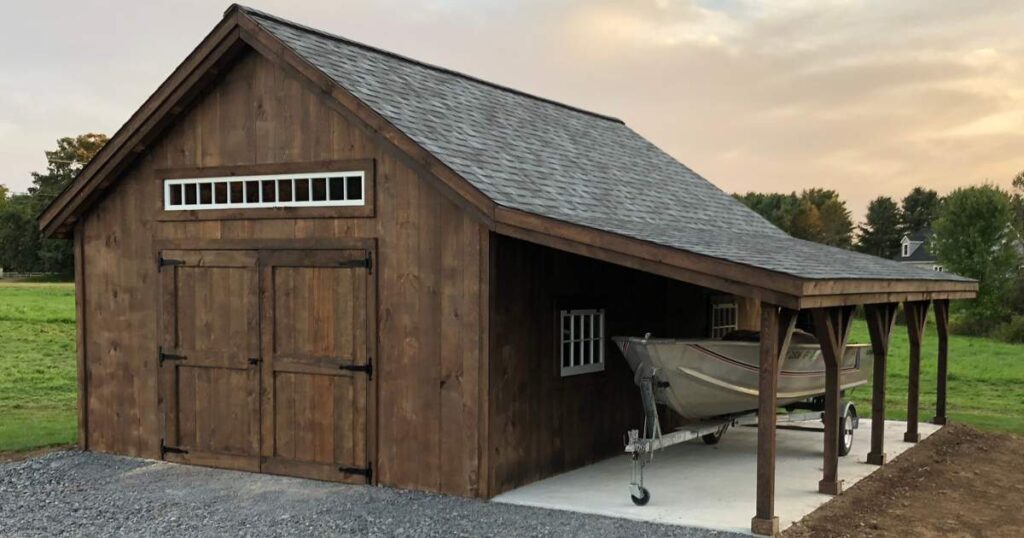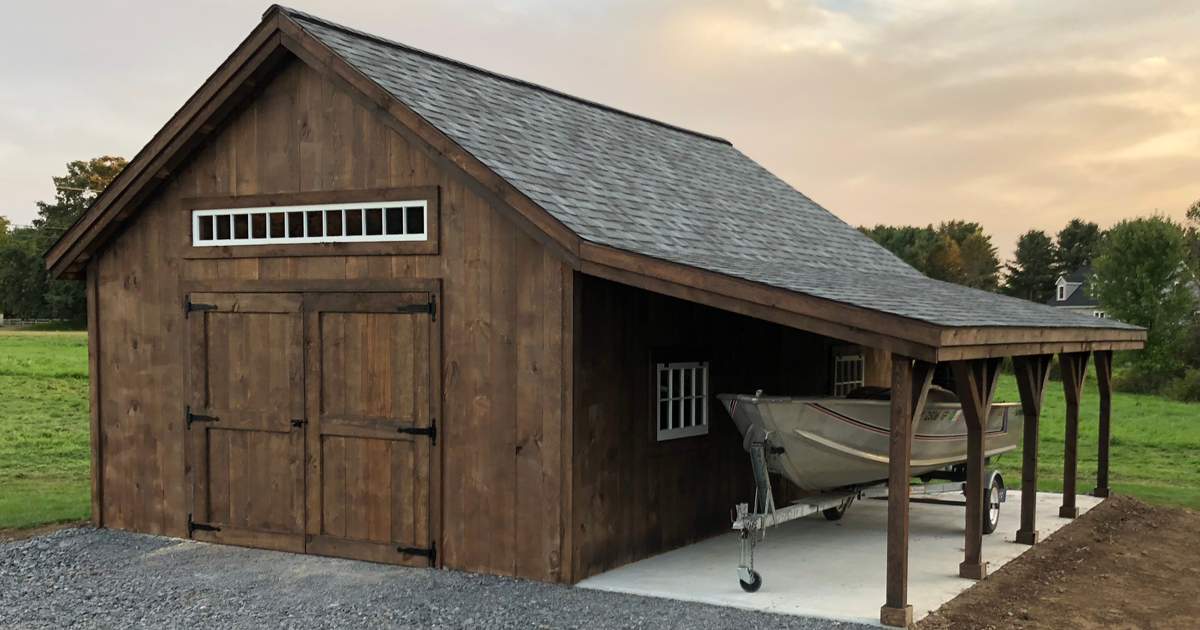 Summer is a fun time for sailing, paddling, and zooming through the water. Even though winter may be a long way off it is a good idea to plan ahead. Protect your investment in a motorboat, sailboat, kayak, or canoe. Properly sheltering your boat in a storage shed, garage, or under an overhang will keep your ship in tip-top shape. Read on for our line-up of boat storage ideas and building designs that will keep your watercraft safe from the elements and thieves.
Get Your Measurements
After a quick internet search, I learned that there are four classes of boats, determined by length. Our buildings work well for Class A, Class I, and Class II vessels. Class III vessels are boats that are longer than 40 feet. There are creative ways to house a Class III vessel. Multiple building kits could be constructed end to end to create a shelter that is longer for example.
To find out what building size will house your boat, you will need to take some measurements. First, measure the tip of the bow to the stern to get the overall length of your boat. Add measurements of anything attached to the front or rear that could add length to the boat. This measurement needs to include things like motors and rudders. You will probably want something longer than the boat so you have ample space to move around when cleaning or making repairs.
It is also important to consider height and width. You will want a building that is tall and wide enough to house your watercraft. Consider the rough opening for the entryway too. Will your boat fit through it? If not, buy a building that has an entryway with dimensions that work or hire a contractor to custom build your opening. Another option is to purchase a frame-only kit and add metal roofing if you want something similar to an open carport.
Now pick a building that falls into the category below that your boat will fit into.
Big Boat Storage Ideas
A Class II Vessel would be a boat that measures between 26 and 40 feet in length. Large personal sailboats, fishing boats, pontoons, and cabin cruisers will probably need a larger storage barn or garage for shelter. Our timber frame Two Bay Garage or box beam Equipment Shed designs would be the best choices for these types of boats.
The Two Bay Garage comes in 30- or 40-foot lengths and also comes with a loft. The loft could help store life vests, oars, cleaning supplies, and fishing equipment. With two bays this garage can be a multipurpose building, perhaps half workshop half boat storage.
The Equipment Shed comes in lengths up to 48 feet long and with three or four bays. Perhaps one bay could store your boating accessories, smaller boats like kayaks or dinghies, or other vehicles. For these longer boats, you may need to custom build an entryway on the gable end, with the help of a contractor.
Medium Boat Storage Ideas
A Class I Vessel category includes boats that measure between 16 and 26 feet in length. Medium-sized fishing boats, family-sized sailboats, long canoes, catamarans, runabouts, and other motorboats will probably fall under this category, or sometimes one of the other categories. For Class I boats we recommend the 16-foot-wide Barn, Hobby House, or Barn Garage.
The 16-foot-wide One Bay Garages are spacious and will probably offer enough room for you to clean and touch up your boat. The pre-cut kit is available in sizes 20 to 30 feet long. This post and beam barn also comes with a loft, and loft ladder, for storing fishing gear, cleaning supplies, buoys, and other boating equipment.
The Hobby House, while a little narrower, also comes with a storage loft. The built-in workbench keeps your cleaning supplies and tools nearby while you are detailing your boat. I love this design because it also comes with a lean-to overhang. Install a DIY kayak rack underneath for quick access to your smaller boats. Nail racks to the siding for oars and fishing rods.
If you need something compact and budget-friendly the Barn Garage is a good choice. This post and beam one bay garage design comes with an overhead garage door. This post and beam garage comes in sizes up to 30-feet long. It is purchasable as a pre-cut kit or, if you do not want to build, a fully assembled prefab shed.
Tiny Boat Storage Ideas
If your boat is under 16 feet in length it is considered a Class A Vessel. This class includes dinghies, kayaks, small sailboats, paddleboats, skiffs, and personal watercraft like jet skis. With this category you can probably use just about any of our buildings as boat storage, but here are a few of our favorites.
The New Yorker is an affordable storage shed that is for sale as a kit or prefab storage shed, up to 20-feet long. This simple, no-frills design is budget-friendly. Building the kit is pretty easy for nearly any skill level. For those located within our in-house delivery range, we offer an economy line of New Yorkers. These pre-built sheds are delivered by one of our drivers.
Our Gable sheds, for sale in lengths up to 24-feet long, are like the New Yorker. Both designs come built with double doors on the gable end. However, they have some other design features that make it stand out a little more. Besides the doors, two hinged barn sash windows and a wood louvered vent are installed in the pine board and batten siding.
If you want something with a little more pizazz our larger Dollhouse sheds, come with a set of pine double doors on the gable end. The side dormer with a narrow side door, hinged windows, and the steep roof provides a quaint style to make this building look like it is something out of a fairytale. You could upgrade the siding and/or roofing to Red Cedar shingles, which is recommended when building near large bodies of water.
We also sell enclosures, overhangs, and porches as pre-cut kits that attach to most of our designs. These narrow add-ons are perfect for creating extra boat storage space if you use your shed, garage, or barn for other purposes. Overhang and porches provide quick and convenient access, while the enclosure adds siding to keep your boat securely hidden away.
Boat Shed Accessories and Storage Ideas
Now that you have decided on your post and beam boat shelter, you are going to want a place to store all of your boating gear. We offer plenty of storage and furnishings to help you organize these odds and ends. Our Pellet Box would be a great place to keep things like life vests, cleaning supplies, and ropes safe and dry. The 2×4 Garden Closet has room enough to store fishing rods on one side. The adjustable shelves could store bait kits, towels, and other cleaning tools. Our 5-foot-wide ski rack or pine curtain rod brackets are helpful for organizing oars. Browse our storage and furnishings category for more ideas. As a bonus, finish of your boat barn with a racing sloop or shark weathervane.
Conclusion
By far, boating is one of the most popular summer activities. Between seasons, it is critical to protect your boat from harsh weather conditions. Wood, fiberglass, and carpet are materials that are vulnerable to snow, rain, and wind. Having a boat storage shed where your boat can be maintained, cleaned, and detailed is also ideal. Picking the best shelter for your boat size will help you determine which building will work best for you. Consider the extra gear that needs to be stashed away to pick out storage furnishings or additions to your shed. When you are done send us photos of your amazing boat barn build.