Long a fan of good design, innovative ideas and travel, I first mentioned the tiny wooden house on wheels designs Jamaica Cottage Shop was working on in a post I did in March, when the design was still only a frame.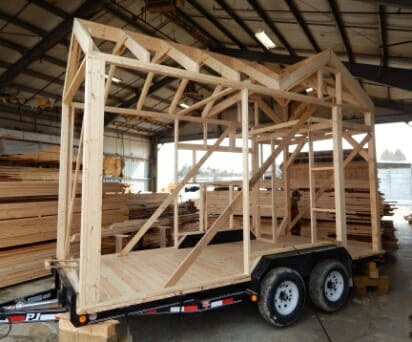 Since then, Jamaica Cottage Shop showed this small house on wheels (it is after all, only 8' x 16') for the first time at the Burlington (Vermont) Home Show in mid-April.
As soon as the show opened, the lines formed.
I especially like this short YouTube video (5:49), by Derek Dedricksen, a DIY HGTV host & author, that explains some important aspects to this particular portable tiny house that you don't see often enough – one in particular that really stood out to me was the egress windows in the loft for fire precautions. But there are more that jumped out as thoughtful additions – the high quality marine heater, the solid farmhouse hidden door with really good slides, to go in between the bathroom and rest of the house, the solar package, hot water pressure, composting loo, and shower.
Derek "Deek" Diedricksen (Relaxshacks.com, Author of "Micro shelters" and "Humble Homes, Simple Shacks"), gives us a one-take impromptu tour of a brand new tiny wooden house on wheels that was built and designed by Domenic Mangano of the Jamaica Cottage Shop in Vermont. (www.JamaicaCottageShop.com). https://www.youtube.com/watch?v=fxmFG52m4W0
These interior & exterior still shots show some of the things that make this portable cabin on wheels a special tiny living space.