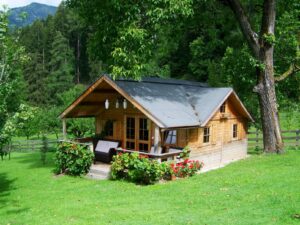 Not so long ago, millennials were experiencing serious problems stricken between the wish to help, support, and care for their elderly parents and the need to raise their own family. No sooner had these young professionals become the sandwich generation, than granny pods appeared. These backyard tiny houses built on the same property as the main residence are carefully designed to accommodate the needs of elderly occupants. While providing them with so-much-needed privacy and independence, granny pods also offer peace of mind while living in the vicinity of your loved ones.
So, what are the granny pod particulars? Is it a good idea to have them built on your property, all benefits, and downsides being considered? Here is the information you need.
Features of Granny Pods
These tidy and tiny backyard houses offer all the necessities of a large home despite their size. Most often, they include a small kitchen, a bedroom, and a bathroom, although some more up-to-date variants contain a miniature living room, closet storage, or an HVAC system as well. Each pod connects to the water supply, electric power, and sewer systems that serve the main house on the property. Finally, they all need to meet the basic safety and health standards to be a perfect choice for your elderly parents.
Can You Build a Granny Pod on Your Property?
The answer to this question depends on multiple factors. Feasibility is certainly the top priority. There's increasing popularity of accessory dwelling units (ADUs) and, consequently, numerous communities have altered their zoning laws to allow building a second structure of this type in the yard. However, there are still communities where this is prohibited.
Hence, before making an appointment with a contractor, check with the local housing authorities whether granny pods are permissible in your specific neighborhood. Also, if a homeowner is a member of the homeowners association (HOA), it is vital to consult the association board on this matter as well and gather the essential information.
Occupancy standards are also very important. Again, consulting the local housing authority is a must to obtain a comprehensive list of occupancy regulations. Namely, a vast number of communities determine the number of people allowed per structure. In most cases, two people are allowed per sleeping unit, but sometimes only one relative of a homeowner can occupy the second construction in the yard. If you need a granny pod to help your elderly parents move back home, make sure this complies with the relevant occupancy regulations.
Finally, there are various zoning issues you will encounter while trying to get all the necessary permits to build a granny pod on your property. Local zoning boards define the necessary yard space to construct all types of residences. As you might assume, the bigger the yard the greater the chances a homeowner will get permission to construct a granny pod on the property.
The Costs
One of the greatest downsides of building a granny pod on your lot is certainly a high upfront cost. Building a bare-bones granny pod will cost you at least $30,000, and the price can soar up to $125,000 if you opt for some high-end model with additional comfort, health, and safety accouterments. One of the available options includes buying a prefab unit and then having it delivered and installed on a foundation constructed by either the prefab manufacturer or the contractor.
If you want to save money on this endeavor, converting an existing garage or a shed into a granny pod is a viable backyard solution for senior housing. This will leave up to $15,000 in your budget and yet you can achieve satisfying results and get a senior cottage that complies with all the local codes.
The Pros of Granny Pods
Granny pods come with numerous benefits. Firstly, your elderly parents will be near you. It will be possible to regularly monitor their safety and health, and also provide them with support and assistance whenever necessary. One of the greatest advantages is certainly being able to provide your loved ones with the companionship they probably lack so much at the moment.
Although building a granny pod is certainly a genuine investment, it will undoubtedly pay off in the long run. Having your parents live in a nursing home or an assisting facility costs significantly more if it is a permanent solution. Monthly expenses in these facilities equal anything between $5,000 and $7,000. It does not take many calculations to realize which of the options is financially more favorable.
Granny pods change the sales potential of your property as its value considerably increases. Investing in the construction of an ADU guarantees a higher price once you decide to sell your property.
Finally, in time, granny pods can easily be turned into an Airbnb rental and be an excellent return on the investment.
The Cons of Granny Pods
Despite numerous benefits, granny pods do come with some drawbacks homeowners cannot neglect. As we have already stated, building a second construction requires substantial financial means, so, very often, homeowners cannot avoid getting a loan or even taking the second mortgage to be able to realize their plan. Then, utility bills increase, too, as you will have to pay for an additional residence as well.
Finally, although building a pod will increase the value of your property, it might be very challenging to sell it if other properties in the same area are valued considerably lower. As we all know, the higher the price the more difficult it is to sell.
Design Options
When it comes to the proper design of granny pods, there are a few leading points homeowners need to bear in mind. Most probably, they will need professional assistance to be able to organize this small interior space to make it safe and comfortable for an elderly person. These spaces of up to 800 square feet in size very often have hospital-like features to suit the needs of their occupants best.
Universal design is always a good choice. A lot of natural light will make the pod seem more spacious, bright, and cozy. No steps should be installed at the entrance to make the pod convenient even for a person in a wheelchair or a power chair.
A two-way intercom is a highly favorable solution if you want your elderly parents to be able to contact you inside your home even without leaving the pod. Some of the safety features you can consider include railings, lighted floorboards, safety bars in the shower or tub, and even a video camera to be able to monitor your loved ones at any time.
Bio: Angela Stone is a copywriter and a passionate traveler. She likes writing on a wide range of topics and is always broadening her interests. Currently, she is researching the interior and exterior designs and various strategies for home improvement. Her family is her greatest support.