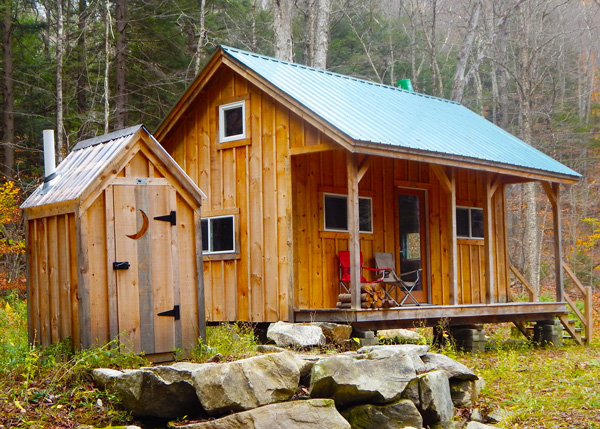 Interest in sustainable living practices is growing in popularity. While some are looking to decrease their carbon footprint, others need off-grid toilet options while living in remote, backcountry habitats.
Perhaps you are escaping the big city for rural life, setting up a farming homestead, or building a tiny vacation home on the side of a mountain. In all of these instances, an off-grid toilet could be an ideal solution. Most are environmentally friendly, and much more affordable than traditional plumbing setups. Here are some of our favorite products.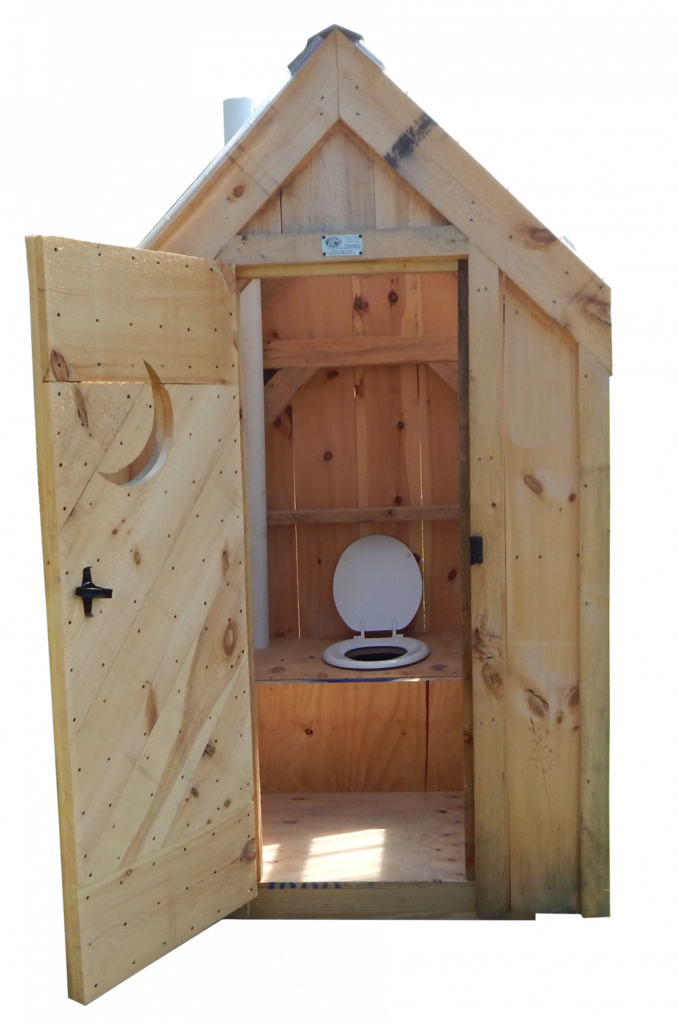 Working Outhouse
Often times a wooden outhouse is preferred with tiny home construction. Build your outhouse away from your cottage for extra privacy. Outhouses are excellent small structures for large farms, homesteads, and campgrounds. Our old-fashioned outhouse, complete with a crescent moon cut-out in the pine door, is a solid design.
The kiln-dried pine board and batten siding provides a woodsy scent. We also sell Western Red Cedar shingles or clapboard siding upgrades for even more odor control. Cedar repels bugs which can be a huge plus since an outhouse is a breeding ground for house fly parties. 29-gauge corrugated metal panels make up the typical roofing material, but some opt for Clear Poly panels. This type of roof allows light to stream in during the day. Placing your outhouse under some trees can create a pleasant environment.
Inside, a built-in bench with an attached toilet seat creates a comfortable perch where you can do your business. Under that is a hopper, a large, funnel-shaped contraption that will direct your waste into a dug hole below. A venting system keeps the airflow moving.
As you can see, there was a lot of thought put into this 4x4 shed design. I think we have proven that a primitive plumbing solution like this does not have to be torture!
Outhouse Shed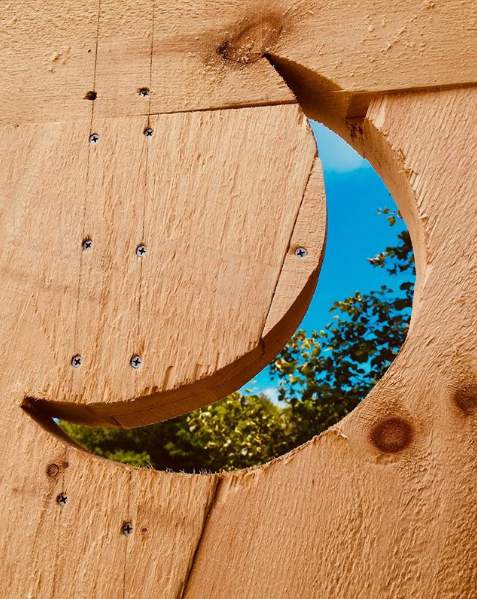 In some places, you might not be able to install a traditional outhouse with a hole dug in the ground. Some regulations do not permit outhouse construction, especially in high density population areas. One alternative is to combine an Outhouse Shed with either a composting toilet or a dry flush toilet. You get the best of both worlds: a rustic outhouse design with the convenience of a stand-alone toilet. Many people love the adorable design with it's classic crescent moon door. Decorate the building accordingly with paint, artwork, and clever gardening around the perimeter.
Add to Your Outhouse Shed
If you do decide to use an Outhouse Shed instead of a Working Outhouse for your off grid plumbing purposes you will need to add a toilet! This version of the outhouse does not come with a venting system, bench with toilet seat or hopper. We recommend pairing your post and beam outhouse shed with these options.
Composting Toilet
These are a favorite for tiny homes, RVs, and remote cottages. The compact design fits efficiently in small sheds or partitioned-off bathrooms and closets. The small size means it can easily be moved around making it a perfect solution for portable living.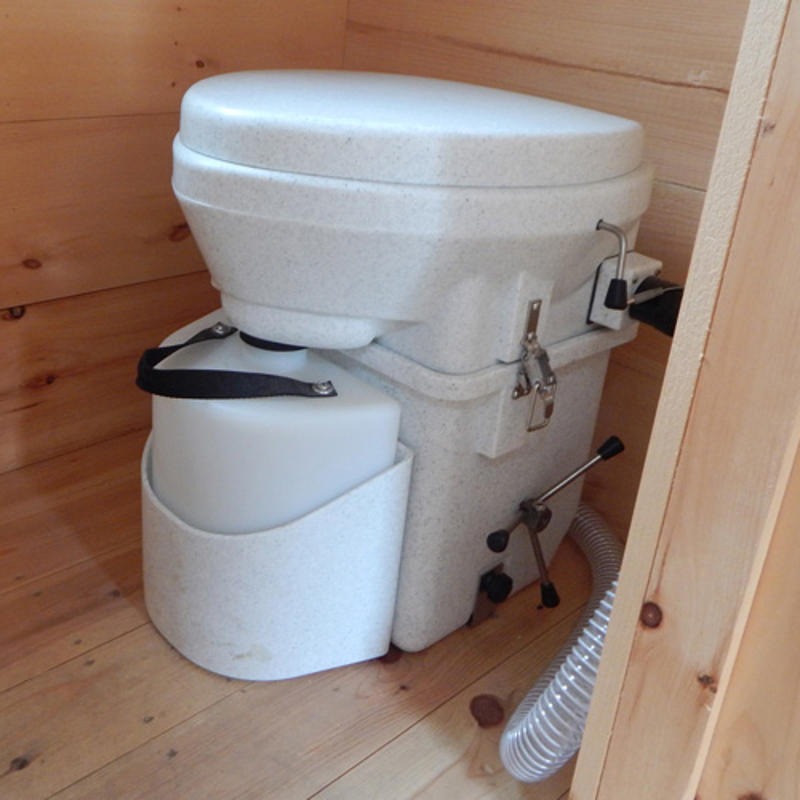 Our favorite brand is Nature's Head which is a smaller model than others and requires no electricity. Two compartments separate solid and liquid waste. A crank makes sure the solid waste is properly churned. This process helps promote the breakdown and cuts back on any funky smells. These compartments can be removed for quick clean-up. A variety of products meant for speeding up the composting process and toilet maintenance are also available. These include Starter Mix, and a Daily Mix.
Dry Flush Toilet
While the compost toilet and functional outhouse are the most environmentally friendly and affordable off-grid toilet options, the dry flush toilet offers a convenient solution. Those who feel squeamish about outhouses and composting toilets may be drawn to this choice. For those who go on infrequent vacations in their RV, or sporadically visit their vacation cabin, a dry flush toilet will be low maintenance.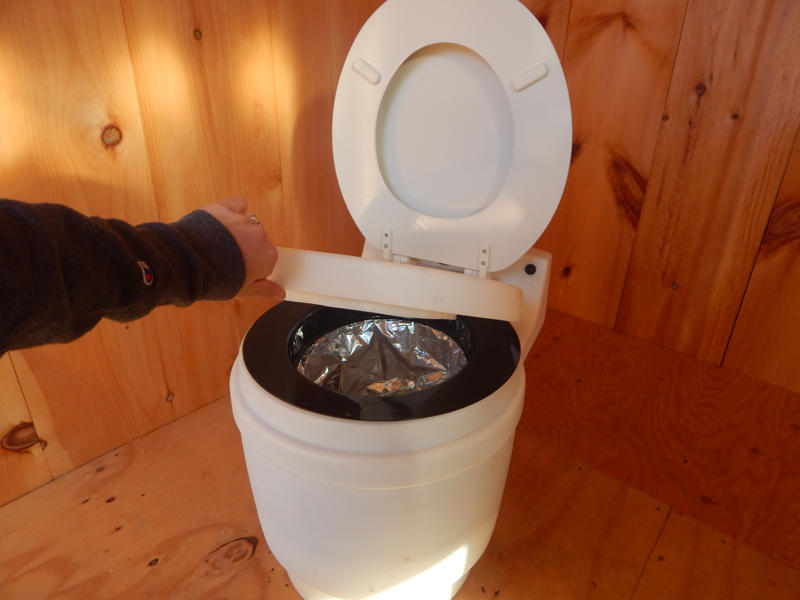 Dry flush toilets utilize cartridges that contain bags. After using the toilet, the waste gets sealed up in a bag with the press of a button. After the bag is sealed it is tossed in the trash. When the bag supply is depleted a new cartridge pops in.
We sell both the Working Outhouse and Outhouse Shed as pre-cut post and beam kits and prefab sheds. Do-it-Yourself off grid toilet building plans are ready to buy for those who are yearning for a building project. Because these buildings are so tiny they make great projects for beginners interested in post and beam construction techniques. Once your outhouse is built, send some photos our way. We would love to see your Outhouse in action (with the door closed please).