The log cabin is one of the oldest and most enduring types of dwellings. They have been around for centuries, and they continue to be popular today. They're often associated with the wilderness and a simpler way of life. But log cabins can be just as comfortable, modern, and stylish as any other type of home. Learn about log cabins, their history, and the benefits of owning one of your own.
The History of Log Cabins
Although log cabins have become a symbol of the American wilderness, their history goes back much further than the settling of America. In fact, one of the first mentions of a construction style that resembles the log cabin comes from a Roman architect over 2000 years ago. He described houses he had seen in Northeastern Turkey as being constructed by laying logs horizontally.
Log cabins were popular structures in Scandinavia and Eastern Europe. Their wide use makes sense, given that wood was an abundant material in these forested regions. The types of tree available can make building log cabins easier: Pine and Fir trees grow long, straight trunks, which are perfect for stacking.
There were many advantages to building log cabins. They could be constructed relatively quickly when compared to stone or brick buildings. Log cabins could also be moved if necessary because they could be disassembled and reassembled neatly. They were also easy to repair: if one log was damaged or rotted, it could be replaced with relative ease. Moreover, their sturdiness and longevity were attractive features, and these buildings would be used over multiple generations.
Log Cabins in the USA
When European settlers came to the USA, they brought their beliefs, traditions, and building techniques with them. Historians think that the first log cabins to be built in America were constructed in Pennsylvania and Delaware by Swedish settlers sometime around 1640. As settlers began to move westward through the 18th and 19th centuries, they kept building log cabins along the American frontier wherever the right materials were available.
Log cabins were a perfect frontier building. First, they were relatively easy to build. All that was needed was a supply of logs, some basic tools, and a little bit of know-how. Second, log cabins were very durable, as aforementioned. They could withstand the harsh weather conditions of the frontier. Third, log cabins were very affordable. They could be built with materials that were readily available, and they did not require a lot of skilled labor.
Because of their association with settlers, log cabins have become a symbol of the American frontier. They represent self-reliance and independence, and became associated with the American dream. The log cabin remained popular throughout the 19th century, and it continued to be built in rural areas. However, as the 20th century progressed, the log cabin began to fall out of favor. Newer building materials, such as brick and stone, became more popular, and log cabins were seen as outdated.
Modern Log Cabins
In recent years, there has been a renewed interest in log cabins and everything the iconic home style stands for. Log Cabins are being used not just for homes, but for businesses, accessory buildings, workshops and the ever popular log cabin vacation rental.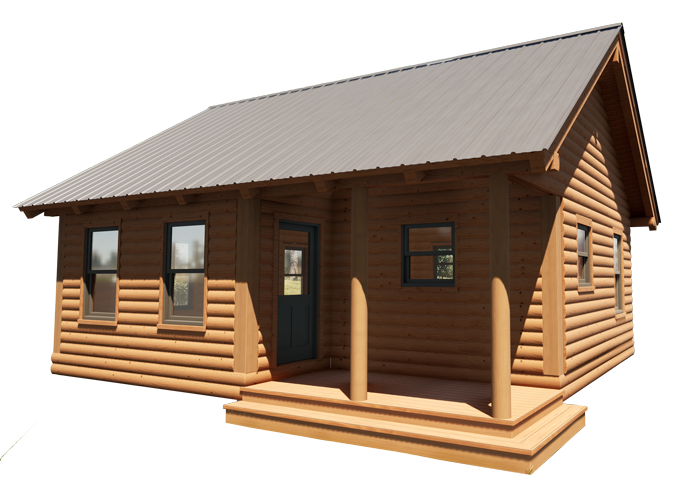 If you are considering building a log cabin, you're probably going to be thinking a lot about design, budget, materials, labor, and timeline. You can hire an architect to design your log cabin for you, or, to bypass a lot of the time and expenses in that process – get an immediate quote on main materials with a Log Cabin Kit. These kits are pre-designed designed and customizable to take out a lot of the guess work out of your project. Our updated take on the historic log cabin yields beauty, durability, and affordability while supporting sustainable practices, going big on style and improving the building process with the latest technologies.
Our Jamaica Cottage Shop, Inc line of customizable Vermont Log Buildings is designed to provide weather-tight log cabin shells with an open floor plan. These kits come with an assembly manual, pre-cut profiled and numbered logs and fasteners, Door and Windows, and more. The precut logs are machined to be uniform with baffles and channels that snugly fit together – a truly updated, improved, and economical way to build a traditional log style home that withstand the test of time.
The Benefits of the Log Cabin Lifestyle
If you are looking for a unique and stylish home, a log cabin may be the right choice for you. Log cabins are comfortable, durable, and they can be built to fit your needs. With a little planning and effort, you can build a log cabin that will provide you with years of enjoyment.
Here are some of the benefits of living in a log cabin:
Log cabins are energy-efficient. The thickness of the logs helps to insulate the home, keeping you warm in the winter and cool in the summer. With added insulation, they are very comfortable places to live.
Log cabins are durable. They can withstand extreme weather conditions, such as high winds and heavy snowfall.
Log cabins are low-maintenance. The logs are naturally resistant to rot and decay, so you won't have to worry about extensive repairs or upkeep.
Log cabins are environmentally friendly. The logs are a renewable resource, and they can be harvested without harming the environment when responsible forestry practices are used.
Log cabins are stylish. They add a touch of rustic charm to any property. They're a timeless design that can fit into many landscapes.
Building a log cabin can be a rewarding experience. Log cabins are beautiful, durable, and energy-efficient. They are places where you can grow closure to nature, and to your family. If you are looking for a unique and stylish home that reminds you to take life a little slower, a log cabin may be the right choice for you.